IN BRIEF
⚽ Marseille just six points behind PSG in Ligue 1 table
⚽ Andre Villas-Boas' team have been effective, but not pretty
⚽ AVB getting the most from a sparse squad
⚽ A huge test v Angers this weekend with a number of suspensions
It is said that there are many ways to win a football match, and over the course of the Ligue 1 season to date, Marseille have explored the spectrum of ugly ways.
The numbers suggest that they should simply be fighting for European football next term, but instead Andre Villas-Boas has roused his side to second, hanging onto the coattails of a Paris Saint-Germain team far more laden in talent than the side from the coast of the Mediterranean.
At a distance of eight points back, the Portuguese hasn't exactly managed to make Ligue 1 into a title race, but OM are at least keeping the defending champions on their toes, while with a nine-point advantage over Nantes in fourth, they are in a terrific position to make a long-awaited return to the Champions League.
Pragmatism has been the watchword at Stade Velodrome this season. They rank only sixth in terms of ball possession in Ligue 1 with 52%, fifth in terms of shots on target and sixth in terms of goals scored excluding penalties.
Even defensively they have not been spectacular, ranking seventh in the league with 21 goals conceded, a rate of just over one per game. And yet, despite all this, no side has lost fewer Ligue 1 matches while only PSG have won more.
Against the odds, AVB has Marseille winning.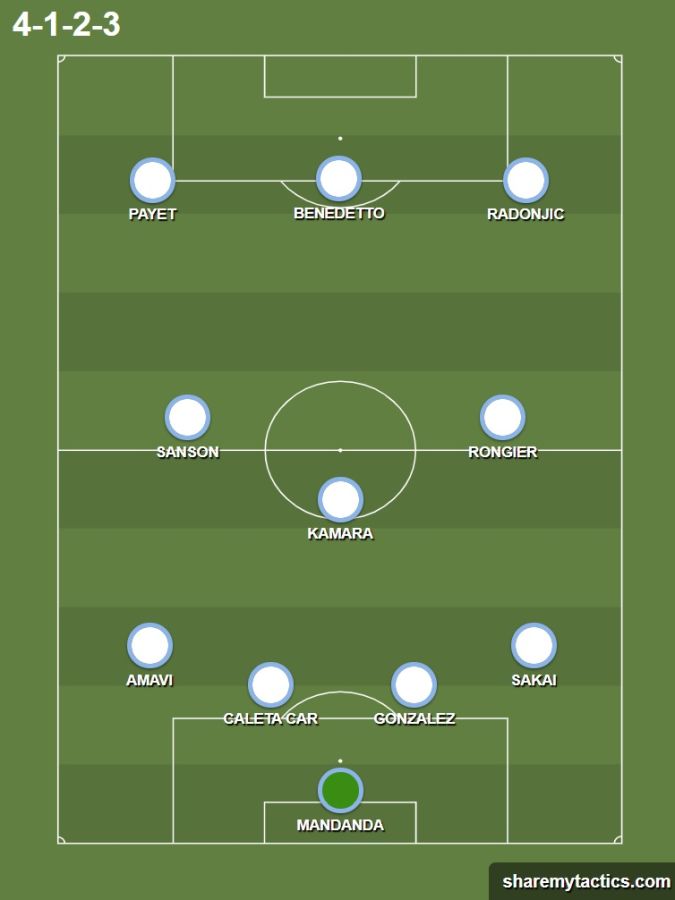 He arrived in the summer with OM in disarray. A fifth-placed finish had seen them miss out on Europe, while their limited spending power due to Financial Fair Play (FFP) restrictions meant that they have been unable to establish a large first-team squad. Combined with a youth academy that rarely produces players who graduate into the head coach's thinking, it appeared a recipe for disaster.
But Villas-Boas has set about restoring the club's status as one of France's leading sides by maximising the resources that he has at his disposal.
He was aided by effective use of transfer funds to sign Valentin Rongier from Nantes and Dario Benedetto from Boca Juniors. Both have surpassed expectations, with the Argentine, who was considered a major risk due to his advancing age of 29 and a recent serious knee injury, spearheading what has exclusively been a 4-3-3 formation.
But if Benedetto has impressed with his ability to fit into the club's ethos of hard work and efficiency, it has been Rongier who has been their star man. Tasked with a largely defensive role in the midfield, he has won more tackles P90 (2.7) than anyone else on the team, but his all-round contribution is evidenced by his strong passing numbers, particularly those in offensive areas.
Villas-Boas has helped to unlock the offensive potential of the former Nantes man by shifting centre-back Boubacar Kamara into a midfield role in place of top-earner Kevin Strootman. Possessing far greater mobility than the Dutchman, the 20-year-old has given Rongier greater license to push forward, a task previously reserved for Morgan Sanson.
Meanwhile, the bulk of the creative duties have been shouldered by Dimitri Payet, who has excelled this season, playing to a consistently high standard and acting as his side's creative hub in the ongoing absence of Florian Thauvin, whose return from an ankle operation is finally imminent.
The 4-3-3 formation utilised by Villas-Boas has also placed an onus on the full-backs to provide width to stretch opponents. This has primarily arrived down the right, where Bouna Sarr has typically featured due to his attacking prowess. He boasts 4.7 crosses P90, making him a far greater contributor than the versatile Hiroki Sakai (1.4) or Jordan Amavi (1.2).
And while OM may not be spectacular at the back, they have given little away cheaply, with just three errors leading to chances, only one of which resulted in a goal. By doing the simple things well, they have maximised their chances of profiting from their offensive play, but the coach's tactical management has often had a key role.
I've never seen Payet defend so much!Jordan Amavi
Against Angers away, for example, he produced a masterstroke by giving up possession to their opponents and instead played in a direct manner that yielded a comfortable 2-0 win.
"I really thought they'd do the opposite," Angers boss Stephane Moulin subsequently admitted. "Villas-Boas has done very well to convince these excellent players to leave their opponents to have the ball."
His in-game alterations have regularly paid dividends, too. Nemanja Radonjic, a player in the wilderness before his arrival, has been especially effective coming off the bench, having netted four Ligue 1 goals as a replacement.
And the coach has enjoyed a little luck, too. In their only 2020 league match to date, for example, Kevin Strootman was introduced as a defensive change as OM sought to close out a 0-0 draw away from home, yet the Dutchman popped up two minutes after coming on to score the winner – one of just three he has netted for the club.
Thrown together, this has provided a potent formula for success, particularly as the coach has successfully raised the motivation levels of the squad.
"I've never seen him defend so much!" Amavi commented on the performances of Payet earlier this season.
Defender Duje Caleta-Car added: "We all feel very comfortable with him. We're all very relaxed and, in these conditions, we can do a job."
Once touted as the next Jose Mourinho in his earlier days in management, Villas-Boas may not have exactly replicated the Tottenham boss' notorious park-the-bus mentality, but he has certainly shown he has the wits to fashion victories in all sorts of manners.
These will be tested to the maximum this weekend when he must do without Payet, Sarr and Kamara due to suspensions against Angers, who can respond to being outmanoeuvred when the sides last met.
Should Marseille clear this hurdle, it will be another big step towards a return to the European big time – and if that is achieve, their fans will not care about aesthetics.