Its official; Barcelona and Juventus have officially completed the swap deal of Arthur Melo and Miralem Pjanic, at valuations of €72 million and €60 million, respectively.
The debate of whether this was a good deal for both sides is a difficult question to answer without considering several key categories. What do Barcelona and Juventus gain and lose from the trade? And what about the economics of the deal?
Let's take a look.
Although Arthur and Pjanic have similar goals and assists tally this year in their respective leagues, Arthur's total Expected Goals and Assists (xG and xA) edged out Pjanic despite playing ~700 less minutes this season.
Arthur is the more active and able player in the attacking third, Pjanic impacts the game more defensively and from deeper positions during the build-up phase.
Stat
Arthur
Pjanic
Mins
1,123
1,812
Goals + Assists
6
5
xG + xA
3
3
xG per 90
0.1
0.04
xA per 90
0.14
0.08
*League minutes only
Arthur's dribbling & key passing ability
What's abundantly clear from watching Arthur play, and is further confirmed by the data, is just how good his dribbling ability is - he is one of the best central midfielders in Europe at this.
Apart from Arthur's high dribble success rate of 88% v Pjanic's 70%, the progressive distance that Arthur achieves carrying the ball P90 minutes is close to 185 yards (v Pjanic's 99 yards).
He also averages around six progressive yards per carry (in the top quartile for all La Liga central midfielders), compared to Pjanic's four progressive yards per carry (the lowest in Serie A).
Finally, Arthur has proven himself to be a quality passer, particularly in the final third. Arthur is excellent at picking out penetrating balls into players in central areas and then moving to support the initial pass with further link-up play.
However, what's most impressive is that Arthur currently generates the second highest key pass conversion rate for midfielders in La Liga, which also further confirms his quality of distribution in attacking zones.
Pjanic's defensive ability & build-up passing
So Barcelona are losing a more 'attacking-minded' central midfielder but what do they get out of Pjanic? Well, they appear to be getting a more defensive midfielder with slightly more impactful passing in the build-up.
Defensively, Pjanic's tackling distribution is nicely balanced across the three thirds of the pitch and looks similar to Sergio Busquets' profile, while Arthur closely resembles Frenkie de Jong but slightly less active in the mid and attacking thirds.
In terms of build-up, both Arthur and Pjanic participate in around 10% of their team's average total passes P90 which is significant, however, upon closer inspection we find that 17% of those passes are backward passes for Arthur, while only 13% for Pjanic.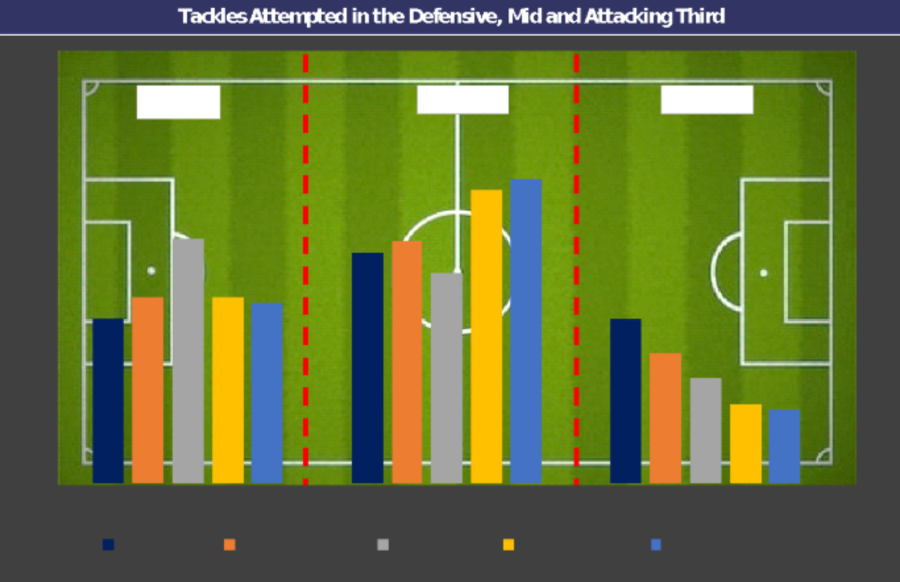 Unlike Arthur, Pjanic fully offsets his backward passes with a higher amount of progressive passes P90. Arthur is a superb passer as we have confirmed above, with 70+ passes P90 and 91%+ accuracy, but is arguably less purposeful in the build-up phase compared to Pjanic.
Who is getting the better deal?
Barcelona appear to be assigning a fairly conservative price relative to Arthur's contributions and could arguably be demanding more.
Arthur averages 67 successful defensive and passing actions P90, more than players like Casemiro and Tanguy Ndombele. Pjanic on the other hand, who is much older and whose average contributions tally is relatively low compared to Arthur, is being sold to Barcelona with not too much difference between the valuations.
It is not a secret that Barcelona are suffering from cash flow problems, and that the accounting of this deal is essential to ensure they have the ability to do some business this summer. As a result the facts suggest that Juventus have executed the stronger deal, as they have essentially signed a young promising player whose value has sure potential to continue to rise, while also being able to sell Pjanic at a very rich valuation relative to his age and productivity.
And although Barcelona have acquired a top midfielder, at these valuation levels, it appears Barcelona might have signed an age-and-value peaking player with limited time to make an impact at the Camp Nou.