There has been some focus recently on the usefulness of possession, and how a player's pass completion rates and indeed number of completed passes aren't much of an indicator of what a player does well, other than the fact they retain the ball.
FootballCritic previously took two statistics - possession percentage and goals scored - and applied it to the Premier League.
We looked at how 'possession effective' teams are by taking their goals scored and dividing it by their average % possession across the season.
Now, we will use the same formula for the Bundesliga.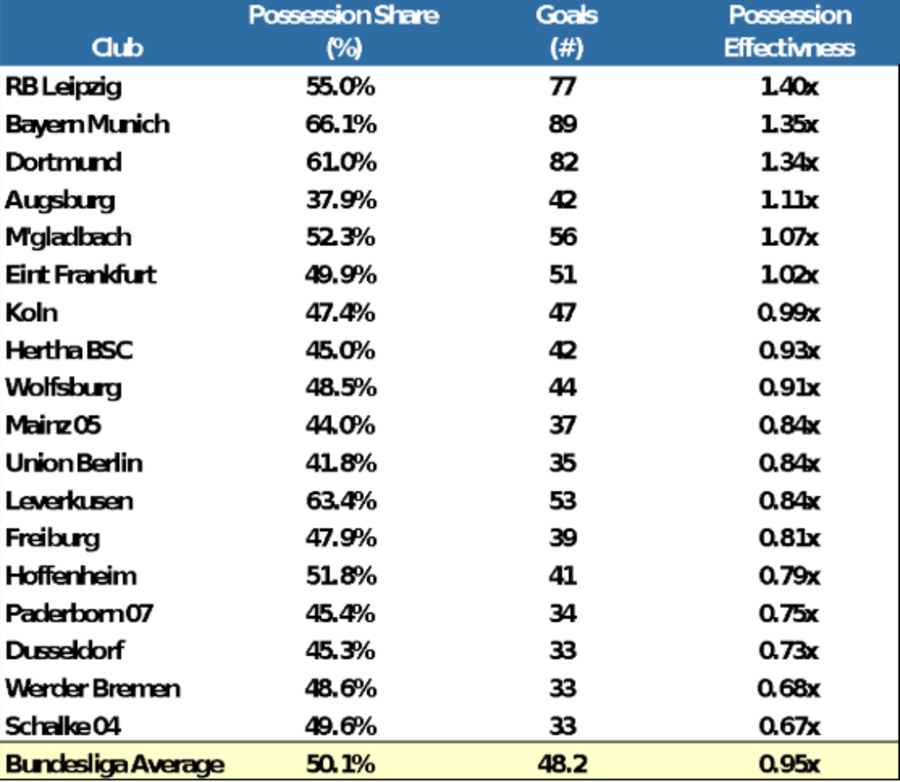 We could argue that the Bundesliga has been one of the most competitive leagues this season, with Bayern having just won the league with three games to go. Up until the restart, it had been a fairly close race with Dortmund and RB Leipzig both in contention.
However, since the league recommenced Bayern have won every single game, steamrolling their way towards the title.
Indeed, the aforementioned three teams are the not only the top three highest scoring teams in the Bundesliga, but out of all five top leagues in Europe.
Even though Bayern have ran away with the championship, it is actually Leipzig who have the best goals-to-possession ratio with 1.4. In this case, the only reason the Bavarian side's is lower is because of their extreme hold over possession, with them having the highest percentage of possession per match than any other team in the top five leagues.
Ausburg are the only club in the top five leagues that have a possession effectiveness of +1x compared to other clubs that have sub-49.8% possession. They could become a team to watch if they continue to refine their high press system.
Schalke may be in midtable in the Bundesliga, but if you were to judge their performances solely on goalscoring they would be nearer the bottom. With just 37 goals scored so far this campaign, they achieve a goals-to-possession ratio of 0.67.
Numbers calculated 16 June, 2020.