In the latest FC Retro Rewatch, ahead of Man Utd v Liverpool this weekend we revisit a classic, of sorts, as Dimitar Berbatov had his best game for United in a 3-2 victory.
WHERE: Old Trafford, Manchester
WHEN: 19 September, 2010
COMPETITION: English Premier League, Week Five
WEATHER: Cloudy, with scattered showers
LINE-UPS:
Man United (4-4-2): Van der Sar; O'Shea, Vidic, Evans, Evra; Nani Scholes, Fletcher, Giggs; Berbatov, Rooney
Liverpool (4-2-3-1): Reina; Johnson, Skrtel, Carragher, Konchesky; Pouslen, Gerrard; Maxi Rodriguez, Meireles, Cole; Torres
RE-LIVE
PRE-MATCH
Liverpool were three months into the Roy Hodgson era, one that wouldn't last for long after this. United, meanwhile, having surrendered their title to Chelsea the previous season, had been uncharacteristically sloppy at Goodison Park the week prior, conceding two goals in injury-time to draw 3-3.
⏱️ 2' - The game settles into a predictable rhythm early on. This isn't by any stretch a good Liverpool team, even by the differing standards of a decade ago. United go on the front foot, with Patrice Evra penetrating Liverpool's final third to look for Berbatov with crosses. It will become a broad deciding theme of the contest.
⏱️ 4' - What immediately seems strange, given the love of the high press we see today, is the total lack of intensity from either forward line when defences are in possession, or indeed any desire whatsoever from centre-backs to play the ball out from defence. Oh, and goal kicks are going long. Really long.
⏱️ 7' - United have such a regimented 4-4-2; Rooney is dropping deep for layoffs, but broadly both forwards are remaining within the confines of the 18-yard box, while Giggs and Nani are staying as wide as possible, with a clear intent to either get the ball into the box early, or use the full-back overload to create space to drive into.
⏱️ 9' - Carragher gets away with the kind of pull of the jersey on Vidic inside the area you would expect VAR to punish nowadays. Carra looks particularly sheepish and if Vidic had perhaps protested a little more, Howard Webb might have had a decision to make.
⏱️ 12' - Liverpool enjoy their first sustained spell of possession of the match, but they make precisely zero progress. Fernando Torres has been so isolated he has barely been in shot. Steven Gerrard is playing in a deeper role alongside Christian Poulsen, Raul Meireles is closest to Torres, with Joe Cole drifting in from wide. Not drifting enough at the minute.
⏱️ 14' - It's weird to hear Liverpool fans sing the Gerrard song which would eventually be hijacked by 'he gave it to Demba Ba', because that's not happened yet. What fun there was to come.
⏱️ 16' - Berbatov and Rooney combine brilliantly, a dummy and one-two creating huge space for Nani up against an exposed Paul Konchesky. The Portuguese cuts inside rather than shooting first-time, however, and then when the ball ricochets back to him his cross, shot, thing, flies straight across goal and out of play. This must've been when Nani was in his 'no end product' phase before he became a real asset to United.
⏱️ 18' - You know for a Premier League classic, this is... not good so far. Liverpool appear directionless on the ball and are almost happy to give it back to United, with the home side struggling to get into gear. A 2010 Darren Fletcher and a veteran-era Paul Scholes weren't exactly of the type to get beyond the forwards and into the area, so everything is pretty predictably shifting from flank to flank.
⏱️ 22' - Glen Johnson looks up, watches Torres make a run to the near post, and launches a 50-yard hoof to the back post without a white jersey in 100 feet of it. This was very much the pissed-off Torres time, when he was fit but just annoyed by how crap the team around him were. He would be gone to Chelsea within three months.
⏱️ 25' - Torres gets what feels like his first touch of the ball, winning a corner, and the ball breaks to Johnson who lashes a shot so far wide the cameraman lost track of it on the way. Worth a reminder that Liverpool paid £17m for Johnson at a time when people didn't pay £17m for forwards, let alone full-backs.
⏱️ 28' - United very clearly have a singular game plan, to get it wide and get it in. With Berbatov and Rooney being both decent in the air, it's a solid if unspectacular plan, and it's more of a plan than Liverpool have. This is a team only three months into Hodgson's reign and this team just doesn't befit the standing of the club. In other words, they are rubbish, and the four points from their four league games before this is testament to that.
⏱️ 32' - The game continues to be all fur coat, no knickers, with supposedly good players condensed into small spaces chasing the ball like schoolboys. No-one is having any kind of positive impact on the match and all skill is being drowned by the horrible rain and the horrible standard of play.
⏱️ 35' - Liverpool's starting XI may not be the best but let's have a quick look at their bench while nothing continues to happen on the pitch.
Substitutes:
01 Jones, 05 Agger, 16 Kyrgiakos, 21 Lucas, 14 Jovanovic, 19 Babel, 24 Ngog. That's... not great.
⏱️ 38' - Poulsen whips in another horror cross as Torres once again loses the will to live and another sustained spell of Liverpool possession goes absolutely nowhere. Konchesky does the same moments later and it's as if United know this team can't hurt them, or even if they do, they can respond.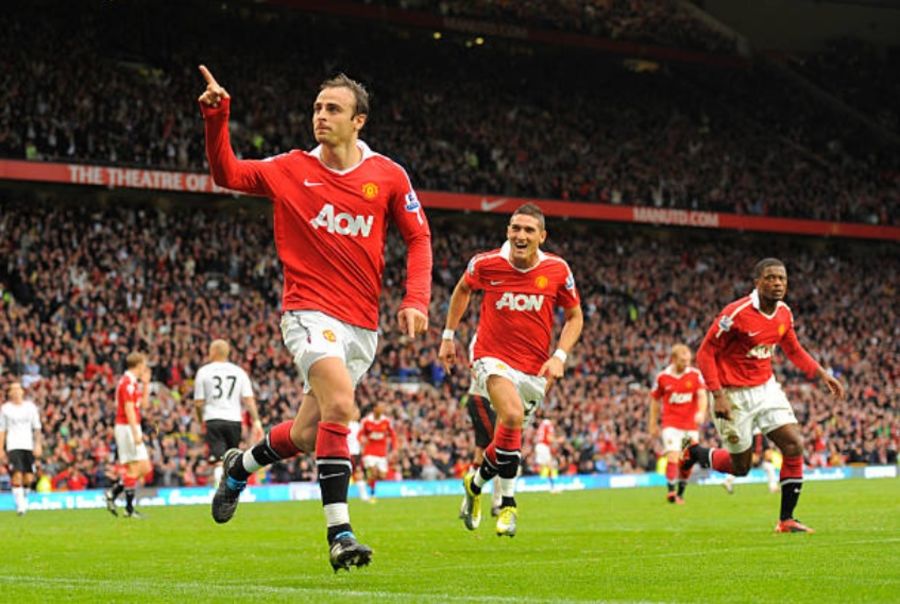 ⏱️ ⚽ 42' - GOAL! Ryan Giggs' corner swerves into the near post and with Torres marking Berbatov, for reasons that will never be clear, the Bulgarian holds off the lamentable attempt to stop him to glance his header in at the near post. Strikers marking other strikers? Was this a thing?
⏱️ 44' - Liverpool's confidence shattered, United, as they so always did, go in for the kill. Rooney gets the ball at the edge of the area in space but drags his shot wide of the far post. From a position of relative comfort, albeit lack of ambition, the Reds are rattled.
⏱️ HALF-TIME, 1-0 - For a supposed classic, this 45 minutes would have caused the mass ranks of Twitter to have a fit about the declining level of quality of the Premier League. This was AWFUL, in every aspect. Not committed enough to be a blood-and-thunder epic, not exciting enough to at least be a curious spectacle. A brutal example, more than anything, of how football has changed quite a lot in 10 years.
SECOND HALF
⏱️ 46' - Luckily, from what I hear, things are about to get a whole lot better, at least in the excitement stakes, if perhaps not the quality.
⏱️ 47' - As Soft Cell once sang in 'Say Hello Wave Goodbye', 'We're strangers, meeting for the first time, OK?' and that's what this feels like. Cole knocks the ball forward expecting Johnson to be on his wavelength to be there to collect and cross, but he's not, so he isn't. The ironic cheer indicates the crapness of that passage of play.
⏱️ 50' - It's often thought that the Chelsea move was the beginning of the end for Torres, but all of the things that made him look inferior at Stamford Bridge are already in evidence here. He looks slow off the mark, lacking in confidence, and just plain clumsy. A real shame for him, and bonkers from Chelsea (nee, Roman Abramovich) to spend £50m on a guy who already looked on the way down.
⏱️ 53' - Sir Alex Ferguson is either annoyed at the ineptness of his team's display, or in the knowledge that his team conceded two at Fulham and three at Everton so far this season, meaning a 1-0 lead, even against a Liverpool team as toothless as this, shouldn't be relied upon. And yet United's players seem unable to conflate the name 'Liverpool' with the 11 players featuring in front of them.
⏱️ 56' - United finally start to turn the screw. Nani collects the ball at the edge of the area and although the angle is acute his shot is powerful and careers off Pepe Reina's post and to safety. A minor flurry of activity in an extended spell of Liverpool going precisely nowhere in possession.
⏱️ ⚽ 59' - WHAT A GOAL! 2-0! And finally we see a piece of bona-fide class in this contest. Nani collects a Fletcher pass on the wing and cuts back to cross with his left. Berbatov is facing away from goal but knees the ball into the air, very deliberately for himself, and just falls backwards in his languid style to overhead kick in off the crossbar. It's an absolutely scene-stealing, world class moment, a cut-out-and-keep classic from an average match so far.
⏱️ 62' - Incidentally, Ferguson had chosen this day to refer to Berbatov as 'similar to Eric Cantona' and 'carrying an air of genius' in the match programme. Hard to argue that around this time, he was a totally unique player.
⏱️ 63' - The first piece of quality from Liverpool. Cole plays the first forward, penetrating mass in about 20 minutes and Torres cuts back inside rather than shooting, allowing Jonny Evans to completely clean him out. Clear as it gets.
⏱️ ⚽ 64' - GOAL! 2-1! Gerrard, a totally anonymous figure in the contest until this point, steps up and slots home with ease.
⏱️ 66' - Fletcher, as he often did for United, begins to dominate proceedings and project the ball forward with a little more purpose. Play is recirculated quicker, there's a bit more urgency, and the quality of control and movement has markedly increased from that dismal first half.
⏱️ 68' - It's not been a dirty match by any stretch, with Webb only giving out one yellow to this point, but Poulsen leaves a rib-shattering barge on Nani and the referee is totally fine with it. Then Scholes kicks the ball away, hurting no-one except the ball, and receives a predictable booking.
⏱️ 70' - FOUL! John O'Shea is last man and drags down Torres as he moves towards a through pass on the edge of the area. He appears, quite clearly, to have committed a professional foul, but Webb goes for YELLOW. If it hadn't been for what happens next, I reckon quite a lot more would have been of this. But...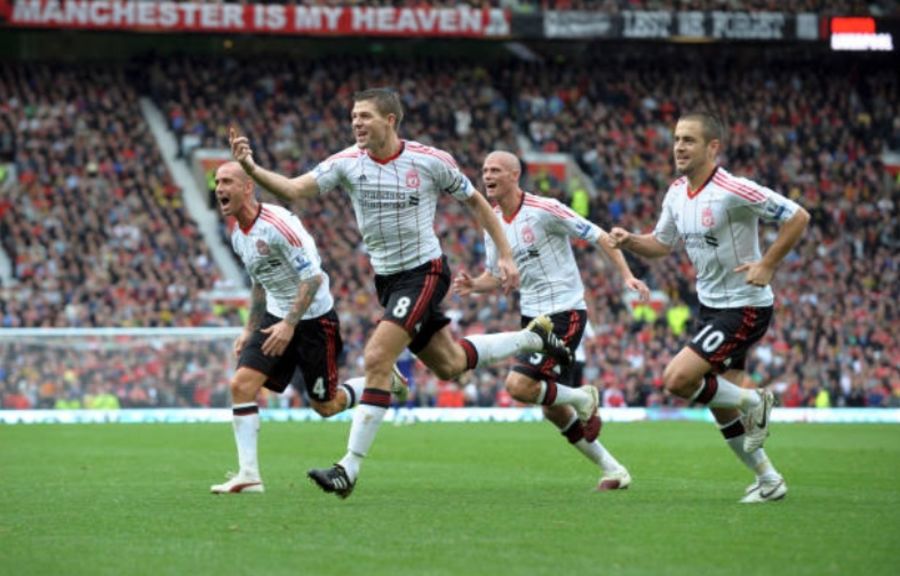 ⏱️ ⚽ 71' - GOAL! 2-2! Gerrard is 20 yards out, and curls his free-kick directly at the wall, but Fletcher, in sheer instinct by the looks of it, moves six inches to his left and the ball arrows through the gap he creates in the wall and into the net. A free-kick that's going nowhere finds the corner and it's baffling to everyone, including the Liverpool players, how the hell they are back level.
⏱️ 73' - Worth noting that Rio Ferdinand was injured for this match leading to Evans' inclusion in the contest, while John O'Shea's 'I'll play anywhere boss' attitude made him a utility man who wasn't much good in every position on the pitch. The theme would continue in the weeks to come, where they would concede two at Bolton and two at home to West Brom.
⏱️ 75' - Evra absolutely cleans out Gerrard in a 50-50 challenge, sending the midfielder flying through the air. Not even a booking. It would be a caution at the very least now, and some referees may even have sent him off.
⏱️ 78' - Milan Jovanovic, one of the best soccer players in the world according to Neighbours, comes on, while Michael Owen looks like he is going to get a run against his former club, but Ferguson decides against it.
⏱️ 81' - Absolutely incessant United pressure now in the style in which they would always do in the closing stages of games they were chasing. Loads of intensity, and loads of crosses, short, deep, middle, the ball is loaded in at every opportunity.
⏱️ ⚽ 83' - GOAL! HAT-TRICK! 3-2!And one of those many, many crosses comes good, as O'Shea floats one into the area and Berbatov bullies Jamie Carragher out of the equation and heads into corner. The first United hat-trick in this clash for well over 50 years. Persistence is indeed a virtue for United.
⏱️ 86' - Liverpool look disappointed but they have no reason to be, as they are lucky to be involved in a supposed classic like this, because they have contributed virtually nothing towards it. Berbatov comes off to a standing ovation, richly deserved.
⏱️ 88' - A more analytical man than me may be able to find some underlying tactical nous to this match but it all seems pretty rudimentary. United crossed it - a lot - and got three goals from it because Liverpool can't defend crosses. Liverpool passed it around - a lot - but don't have any cutting edge outside moments from Torres and therefore every spell of possession is a monotonous countdown until they lose it. Thus ends my coaching session, please subscribe for more information.
⏱️ 90' | FULL TIME! Man Utd 3-2 Liverpool: A match much more fondly remembered than it ever deserved. Berbatov's hat-trick - and most definitely his ingenious second goal - elevates its status beyond the sum of its parts, a game in which United barely played well but got it done, and Liverpool realised their regression post-Benitez was destined to continue. They offered nothing to the contest bar two set-pieces and the closeness of the contest probably, in the end, bought Hodgson a few games longer than he probably deserved.
MATCH EXCITEMENT RATING: 81 There are many better matches between these two at Old Trafford in the Premier League era and the first half was astonishingly low in quality, but the drama of the second period plus Berbatov's genius earns a decent score.