Written prior to the final game of the season
You will have seen a lot written about Manchester United's record with penalties this season.
Their 13th spot-kick of this season was awarded to Bruno Fernandes at Villa Park on 9 July. The milestone equalled the Premier League record held by both Crystal Palace (2004/05) and Leicester City (2015/16). At the time, it also accounted for 16.5% of the penalties awarded by Premier League referees, the highest proportion granted to a single side.
As what constitutes a penalty is entirely subjective - one person's 'nailed on penalty' is another person's 'blatant dive' - debating the merit of each of these awarded spot-kicks would be a fool's errand.
What we can all perhaps agree on is that 13 penalties is a large amount for any side.
Which raises the question: how many penalties should a team reasonably expect to win based on the amount of time they spend in their opponent's penalty area?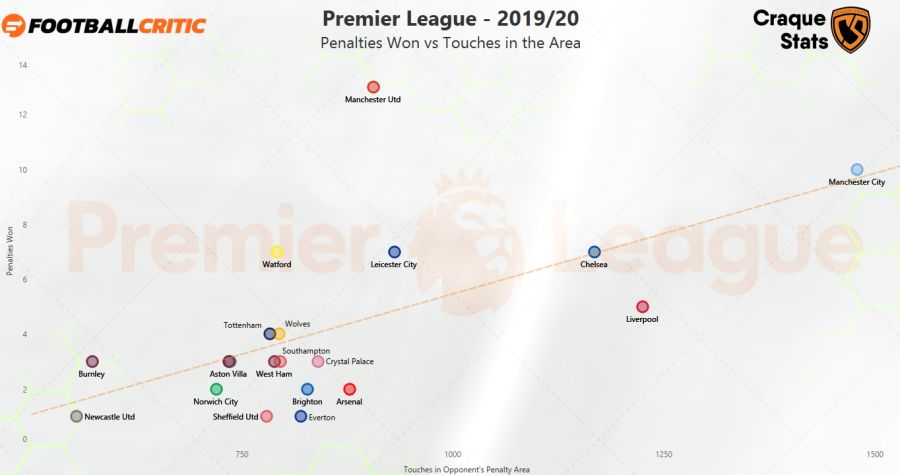 Based on this regression analysis, we can see a strong relationship between the number of touches a team has in their opponent's box and the number of penalties they win in a season.
There is some common sense to this too, as you can only win penalties in the opponent's box and therefore the more touches you have there, the higher chance you have to win a penalty.
While some teams fall below the number of penalties they should expect to win, such as Liverpool, Arsenal, Everton and Sheffield United, they all fall within two penalties of the trend line.
Likewise, teams like Leicester and Watford are two or three penalties above the trend line. Manchester United are the only extreme outlier, with eight or nine penalties more than the trend suggests they should have had based on the amount of time they spend attacking their opponent's box.
To reiterate, the reasons for this could be entirely subjective and will differ from one person to the next. Clever attacking play, quick-footed players, variance, referee bias, diving – depending on who you ask and the colours they wear, the answer will change each time.
So let's move onto the more pertinent question: What impact have these penalties had on their season? To answer that, first, we must look at the penalties awarded to them, the game-state at the time, the outcome of the penalty and the final score.
Anthony Martial
| | | | | |
| --- | --- | --- | --- | --- |
| Result | v Team | ⏱️ | Game State | Final Result |
| SAVE | Norwich | 44' | United 2-0 | W: 3-1 |
Paul Pogba
| | | | | |
| --- | --- | --- | --- | --- |
| Result | v Team | ⏱️ | Game State | Final Result |
| SAVE | Wolves | 68' | 1-1 draw | D: 1-1 |
B. Fernandes
| | | | | |
| --- | --- | --- | --- | --- |
| Result | v Team | ⏱️ | Game State | Final Result |
| GOAL | Watford | 42' | 0-0 draw | W: 3-0 |
| GOAL | Tottenham | 81' | United 0-1 | D: 1-1 |
| GOAL | Aston Villa | 27' | 0-0 draw | W: 3-0 |
Marcus Rashford
| | | | | |
| --- | --- | --- | --- | --- |
| Result | v Team | ⏱️ | Game State | Final Result |
| SAVE | Norwich | 29' | United 2-0 | W: 3-1 |
| MISS | Crystal P | 70' | United 0-1 | L: 3-1 |
| GOAL | Chelsea | 18' | 0-0 draw | W: 4-0 |
| GOAL | Leicester | 8' | 0-0 draw | W: 1-0 |
| GOAL | Tottenham | 49' | 1-1 draw | W: 2-1 |
| GOAL | Man City | 23' | 0-0 draw | W: 2-0 |
| GOAL | Norwich | 52' | United 1-0 | W: 4-0 |
| GOAL | B'mouth | 35' | 1-1 draw | W: 5-2 |
It's clear that penalties have played a huge part in their season; seven which they converted put them ahead in the match, while Paul Pogba's miss against Wolves back in August would have also secured all three points for Ole Gunnar Solksjaer's side.
Bruno's penalty against Spurs just after the return in June earned his side a point. Rashford's against Palace may have changed the course of that game similarly too. Unfortunately for United, he saw his effort smash against Vicente Guaita's woodwork.
All of the penalties United scored this season came when tied or a single goal separated the two sides. Football is a low-scoring game; penalties are nearly always going to have a material impact on the outcome of games if scored.
The question it does raise though is whether this United side has been too reliant on penalties this season. Focusing on those eight penalties awarded when games were tied, to what extent are Ole's side using penalties to break the deadlock in games in which they are struggling to find a breakthrough?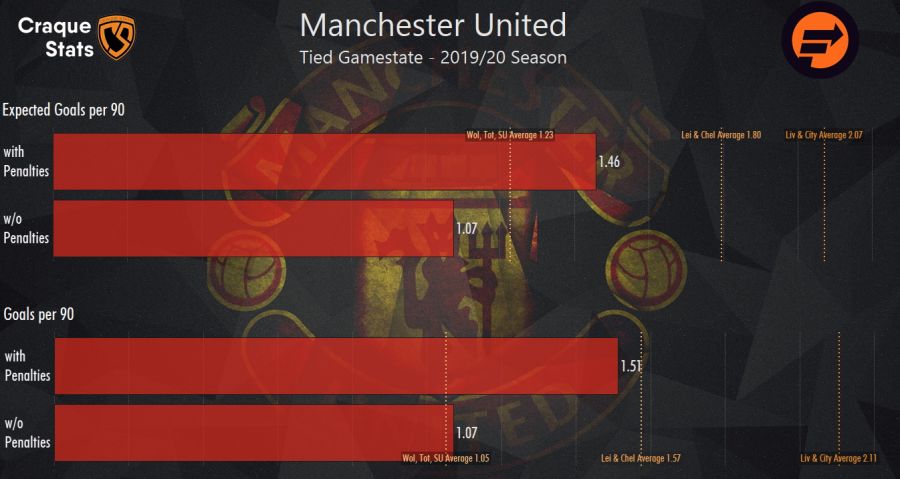 We have used game-state analysis to isolate only Manchester United's attacking performance this season when the game is at a stalemate. It is looking at expected goals – as in the probability value of scoring a goal based on the changes your team has created – and actual goals scored. The constant lines on the graph denote three sub-groups in the Premier League:
1) Title challengers: Liverpool and Manchester City
2) Top four sides: Chelsea and Leicester City
3) Top eight sides: Wolves, Spurs and Sheffield United
This graph shows us in terms of expected goals, United's attacking performances this season are some distance behind both the title challengers and other top four sides. However, they are also some distance ahead of the sides behind them in the table. It also shows, in terms of goals scored, the gap between the title challengers and everyone else is immense but that United are much closer to the other Champions League hopefuls.
The concern for United fans is the impact penalties are having on both of these numbers. Penalties are boosting their goals scored P90 figures by 41.1%. Even more concerning is the fact that the penalties are the only thing seemingly separating them from the other 'Top 8' sides.
This could all be dismissed as worrying about a non-problem. However, Manchester United's penalty fortune of this season could regress to the mean, just as Leicester's did in 2016/17. If United were to suffer a similar regression, they could find themselves in a battle to stay close to the top four next season, never mind harbouring ambitions of challenging Manchester City and Liverpool for the title.
All data and graphics used in this article are provided by @CraqueStats