Fabinho's importance to the Liverpool set-up continues to go largely unnoticed.
Just days after defeat in the 2018 Champions League final, Liverpool fans were rejoicing to the unexpected confirmation of Fabinho's arrival from Monaco.
Seemingly stealing him from under Manchester United's nose, Jurgen Klopp and his staff brought the Brazilian to Anfield for a reported £43.7 million, but his transition into English football was far from smooth-sailing.
The Brazilian did not play in the league until October 20, coming off the bench in the Reds' ninth game of the season against Huddersfield, and featured for just 15 minutes across the first two Champions League group stage matches.
From then on, the no.3 has been a mainstay in Liverpool's team, becoming an integral part of the Reds' Champions League triumph last season and their subsequent march to the Premier League title this term.
Klopp nicknamed his man 'Dyson' after an "unbelievable" display against Tottenham Hotspur in October last year, adding to the 'lighthouse' nickname assistant coach Pepijn Lijnders had given him earlier.
And it is that last nickname that perfectly encapsulates Fabinho's importance to Liverpool's system, as Lijnders spoke of how he "guides" the "organised chaos" on the pitch.
With this in mind, a look at Fabinho's own statistical data really fails to put him in a spotlight above any other defensive midfielder.
His best numbers come in the air, with a success rate of 65.38% from 2.99 aerial duels per 90, according to WyScout.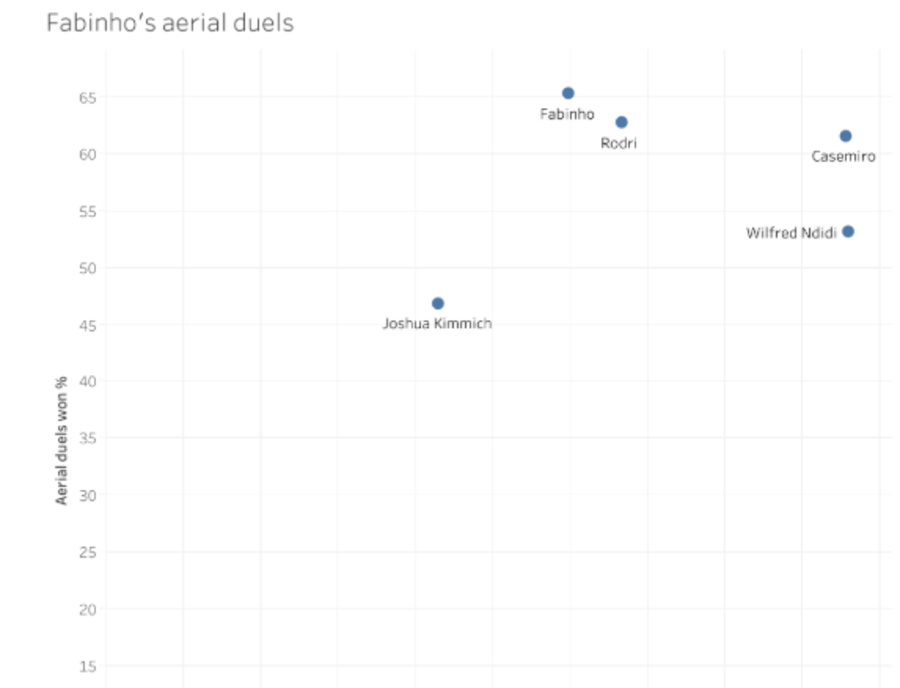 In a comparison among over 200 of the world's top midfielders, this places him in the top 10 for aerial duels won amongst players to have played at least 1,000 minutes, ahead of some of the best no.6's in the world including Rodri and Casemiro.
The Brazilian is in the top 30 for possession adjusted interceptions (PAdj interceptions), which calculates successful interceptions and essentially standardises the team's possession to allow for players in ball-dominant teams to not be washed away by this statistic.
A value of 6.91 has him again above Rodri and the likes of Marco Verratti, but falls well short of some of Europe's elite including Joshua Kimmich, Saul Niguez and Wilfred Ndidi, who tops the chart with a total of 10.93.
Aside from that, his statistics quite strangely do more to diminish him rather than flatter him. Fabinho is in the bottom 15 in defensive duels won with 51.03% and has a very low completion percentage on forward passes of 71.89%.
The rest of his passing statistics are the ones that paint a clearer picture of his role, though. While he plays 14.32 forward passes per 90, Fabinho has a completion rate of 98.63% on 8.4 backwards passes per game – yes, backwards passes, not that much to get excited about.
A total of 27.83 lateral passes per 90 is amongst the top 15, as is the completion rate of 95.87%. Being in a defensive position in the middle of the pitch, the recipients of those lateral passes would frequently be full-backs Trent Alexander-Arnold and Andrew Robertson.
Those two have fast become arguably the best in the world in their positions on either flank, competing for the title of Liverpool's assist king and transforming the way the Reds have played in the past two seasons.
Many people believe the one thing Liverpool are missing from their team is a world-class creative midfielder, a Kevin de Bruyne-type who can turn a game on its head with one act of magic, but in their two-full backs they have all of the creativity they need.
Alexander-Arnold and Robertson blow out their top-seven counterparts in creative statistics from Understat.com, with the former set to break the record for most assists by a defender in a Premier League season – a mark of 12 that he himself only set last season.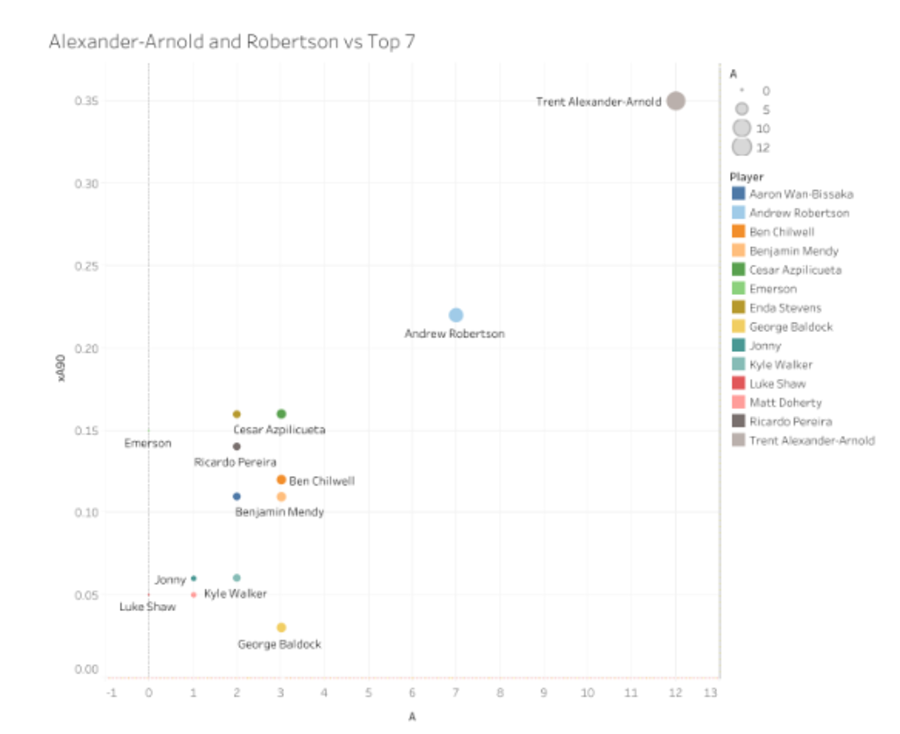 With Fabinho joining just as Liverpool's dominance was beginning to brew, he has been part of the side that has profited from the meteoric rise of the full-backs and has had something to do with it himself.
Now, with both of them being young, being coached by one of the best managers in the game and playing for a club the size of Liverpool, of course Alexander-Arnold and Robertson were going to improve as a matter of course.
However, Fabinho's arrival at Anfield aligns with a big creative jump for both of them and an increased consistency. Assists, xA, and KP90 have all been on the rise in the last two campaigns according to Understat, coinciding with the Brazilian's signing.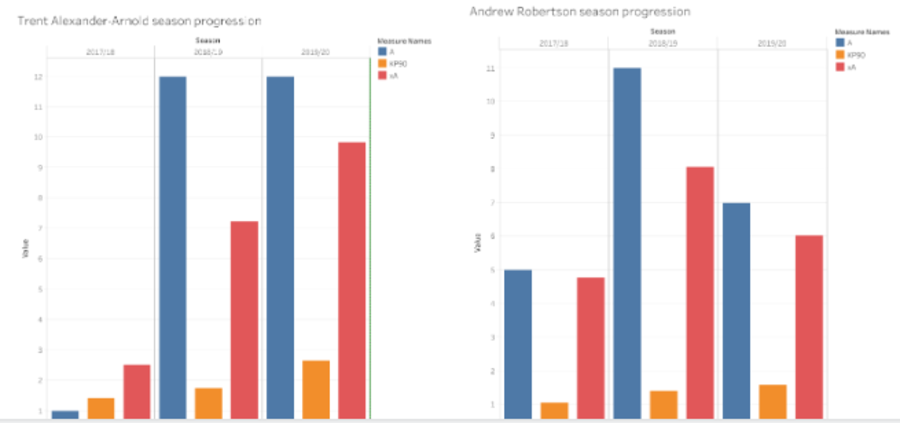 His introduction into the Liverpool side also filled the need for an out-and-out holding midfielder, finally allowing Jordan Henderson to resume a no.8 position further forward, one that he has openly admitted is his favourite and where feels he is best used.
A goal off the bench against Southampton in an influential cameo last season was a small taste of what was to come, as the Liverpool skipper has gone on to notch three goals and five assists in the league thus far, easily his best season since the 2014/15 campaign.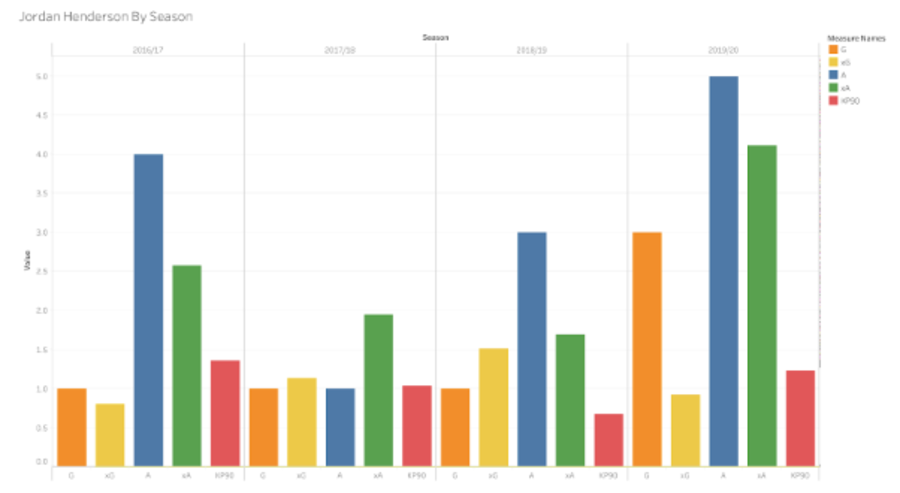 This, accompanied with perhaps his most steady run of fitness in years, has Henderson tipped for player of the year honours when the campaign eventually reaches its conclusion.
Liverpool were already on the way to steadying the ship defensively with Virgil van Dijk's emergence six months prior, but Fabinho's transfer was in many ways the most perfect of puzzle piece fits in the middle of the Anfield pitch.
Call him the lighthouse or the Dyson, but while Fabinho's own individual stats are not anything to jump off a page, his impact behind the scenes for Liverpool as been extensive and he will continue to be a big part of the success that is coming their way.