When Amazon Prime recently launched their foray into Premier League production they gave users the option of turning off commentary altogether and just enjoy the stadium noise. At the same time, IBM is building an AI that can commentate on matches. How in the hell have we reached this point?
This is a coupling of two inherent problems with modern football analysis. One, that commentary is so rudimentary and automatic that anyone, even a machine, can do it. And two, that the analysis currently coming through your speakers is so soul-destroying, so utterly devoid of any kind of contemplation or forethought that you would rather hear nothing instead. If that isn't a wake-up call for BT Sport in particular, the current nadir of sports broadcasting, then what is?
.@IBM is training an artificial intelligence system to commentate soccer games. https://t.co/HikMlV3QWg

— SportTechie (@SportTechie) December 18, 2019
The problem is now the acceptance of these rock bottom standards, but a glance at other sports finds that with the correct personnel and requisite respect for the art form, great things can happen.
ROMO RULES
Step forward Tony Romo. The Dallas Cowboys legend is one of the greatest quarterbacks in the history of the NFL, but he is also one of the greatest minds. His transition to the commentary box has injected a whole new perspective on the in-game action for casual and hardcore fans alike, and his ability to predict plays and match outcomes has become a running joke, such is his accuracy in doing so. But it's not a gimmick; when you know your sport so well that you know what's coming next, and, crucially, can articulate it in a coherent fashion, it brings a whole other dimension to coverage.
And the baffling thing with football is that so many other sports get it so right, too; Nasser Hussain and Michael Atherton, former England captains both, are exceptional on Sky's cricket coverage, while the same channel have one of the finest scene-setters in Ewen Murray, golf's orator-in-chief, ably supported by Mark Roe, Paul McGinley and countless others.
For F1, see Martin Brundle. Tennis, Mark Petchey, Mats Wilander, John McEnroe. The list goes on. That isn't to say that these sports don't have uninformed analysts entering the consciousness, but there seems to be a greater effort to be selective in who we are forced to listen to.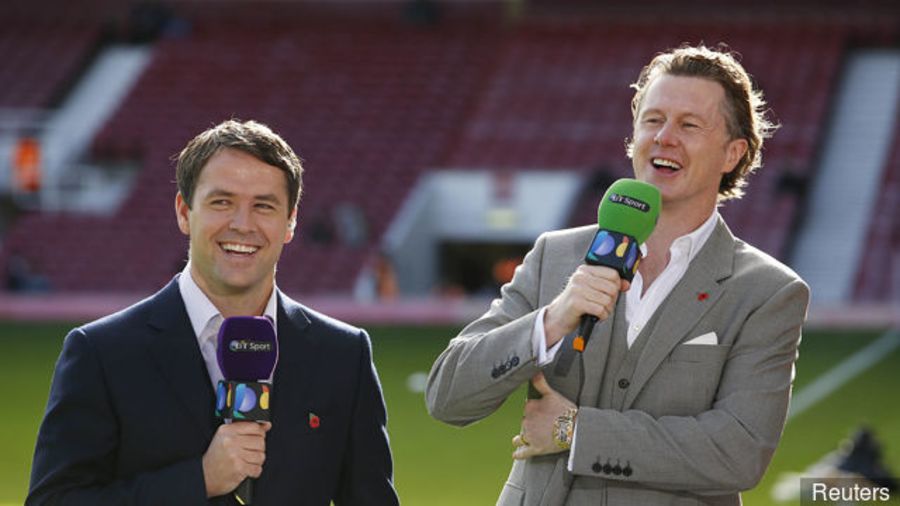 And yet, in football, we have myriad problems that preclude us from reaching Romo status. The first is that there's a generation of skint ex-footballers with agents parading them around to literally anyone who will have them, from a graveyard Sky Sports News slot to an asinine debate on TalkSport, via every conceivable podcast or betting show in between.
This is less the fault of the player, and more the game; we are at peak volume of bad football analysis and there's more than enough to go around for Clinton Morrison, Stephen Warnock, and the rest of the gang.
NO MORE MACCA, PLEASE
And secondly, there's a fundamental untruth that permeates football in particular - that every player who featured at the highest level actually understands the game they made as a career. It's simply not true, and there's even fewer that can properly articulate what they experienced in club life.
It's why the likes of Gary Neville and Jamie Carragher are elevated because they are currently by far the best of an increasing sorry bunch. We need to not only see more of them develop, we need them to challenge each other to take coverage to the next level.
Football's fundamental untruth is that every player who has featured at the highest level actually knows anything about the game they made as a career.Paul Macdonald
Because - and it's becoming increasingly obvious - broadcasters feel that the 'man on the street' is not interested in a deep dive into how matches are won, that they are keen on banter, on quotes, on controversy. And it drags the overall standard down to Steve McManaman levels of banality that viewers are quite literally listening to background noise as an alternative, as if stadium sounds have been transmitted through their Calm app in response to how teeth-grindingly awful 'Macca' is.
And despite a burgeoning online community of statisticians and data provides attempting to offer wider insight into why things in football happen like they do, there seems to be a clear disconnect between what TV producers think people want and what they are given instead.
It will take a Romo to emerge at this point for viewers to take TV commentary and analysis on football seriously again.
Where are they?