This was supposed to be a transitional season for Atletico Madrid. Hiccups were expected.
However, they've become a regular occurrence.
A talented team, on the outside looking in at the top four of La Liga with a paltry 22 goals scored in 22 games. To make matters worse on the attacking front, Joao Felix, the club's record signing, has another muscular injury, and in any event has struck just four times all season in all competitions. With Alvaro Morata and Diego Costa also injured, a central striker was an absolute imperative. One, allegedly, wanted to come.
But the collapse of the Edinson Cavani deal has led to a war of words, and ultimately threatens to take Atleti's campaign further off course.
Cavani, even at 32, remains one of Europe's most potent strikers and could have been a godsend for los Colchoneros. Simeone's Atletico have established a brand of grinding out 1-0 wins since his arrival in 2011, and that defensive solidity remains relatively intact. Atleti's expected goals against (xGA) of 16.08 is the lowest tally in the league. Their 8.96 shots conceded per 90 minutes is the seventh-best figure in La Liga, while their xG per shot conceded (0.092) is the best in Spain's top flight.
Conceding low-quality chances, and very few shots in general, has been a staple at Atletico for years. It's the attack that's clearly struggled and it can be traced back to the sale of Antoine Griezmann to Barcelona.
Griezmann was obviously crucial to Atletico's success over the previous five seasons. The Frenchman was their top scorer in each campaign he spent with the club, recording 94 goals in 180 league games. He was also a tireless runner off the ball, led the team's pressing game, and created chances.
However, more than anything else, Griezmann was a clinical finisher. He outperformed his xG in every season with Atletico whilst attempting a low number of shots.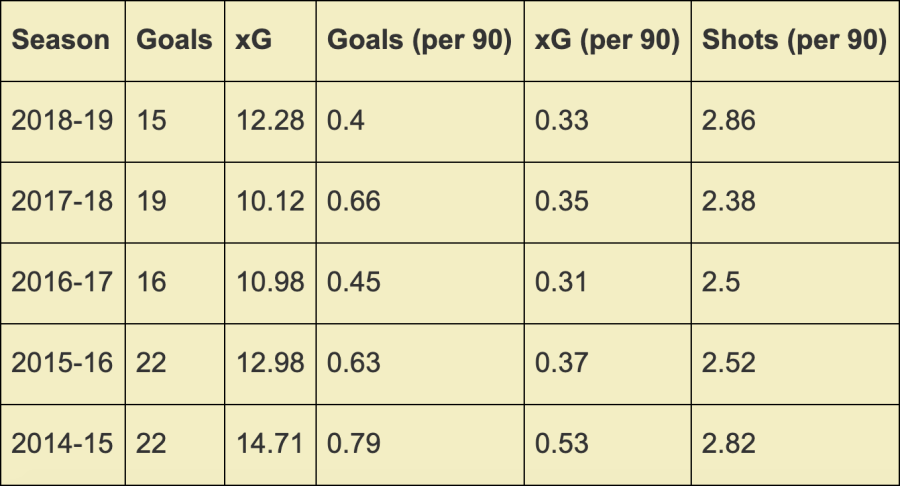 Even without Griezmann this season, the chance creation has been adequate for Atletico. They rank fourth in La Liga in total xG (34.64) and are tied for third in xG per shot (0.13). But Costa, Morata and the others have simply been wasteful with those opportunities.
This is why Cavani would have been such a clear upgrade, especially in open play. Few strikers can replicate the Uruguayan's off-the-ball movement, which is why he's constantly in great positions to score. His Ligue 1 numbers can be skewed but even in the Champions League against stronger competitors, Cavani has maintained that same consistency.

Many point at Cavani's big misses in marquee Champions League matches as a sign that he's impotent. The truth is, if a striker is constantly producing chances, he's bound to snatch at some of them. What's important is that he's in the right areas to score, and that's one of the Uruguayan's best qualities.
Cavani also personifies the Uruguayan stereotypes of working hard for the team. something that Simeone would have loved considering his high demands for his forwards.
Cavani could also have been a help for Felix. The hefty price that Atletico paid for the young attacker has amplified some already hefty expectations for the Portuguese, but now he will continue to feel the onus as the sole threat in the final third.
All of this has ended acrimoniously. Enrique Cerezo, Atleti president, openly criticised the conduct of Cavani's agent, his brother Walter Guglielmone, saying, "I think it's shameful the situation of some players with their agents and relatives. We're not here to be robbed."
Reports suggest that Atleti weren't willing to meet PSG's €20 million valuation and Guglielmone is adamant that this was the issue and not the demands of his client.
He said: "Cavani was willing to receive less than with PSG. Atletico could not cover the total economic cost of the operation and PSG did not want to lower the amounts he was asking for."
It's difficult to know who is telling the truth, but the only thing clear is that even with the arrival of Yannick Carrasco on loan, the purpose of their January business was not achieved.
In years past, when Atletico's matches have been scoreless through 70 or 80 minutes, there was a sense that the players were comfortable with that score line. There was always a chance that Atleti could pounce with a late winner off a set piece or via a rapid counter-attack. More often than not, that's exactly what transpired.
That threat has largely dissipated this season, and in failing to secure a deal for Cavani they risk putting any possible success in jeopardy.
⚽ View Edinson Cavani's full profile, matches, statistics and pitch position