The 2015-16 English Premier League title was won by Leicester City in the most improbable triumph imaginable; having narrowly avoided relegation the season before, no-one expected anything other than another season of struggle. But as English football's powerhouses suffered through various phases of transition, the Antonio Conte becoming the second Italian in succession to triumph, the opportunity for upset was there, and the Foxes duly delivered, and in style, too; they finished 10 points of Arsenal, who were barely challengers, with the Manchester duo both ending the season a full fifteen points behind. Unlikely, no - near-impossible, yes. Yet it happened, and it will never be replicated if the Premier League exists for another thousand years.
CHANGES
The close season saw some extravagant spending; Manchester City, as usual, were at the forefront, whose outlay for Kevin De Bruyne, Raheem Sterling and Nicolas Otamendi was in excess of £150m. Liverpool bought firepower in Christian Benteke from Aston Villa (£41m) & the Brazilian Roberto Firmino from Hoffenheim, while Manchester United, after a period of relative frugality, flexed their muscles on talented wide players Anthony Martial and Memphis Depay, from Monaco and PSV respectively.
On the managerial front, Claudio Ranieri arrived at Leicester City to precious little fanfare and more than an air of scepticism, while West Ham traded in Sam Allardyce for the Croatian Slaven Bilic.
The league also welcomed three new promoted clubs in the form of Watford, Norwich and Bournemouth, the latter experiencing top-flight football for the first time, replacing perennial yo-yo clubs Burnley, QPR and Hull City.
SEASON SUMMARY
The relative achievements of all other clubs in the division paled into insignificance. With the exception of Tottenham, none of the other perceived 'big six', including Liverpool, Man United, Man City, Arsenal and Chelsea, will remember this campaign with any fondness.
Indeed for Chelsea it started disastrously and only got worse. Defending their title and with Jose Mourinho at the helm, big things were expected. But after Mourinho was involved in an altercation with physio Eva Carneiro during the opening day draw with Swansea, the Blues' form spiralled, with Liverpool, Crystal Palace, Southampton and Bournemouth all winning at Stamford Bridge. The Portuguese was sacked in December, and although Chelsea recovered, they failed to qualify for Europe for the first time in 20 years.
Tottenham put together their most consistent season in Premier League history, with the talents of Harry Kane and Christian Eriksen suggesting that Leicester City could be hunted down. So close, yet so far, a damaging draw with Chelsea in an ill-tempered encounter proving enough to end their challenge.
The less said about Manchester City, the better. The worst-kept secret in football - that Pep Guardiola had decided to end his one-year sabbatical and that City were his club of choice - was announced mid-season, and dead-man-walking Manuel Pellegrini performed admirably under difficult circumstances, but it was a transitional year in every way possible, readying themselves for the arrival of the Spaniard.
It's an amazing feeling and I'm so happy for everyone. I'm a pragmatic man - I just wanted to win match after match. Never did I think too much about where it would take us.Claudio Ranieri
Leicester's credentials begun to pick up momentum as Christmas loomed and they moved five points clear. Striker Jamie Vardy achieved a goalscoring run almost as unlikely as their eventual triumph, finding the net in 11 consecutive Premier League matches, a league record. Upon going top of the table in mid-January, Leicester were there to be gunned down - but the barrage never came. The Foxes showed incredible consistency, recording convincing wins away to Tottenham and Manchester City and at home to Liverpool, and defeat to Arsenal in February proved to be their only blemish in a 20-game run.
Each week they were expected to stumble, yet their errors were few, and even when they failed to win - such as in nervous draws with West Bromich Albion and West Ham - they had already banked enough breathing room to maintain their advantage.
A horrendous Aston Villa side finished bottom, doomed to the drop from the early months of the season, joined eventually by Norwich City and Newcastle United, the latter's off-field problems once again stifling the dreams of their fervent supporters.
But, really, there was only one memory. For Leicester, a season for the ages. Vardy, Riyad Mahrez, Robert Huth, Wes Morgan; Premier League heroes borne. The stacked nature of football in the favour of the giants makes such a victory inconceivable - yet it happened. It will never not be remarkable.
AWARDS
PLAYER OF THE SEASON
MANAGER OF THE SEASON
CLAUDIO RANIERI
From suffering a humiliating loss to Faroe Islands while Greece boss, to orchestrating a Premier League title win. Again, it is all part of the fairytale.
YOUNG PLAYER OF THE SEASON
DELE ALLI
Alli returned from a fruitful spell at MK Dons to fit naturally into Premier League football, creating a potent partnership with Harry Kane as Tottenham challenged for the title.
TOP GOALSCORER
HARRY KANE - 25 GOALS
Kane's 25 goals edged out Vardy and Sergio Aguero as his prolific, proficient finishing ability begun to crystallise.
TEAM OF THE SEASON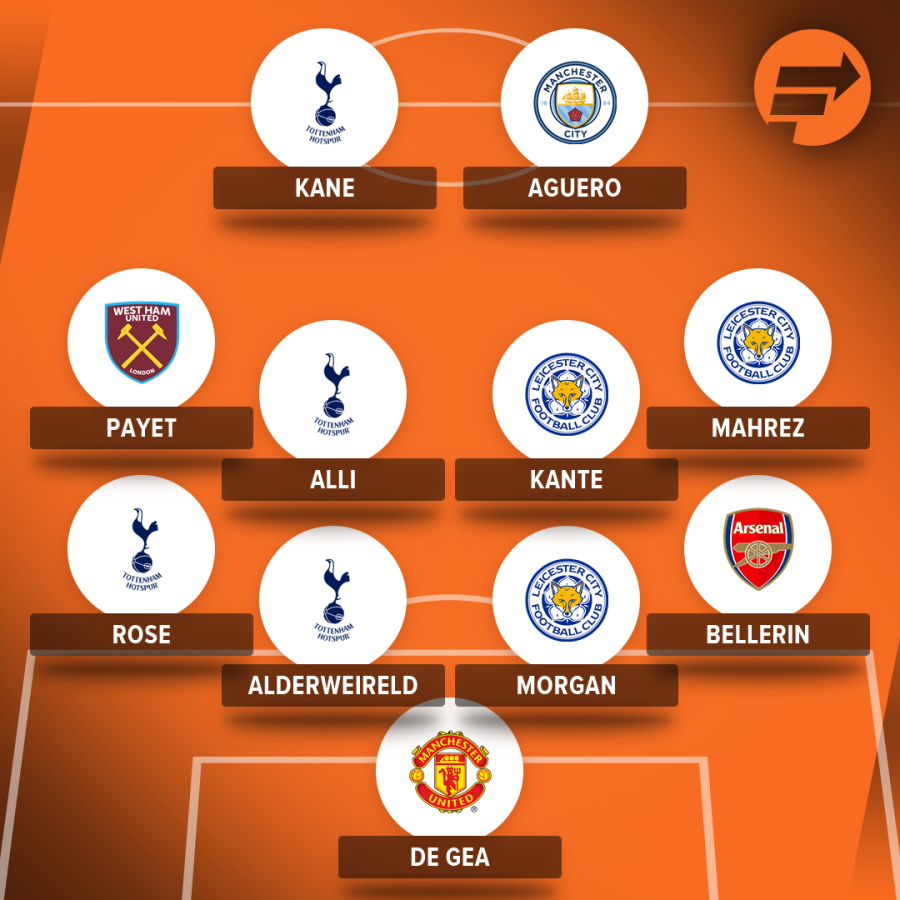 GOAL OF THE SEASON
DELE ALLI'S stupidly skilful flick and volley against Crystal Palace.
MOST EXPENSIVE TRANSFER
KEVIN DE BRUYNE
Wolfsburg to MANCHESTER CITY
£55m
KEY MOMENT OF THE SEASON
Riyad Mahrez's destruction of Manchester City in a 3-1 win at the Etihad, effectively ending their title challenge and making everyone, including Leicester's players, think the impossible was possible.