BT Sport kicked off their bumper FA Cup weekend with Rochdale against Newcastle on Saturday morning, and within 30 seconds of the coverage beginning, we'd been treated to Ronnie Radford's goal for Hereford from nearly 50 years ago.
The more that TV coverage reveres what the FA Cup used to be, the more we are given clear indication that the current incarnation of the competition is about as exciting to fans and players as the Anglo-Italian Cup.
But BT paid money for this Dodo and so, with Wolves facing Man United in the evening kick-off nearly five hours after their telethon-style coverage began, we take a ride on the cliche train all the way to irrelevance. The magic of the cup is of course that anything can happen and that giant-killings are possible and the FA Cup can change a player's life or the fortunes of a team and it remains a title that everyone wants to win and the atmosphere in this old ground is fantastic and the sense of anticipation is high and if you don't think the FA Cup is great great great you don't love football and should leave right now.
Wolves v Man Utd
Molineux
FA Cup

We've been here before. Will Man Utd be once bitten, twice shy against Wolves?

BT Sport 1 HD
5pm pic.twitter.com/ua5y4O3GY4

— Football on BT Sport (@btsportfootball) January 4, 2020
It's obviously not magic enough to put on a game with a smaller team, of course, because viewing figures, so we get two not-arsed Premier League teams instead. This is juxta-posed with Jake Humphrey meandering down the tunnel at Molineux, repeating the same fed lines while both sides announce multiple changes to their starting XIs and produce a match so thrilling we enjoy a full two shots on target, including a whole none from United.
Humphrey is joined by Mick McCarthy and Rio Ferdinand, standing in the centre circle for some reason. Humphrey says that 'this is quite a place to play football', to which McCarthy instantly replies 'anywhere is a good place to play football', somewhat stealing Jake's thunder. They walk over and shake Rio's hand, as if they've just bumped into him doing his weekly shop, as Rio talks for a full two minutes about United but manages to say precisely nothing of note or nuance, despite incessant cajoling from Humphrey to at least propose something negative about his former team-mate. Rio isn't budging.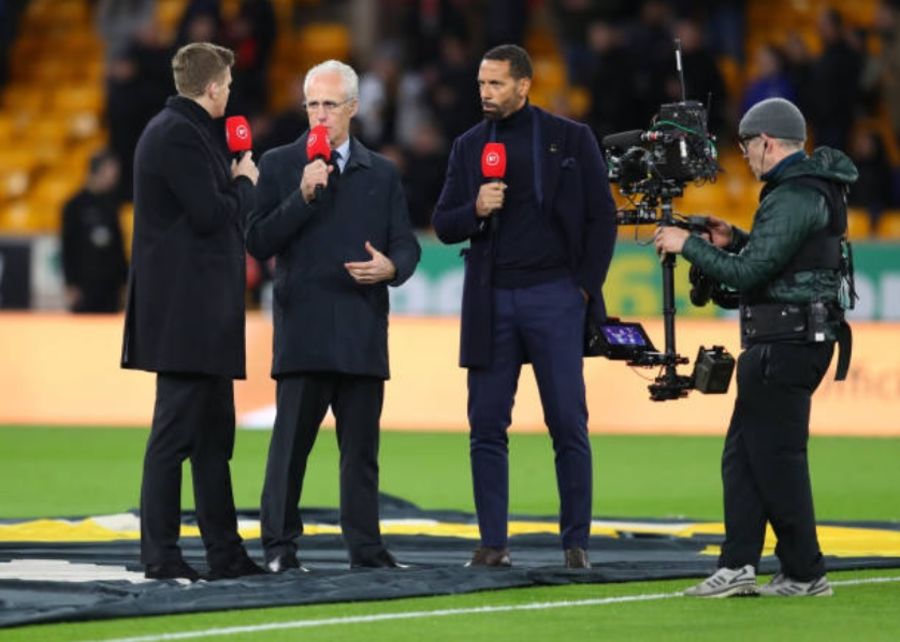 Wolves field Bernard Ashley-Seal for his first appearance in two years, and McCarthy begins to talk about identifying young talent. Humphrey presses him for more.
'How do you know if you have a young player who will make it?', to which McCarthy says, 'ah you just know.' So, so close to something resembling insight. But we move on.
You can see why BT like Humphrey, his glass-half-full outlook exactly what's required when the perceived opinion of this competition from fans, players and managers is just to get through it unscathed and return to league duties. And it's all the worse when they choose to play havoc with the schedules, have four of the six live weekend games on their channels and generally give a gigantic middle finger to anyone who woke up this morning thinking they can see any of the action.
Humphrey tries his best but the game gives him nothing, and the commentary box provides a net negative impact on your consciousness. Ian Darke isn't the commentator he once was (and has always been more suited to boxing) but he is still one of the better ones out there and despite every BT nod to this auspicious competition he and Steve 'say what you see' McManaman can't polish this particular turd.
As the game meanders into the second half with both teams bringing on first-choice players in a desperate attempt to escape having to play a bloody replay, McManaman shrewdly notes that 'both teams have got better as they bring better players on', a comment befitting for this tournament and this match.
'You get the feeling one goal will win this,' exclaims Darke with 20 minutes to go, and without literally throwing the contest, you get the feeling that everyone in the stadium wants someone, anyone, to score so that at least one set of fans can draw a line under the magic of the cup for another year.
Ole Solskjaer notes at full-time, 0-0 draw secured, that he is 'happier to still be in the competition than to be out', something that would be obvious when discussing any other showpiece, but clearly had to be said as United face a fixture pile-up due to their participation in the two-legged Carabao Cup semi-final. That veiled comment says it more than anything else can.
So the BBC have only 2 live FA Cup games. BT Sport have 4. And pundits still go on about the magic of the cup dying. Maybe if more games were on free television, it wouldn't be.

— Trevor Lloyd (@Trevorlloyd92) January 4, 2020
BT have one more year before they hand over the rights to ITV, who will share all matches with the BBC for four years from 2021. The fact that all matches will be free-to-air may reignite some interest from people who may not have the subscription to see these games and who regularly complain about BT being in control, but BBC would likely have something to say about that.
The fact is that BT could have taken us down a different route, but instead chose to throttle the viewer with history and demand we acknowledge it, like a cinephile being annoyed that a friend doesn't understand the films of the Marx brothers.
ITV will almost certainly do the same; no-one is convinced.