It was always going to happen this way.
With the Bundesliga being the first league to come out of lockdown amid the COVID-19 crisis the amount of people consuming the televised games would be almost unprecedented for the league.
This has led to the plethora of talented young players currently in the German top-tier suddenly being brought into sharp focus to those watching. One of these players in particular has impressed all those who are new to the German game, as well as those who have been watching for years, with his contribution to the team in the attacking phase. That player is Kai Havertz of Bayer Leverkusen.
READ MORE:
⚽ Future Ballon d'Or winners: Jadon Sancho
⚽ Future Ballon d'Or winners: Kylian Mbappe
Havertz is a 20-year-old attacking player who already has seven full caps for the German national team. We call him an attacker because his specific role for club and country is so hard to actually define. He initially made his breakthrough as a winger or as an attacking midfield player but recently we have seen him lead the line as a traditional '9' for Leverkusen.
He has been a part of the Leverkusen setup since a young age having originally been in the youth system of his home town club Alemannia Aachen. He was extremely highly-rated by the coaches throughout the age groups at Leverkusen and made his first-team debut as a 17-year-old before going on to quickly establish himself in the first-team picture.
Havertz is a player with the profile to make us challenge our assumptions about the game. He is tall at 6ft 2in, and capable of receiving the ball with his back to goal but equally he possesses the pace to beat defensive players to passes that are played in behind the defensive line into space. He has quick feet and displays an awareness of space that enables link up play in transition with team-mates moving from deeper positions, but he also displays a ruthless streak in front of goal that has seen him score repeatedly since the restart of the league.
The purpose of this article is to give some context to Havertz as a player and to show why he is likely to be a player in the conversation for the Ballon d'Or in the post-Lionel Messi and Cristiano Ronaldo footballing landscape.
As ever the first thing that we need to do is look at the data to try to build a picture of Havertz as a player, however, his game tends to largely evade most metrics.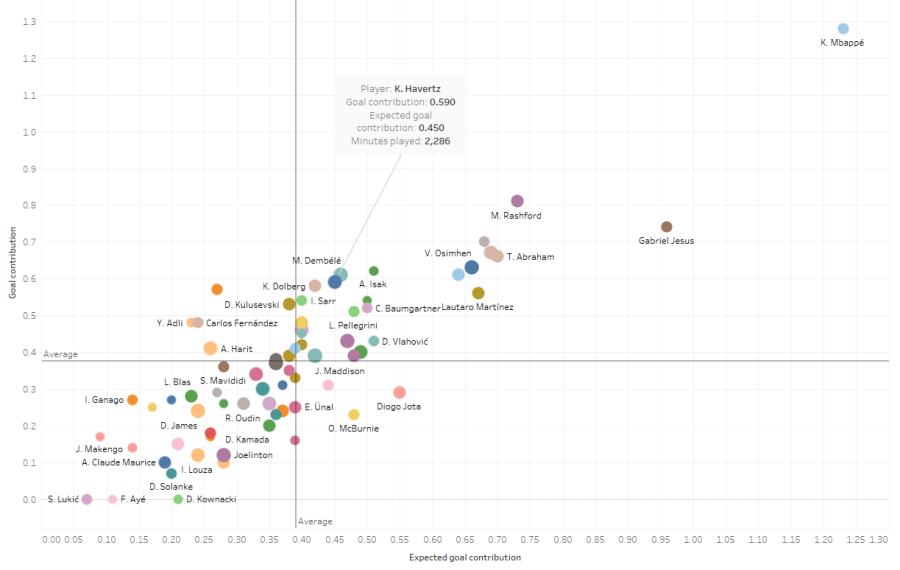 We have taken data for central attacking players under the age of 23 in the top five leagues. This data is then further filtered by minutes on the field with all of those who have accrued less than 500 minutes taken out of the picture. We have then created combined metrics to show:
- Goal contributions (Goals + Assists) P90
- Expected goal contributions P90 (xG + xA)
The immediate outlier is, of course, Kylian Mbappe but his profile and the tendencies in his game are vastly different to that of Havertz. Where Mbappe is explosive and intelligent in the timing and the angle of his runs, Havertz is more nuanced in the positions that he occupies in the final third. With a goal contribution metric of 0.59 P90 from an expected goal contribution of 0.45 P90 we can clearly see that Havertz is contributing more than a goal every two games for Leverkusen this season. Again, however, that only tells part of the story. Havertz is equally effective in the way that he pulls opposition players out of position to create space for teammates.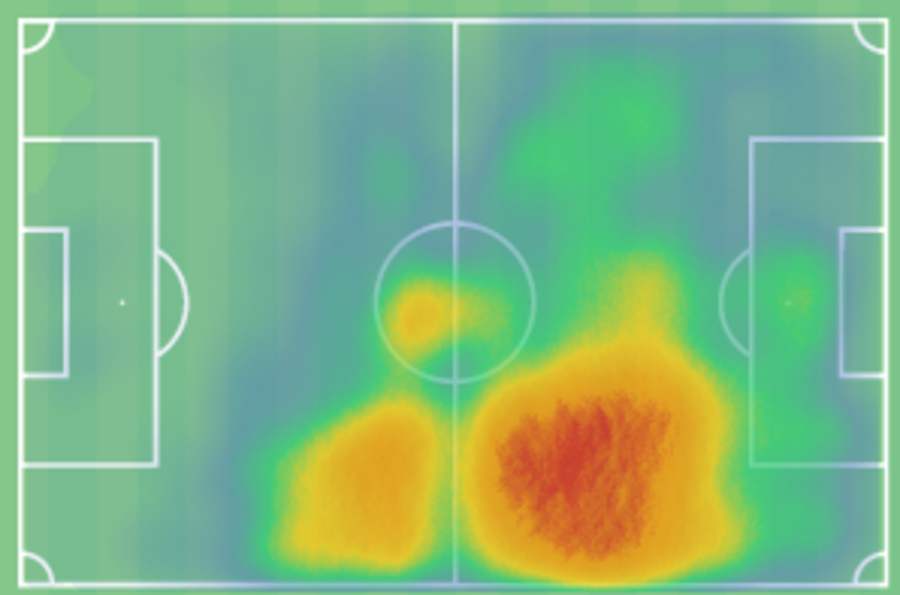 To understand this more fully we need to consider the positions that Havertz occupies on the pitch and we see a snapshot of this in his heatmap above. He has a tendency to drop off into deeper areas of the field and in this matter, he is similar to Roberto Firmino at Liverpool.
These movements are extremely effective because they completely disrupt the defensive organisation of the opposition. Does the central defender drop deep to cover the run of Havertz? If he does then space is created in the defensive line that can be exploited. Does the midfielder have to track the run of Havertz? Then there is space in the final third that can be used to progress the ball through.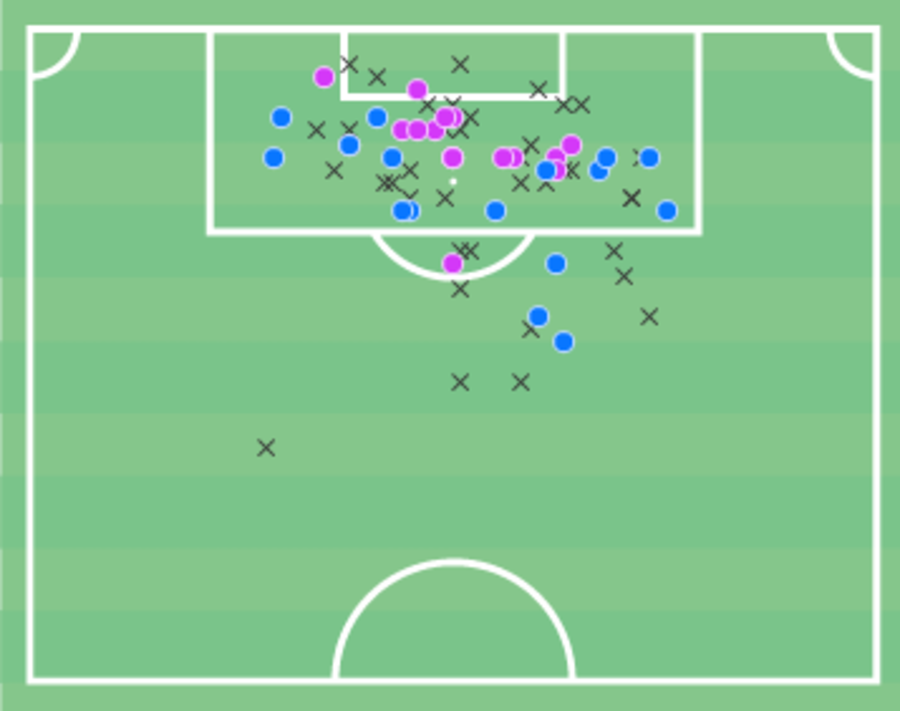 Above we see his shot chart for the 2019/20 season to date. We can see that he occasionally shoots from distance but all but one of his goals this season have come from inside the penalty area. He is a clever finisher with a range of different shots in his arsenal. A favourite of his is to wait for the goalkeeper or to commit himself before calmly slotting the ball past him although he does possess power to finish from further out as well.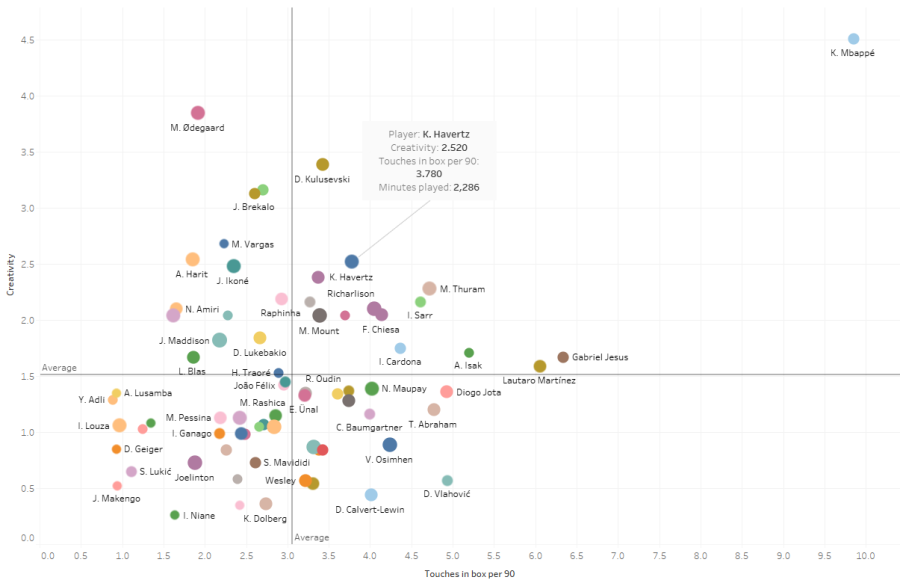 In this graphic we use another combined metric to find a score for the player's creativity in the final third. We combine deep completions P90 with Key Passes P90 to find a creativity score and then compare this to touches in the opposition box P90 minutes.
The results are interesting and, once again, Havertz finds himself in the magical top-right quadrant of the scatter graph. with a creativity score of 2.52 P90 combined with 3.78 touches in the opposition box. This shows the balance in the young forward's game between linking play and providing a presence in the penalty area.
In the past few weeks reports have emerged linking Havertz to a move to the Premier League with both Liverpool and Chelsea said to be interested in securing his signature. He has also previously been linked to a move within Germany to Bayern Munich although that speculation has dampened recently.
Havertz has the profile to thrive in the transitional nature of the Premier League and for a team that tends to dominate possession, he could prove to be an excellent addition.