This past week in the Bundesliga has been truly eventful on and off the pitch and fortunately for us it can all be contextualised and explained through the wonders of numbers and fancy looking graphs.
Let's drive straight into it.
Why Dortmund have signed Marco Rose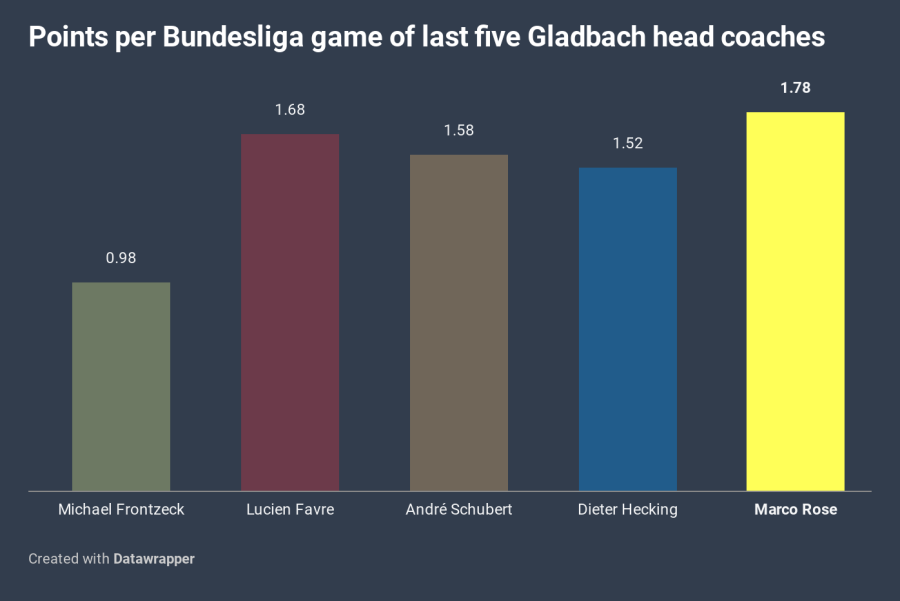 The biggest news this week undoubtedly came on Monday afternoon when Borussia Monchengladbach confirmed that Marco Rose was leaving the club at the end of the season to join Borussia Dortmund. Even if it was the worst kept secret in this season's Bundesliga, it's still pretty exciting stuff.
Rose has made a name for himself after achieving a number of things at RB Salzburg and then Gladbach, but Dortmund fans should perhaps be most excited by the German coach's ability to pick up points in the Bundesliga. As we can see from the graph above, Rose leaves the Foals with a comfortable lead over the previous four Gladbach coaches - including former Dortmund coach Lucien Favre - when it comes to points won per league match.
Don't let anyone fool you: Rose may be a keen tactician and a whizz when it comes to developing young players, but he won't last long at Dortmund if he can't pick up enough league points to challenge Bayern Munich every season. Fortunately, when it comes to the new BvB coach, he seems to know exactly what he's doing in that department.
Why someone may try and buy Andre Silva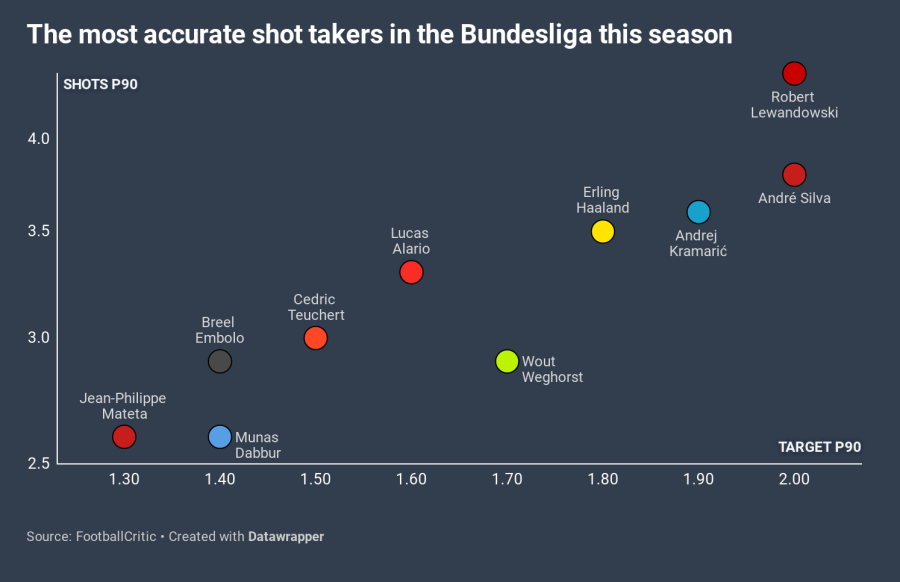 There's just no stopping Andre Silva at the moment. The Portuguese striker was once again on form on Sunday with an opening goal as Eintracht Frankfurt made short work of FC Koln in a 2-0 victory. It was Silva's eighth goal in nine games and Frankfurt's eighth win in 10 Bundesliga games. Noticing any parallels here?
Indeed, Silva has been one of the best strikers in the league this season and his talents in front of goal - 18 in just 20 league games - have gone a long way to pulling Adi Hutter's side up to third in the Bundesliga table. So what makes Silva so good?
Sure, some of his goals have come from the penalty spot, but as we can see in the graph above, much of Silva's talent comes from his remarkable accuracy in front of goal. Only Robert Lewandowski averages more shots per Bundesliga game and both strikers are tied when it comes to how many they get on target per match. Give Silva the ball in the box and he'll almost certainly find a way to score.
Why Bayern have bought Upamecano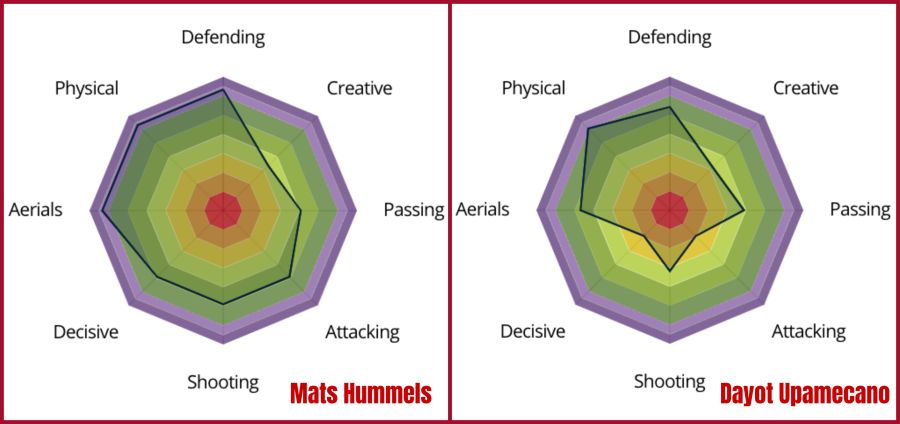 I'm afraid this part of the newsletter is a bit of a cop-out. I've already written about 700 words of analysis on what Dayot Upamecano is good at and what he can improve on right here. Rather than regurgitate it here, just go click on that link and you'll find a thorough report on the new Bayern Munich defender.
Little progress at Dortmund under Terzic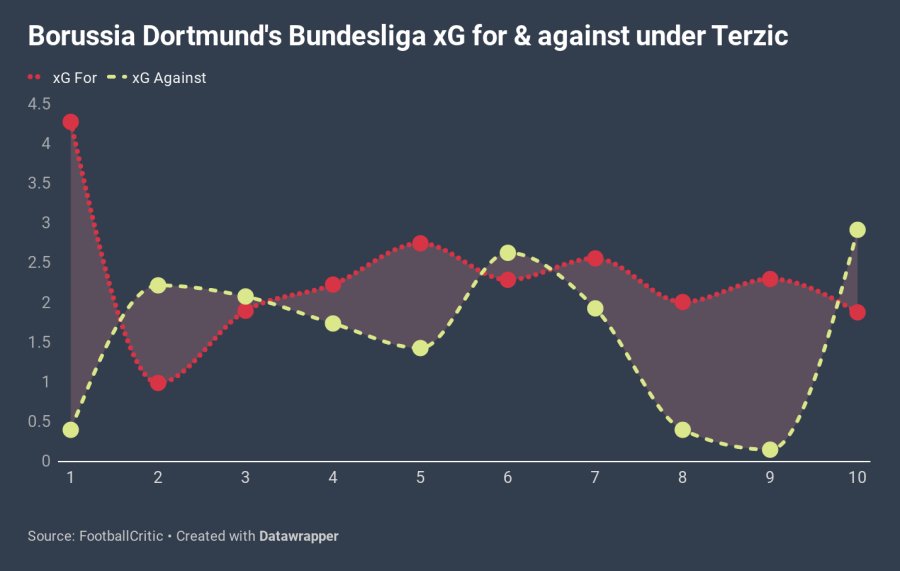 This weekend represented Edin Terzic's 10th Bundesliga game in charge of Borussia Dortmund and while 10 league games may not be a fair measure of any coach there's very little sign of any genuine progress under the young coach.
As we can see from the graph, Dortmund's opponents (yellow) have usually amassed an xG [expected goals] of an equivalent or higher measure than Terzic's side (red). Which, in other words, means the Westphalia side have very rarely managed to keep opponents at bay even if they have managed to create enough chances and goals for themselves.
It's this inability to control matches or even properly defend that showcases a Dortmund side that are truly crying out for a proper head coach. Perhaps Rose can be the man to fix this team's problems. But there's plenty of football games to win and a tricky top four finish to claim between now and then. Terzic needs to fix this team. Quickly.
Sign up below to receive our Bundesliga analytics newsletter every Tuesday morning.