So it seems as though Bayern Munich have beaten the rest of Europe to the signing of RB Leipzig defender Dayot Upamecano.
On Friday night the Bavarian club confirmed that they had agreed terms with the player's representatives and handed over €42.5 million to pay for Upamecano's release clause.
"I was always convinced that we had presented a good concept," declared Bayern sporting director Hasan Salihamidzic. "We presented him with our vision of his career at FC Bayern Munich."
Despite reported interest from Chelsea and Liverpool, Upamecano will now join Bayern on a five-year deal and presumably represent the strong foundations of Hansi Flick's defence in the years to come.
But just how good a player is Upamecano and have Bayern beaten their Premier League rivals to one of the world's most exciting, young defenders?
How good has Upamecano been at RB Leipzig?
Despite seemingly being in the limelight for some time now, it's easy to forget that the 2020/21 was only Upamecano's fourth, full season in the German Bundesliga.
However, in that time the French international has quickly developed into one of Julian Nagelsmann's most important defensive players. The Red Bull side have the best defence in the Bundesliga this season and Upamecano has played a huge part in that success.
When we compare him to Leipzig's other central defenders, Ibrahima Konate and Willi Orban we can begin to see what kind of defence Upamecano is developing into. The young defender is often labelled as a modern, ball-playing central defender and when we look at the stats that certainly seems to be the case.
Among the aforementioned central defenders, Upamecano sits top for touches of the ball per game, total passes, passing completion rate, passes into the final third and long balls. And while Konate may average a few more dribbles per match, it's clear that Upamecano has been Nagelsmann's most technically gifted central defender this season.
These technical skills also show Upamecano leading the way in interceptions, recoveries and tackles won per game. However, the French defender does lag behind both Konate and Orban when it comes to the number of aerial duels he wins per match. And for all of his ability on the ball, Upamecano also loses possession more often than the other two defenders.
How Upamecano compares to the Bundesliga's best
While there may be no doubt that Upamecano has been one of Leipzig's most important players - only goalkeeper Peter Gulacsi and full-back Angelino have played more minutes for Nagelsmann's side this season - it still remains to be seen whether the young, French defender is ready to make the step up to Bayern.
When we compare Upamecano's stats to every central defender in the division we do see that there is certainly room for the young player to improve.
For example, the defender's aerial duel wins has him sitting 18th among central defenders in the division, his interceptions per game sit 34th in the division and the average amount of tackles he wins per game are just ninth among his contemporaries in the Bundesliga.
Even Upamecano's technical stats aren't entirely groundbreaking among the rest of the division. He sits just eighth for passes per match, 13th for the accuracy of his passes, 17th for how many passes he makes into the final third and loses the ball more times than 16 other central defenders in the division.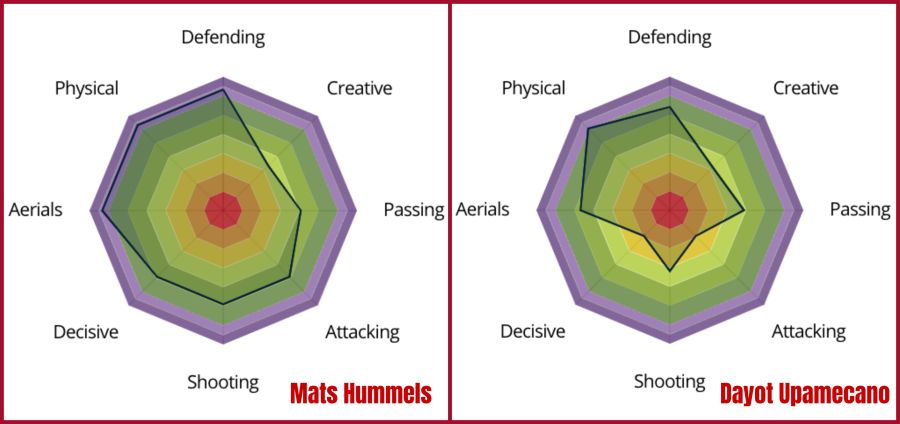 This disparity between Upamecano and the very best in the Bundesliga is perhaps best illustrated when we compare the future Bayern defender with Borussia Dortmund vice-captain Mats Hummels, who remains one of the best central defenders in the German top-flight.
As we can see from the graphic above, while Upamecano undoubtedly thrives in passing, physical and defensive stats, he's still some way off being an all-encompassing central defender like Hummels.
Of course, at just 22 years of age this is entirely normal. And few doubt Upamecano's capacity to reach the same level as Hummels has done in the Bundesliga. But it'll be interesting to see how well the French defender settles into Bayern's defence and just how quickly he can not only adapt to a new team with higher demands but also continue developing along the way.
Upamecano has shown glimpses of the world class defender he could become during his time at Leipzig but next season will be an entirely new test for him. As Lucas Hernandez, Niklas Sule and countless others can attest to, if you aren't up to scratch in Munich you're quickly moved aside regardless of the fanfare and money it took to get you to the Allianz Arena. Let's see if Upamecano is up to the challenge.