Having endured an off-season full of drama and upheaval following their devastating 8-2 Champions League loss to Bayern Munich, the start of the new campaign offered a new dawn for Barcelona.
The Blaugrana certainly couldn't have wished for a better start, comfortably sweeping aside Unai Emery's Villarreal to give Ronald Koeman a dream debut in the dugout. The emphatic 4-0 win returns some positivity to the club after a summer surrounding the Lionel Messi saga.
Koeman opted for a 4-2-3-1 headlined by Messi starting as a false nine. Philippe Coutinho operated at No. 10 with Ansu Fati and Antoine Griezmann the left and right respectively. The central midfield consisted of Frenkie de Jong and Sergio Busquets, as Jordi Alba, Clement Lenglet, Gerard Pique and Sergi Roberto made up the back four ahead of Neto in goal.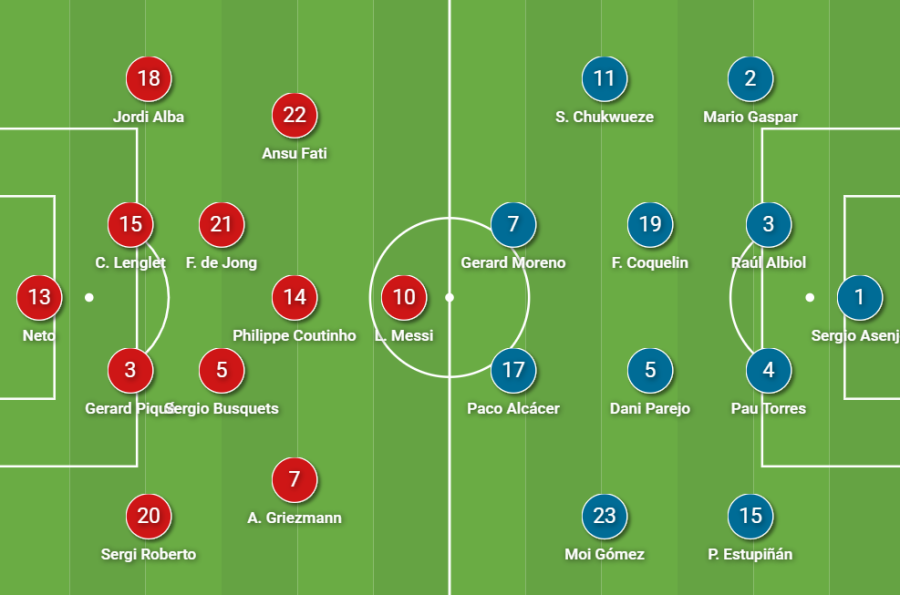 Flying to a 4-0 lead by half-time, clearly Barcelona did a lot right, with one of the cornerstones behind their fast start being their incisive, complementary movement. Their rotations across the final third ensured Villarreal struggled to combat them forever interchanging and causing marking dilemmas for the visitors; should they follow their man, stay put or crossover tracking duties? Barca subsequently used any moments of indecision to pounce.
Often going 4 v 3 or 4 v 4 against the Yellow Submarines' rearguard, this gave them little room for error, as Barca regularly forced disconnects in the backline to be exploited wide and centrally.
The rotations weren't solely limited to the front, for De Jong notably switched positions with Fati, Coutinho, Messi and Alba. Their fluid movement consequently opened passing lanes in between the lines and between defenders for balls to be played in behind.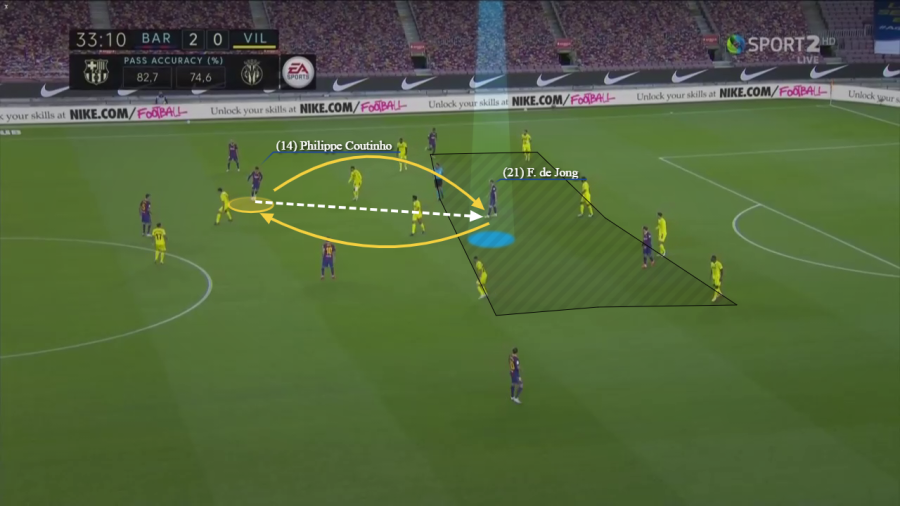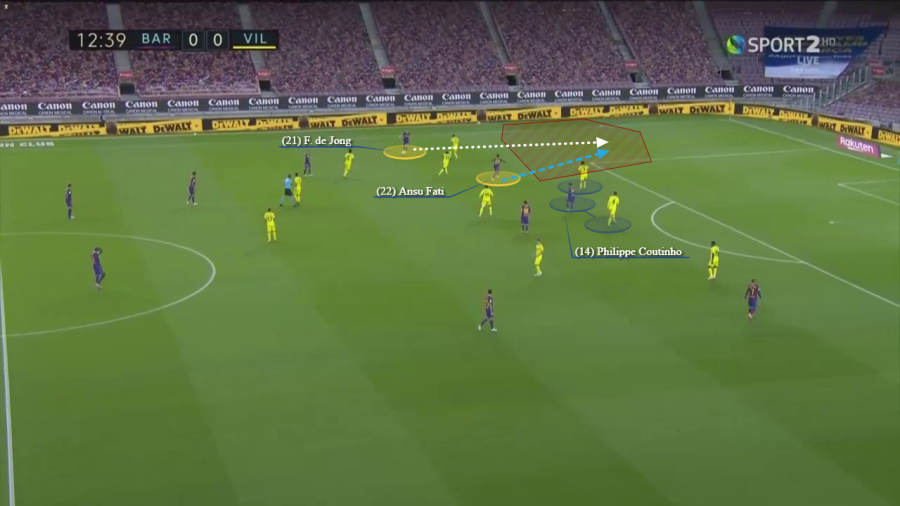 Particularly targeting left of centre areas, the axis of Fati, Alba, de Jong and the supporting movements of Coutinho bore fruit on countless occasions. Often manufacturing 4 v 3 overloads, they were able to outfox their foes down this side with relative ease. Accessing space down the channels and in the nearby half space, Villarreal were constantly outdone in this area.
Barca further compounded issues for Villarreal through Fati and Coutinho strategically positioning themselves in 2 v 1s vs. right back Mario Gaspar. From here, one could drop and receive freely or the other could burst deep, with either option proving successful due to the overload they enjoyed.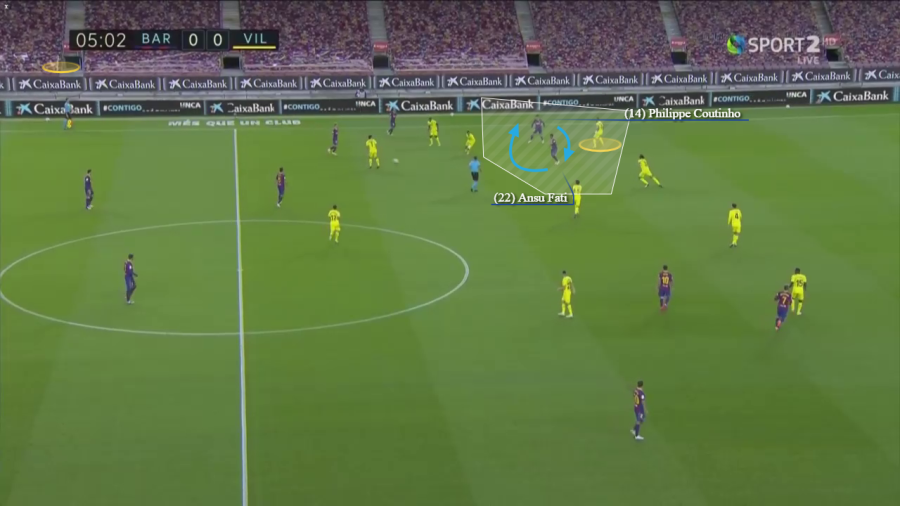 Some crafty opposite movements from Messi and Coutinho produced gaps too, where one would drop and the other would maraud into the recently-vacated space in behind.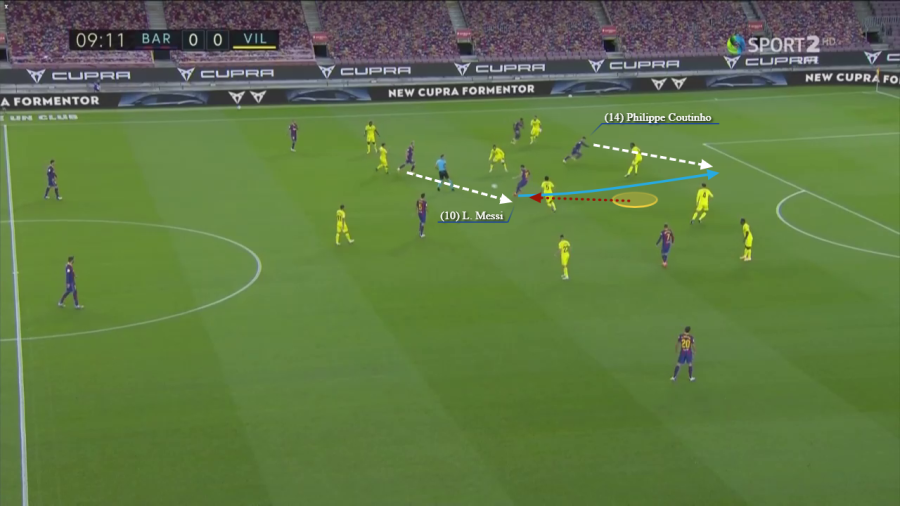 Another integral aspect arose from how Barca pinned and drew opponents out of shape. Seeing as their adversaries were hesitant to leave their post and were regularly locked in due to the positioning of the forwards, plenty of space was available in between the lines. With the forwards occupying the backline and the midfielders luring out their opposite numbers, Coutinho especially took advantage of these gaps.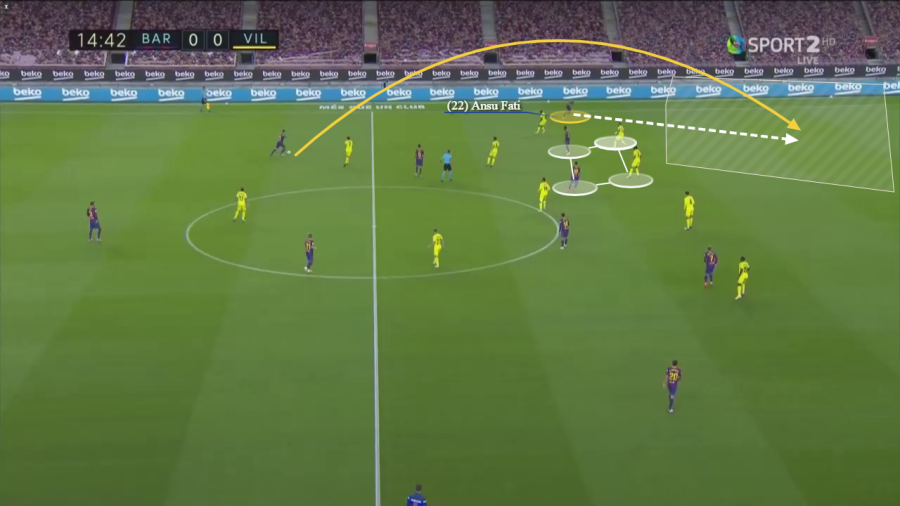 How Koeman instilled such cohesion amongst his players was impressive, with Barca always ensuring key zones were occupied if they had been vacated, while creating favourable conditions for progression.
Meanwhile, when building out from the back, De Jong would often push back besides Lenglet to form a situational back three to outnumber Villarreal's front two. Giving them an extra number to control proceedings while hoping to provoke their foes to press high to break the lines behind, Barca found joy in this tactic.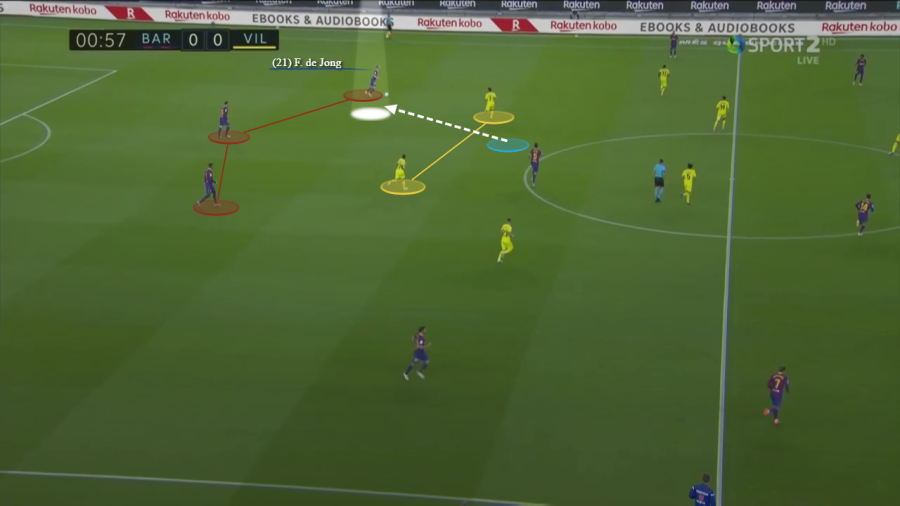 Some additional components of their display that caught the eye came from their wicked counterattacks, where they launched forward with speed to conjure 4 v 4 and 3 v 3 vs. the retreating backline, and how the fullbacks added width and depth to stretch Villarreal's structure.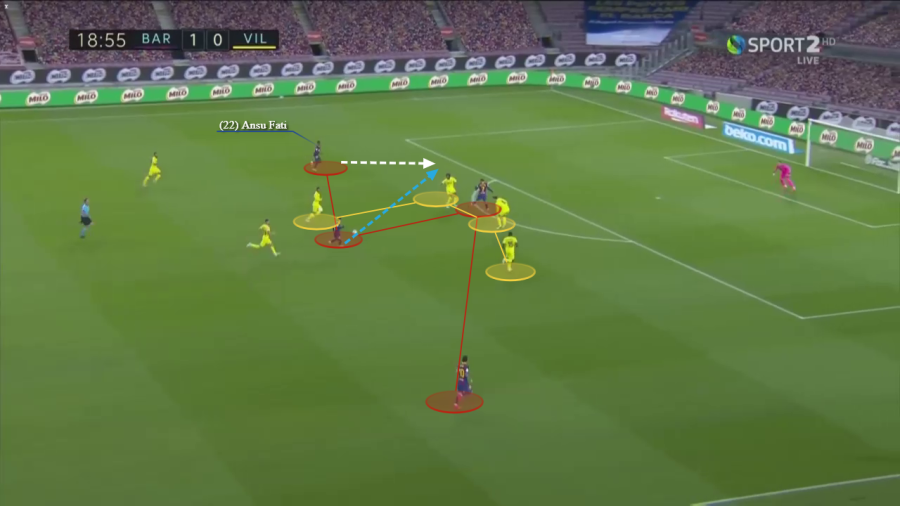 Outperforming Villarreal in Expected Goals (2.57 to 0.31), shots (17 to nine), possession (54.35% to 45.65%) and progressive passes (73 to 51), the home side were good value for their win.
When asked about his formation in his post match comments, Koeman was happy with how things went even if he knows there's room for improvement. "We have the players to be able to play this system. In the second half we nevertheless lost the ball too often. But we also have to become even stronger physically. This is only the first game after the preparation," he insisted.
He then added: "I'm very happy with what we've shown in the first half, we dominated the opposition. We played like a great team, recovering balls, and our transition in attack has been optimal."
Although it's just one game, there was certainly much to admire, particularly on the offensive end, about Barcelona's blistering start to life under their former star Koeman.
Only time will tell if they can sustain this form, but as far as season openers go, there's not much more the club, its fans or Koeman himself could have asked for to kick off the new crusade.
READ MORE:
Pjanic is the 14th player to play with Messi and Ronaldo - who are the others?
Aubameyang: Why I said no to Barcelona
Lionel Messi: Player Rating and Performance v Villarreal
Ansu Fati: Player Rating and Performance in Villarreal victory