Lionel Messi could not help Barcelona overcome Real Madrid in Sunday night's Clasico, and in the process produced one of his most underwhelming performances in the big match in recent memory.
Messi's FC score of 7.6 was still the highest of the Barcelona players but that is only in reference to his own high standards. Messi had a 95% completion rate on his 62 passes, but that is more of a negative than a positive; Messi's passing was safe, sterile and didn't dissect the Real Madrid defence.
No Barcelona player lost possession more (17), which is not an issue in itself, but when combined with the fact that Messi wasn't attempting incisive passes in the final third it just means that when he was involved, Madrid were in good positions to dispossess him.
Messi did have his moments, with three shots on goal including two on target. His highlight was one good effort that Thibaut Courtois had to dive full-length to save, but he showed a distinct lack of pace to escape in that moment forcing him to take the shot on early.
READ MORE:
⚽ Lionel Messi player stats, fixtures, results, position and FC Rating
⚽ Barcelona match stats, player stats, fixtures, results and FC Rating
And Messi's lackadaisical display was crystallised when he was suddenly clean through in the second half only for the veteran Marcelo, recalled after being seemingly on his way out of Madrid this summer, to track him down and make a huge intervention at a key moment.
But, like Barcelona, Messi did not have enough impetus in and around the area - he touched the ball six times in the box while, at the other end, effective match-winner Vinicius Jnr had 20, while Karim Benzema, largely on the periphery of match, had 12. For Messi to complete just one dribble while substitute Martin Braithwaite completed two, and midfielder Arthur completed five, is bizarre, unprecedented and, for Barcelona, eminently worrying.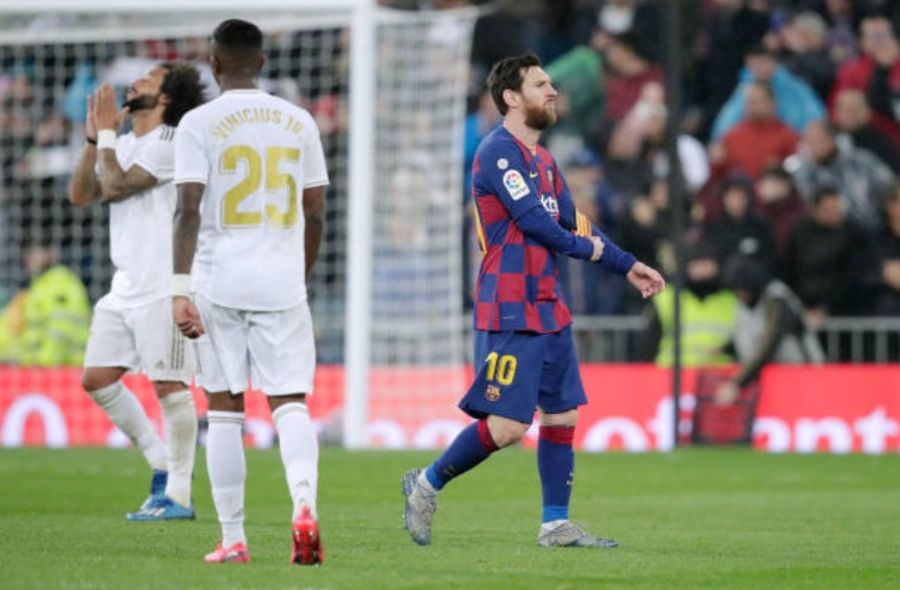 The Ballon d'Or winner cut a frustrated, insecure figure. Over and above his xG for the game - 0.4, infinitely lower than we would expect, rather than being the fulcrum of the Barcelona attack, he felt disconnect from the entire game, lethargic in possession, and passive out of it. He allowed Madrid players to drift past them with no indication or desire of chasing or winning back the ball. Indeed, of his 14 duels, he won just three of them.
Messi is not a happy player and this is not a happy team. After Madrid's slip-ups handed them the ascendancy, they have immediately rescinded it and restlessness will only increase. Things are not well, and Messi, performing as ineffectually as this, is a passenger. This summer will be definitive in establishing what the 32-year-old's closing years look like.
Because it doesn't look like he wants this.