It was a summer where all the discussion was around the future of Lionel Messi.
But, perhaps, we haven't been talking about Ansu Fati anywhere near enough. As one enters the closing stages of his career at Barcelona, the other is embarking upon what could be a sensational journey.
Fati has been at Barcelona since he was 10. He is completely enveloped with the idea of what the club wants to be, even in this dysfunctional era. And for one so precocious, he is showing some intangible pieces of football intelligence that should be immensely exciting for anyone associated with the Catalan giants.
Firstly, it is his blistering pace and close control which stretches defences wide and isolates full-backs. He did it to Villarreal with devastating regularity and was always the option for when Frenkie De Jong, Messi or Philippe Coutinho strode forward with the ball. He already appears to have a clear understanding with Jordi Alba in terms of his positioning when Alba overlaps and it's a relationship that will grow over time.
Secondly, it's his unerring finishing. Even for natural goalscorers that take a step up in quality it can take time - and numerous efforts on goal - before they begin to find their rhythm. But Fati's ability in front of goal really is quite something.
Against Villarreal, he slotted home the opening goal with immense poise and control, then swept home the second when one-on-one with Sergio Asenjo, again finding the corner. Two shots, two excellent finishes. He doesn't mess around.
Indeed, it's now 10 Barcelona goals from just 15 shots taken, an astonishing conversion rate and one that will absolutely regress as he plays more minutes, but still worth marvelling at (his two goals on Sunday were on an xG of just 0.45). To reiterate, this kid is 17. The composure when faced with the goalkeeper and the understanding that why take three touches, when one will do, is breathtaking.
Ronald Koeman, notoriously a hard man to please, wasn't shy in taking credit for his role in Fati's development, but the fact he highlighted him at all is eye-catching.
The Dutchman said: "Fati's performance should be highlighted. I was complaining a little last week, when he didn't show his maximum performance in pre-season. He's only 17 years old, he will have a great future but he also must improve things. Sometimes he lacks a bit of concentration."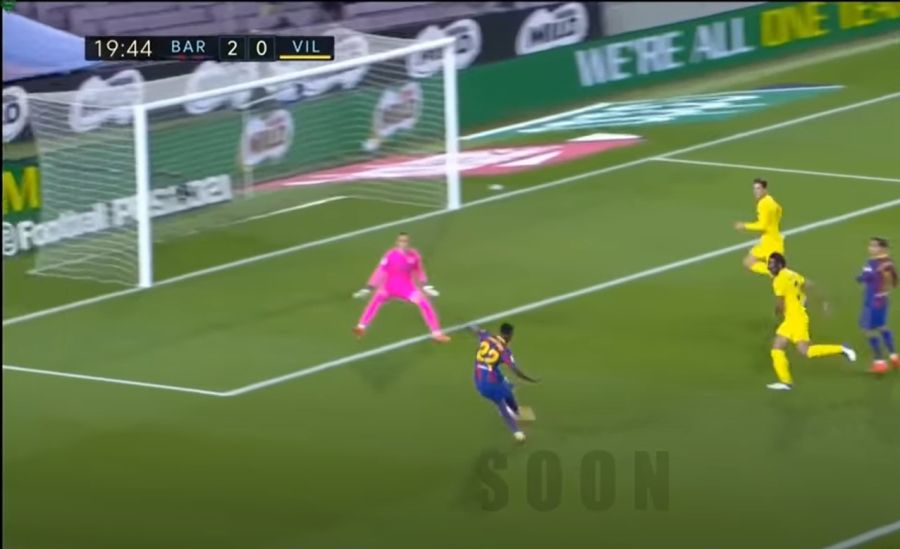 Of course he's not perfect. But he only needs minutes to improve that side of his game, and the frustrating thing this season may be the limitless options available to Koeman.
Lionel Messi will play every minute, so he is indispensable. But other than him, Antoine Griezmann, Coutinho and Ousmane Dembele represent £400m worth of talent who have to play some minutes. It's unconscionable that with Barcelona suffering so much financially that they would drastically reduce the sell-on value of any of those three assets by freezing them out.
And then we have Trincao on the right, and 17-year-old Pedri in the No. 10, who Koeman has said is definitely in his thoughts and was given the last 20 minutes against the Yellow Submarines. Including Fati, that's six players for three positions.
READ MORE:
Barcelona 4-0 Villarreal: Player Ratings, Match Stats and Player Stats
Ansu Fati scores 9.7 FC Rating in win over Villarreal
It was important that Fati made an impact here to keep him in Koeman's first XI, but his substitution was frustrating from the point of view that we should all want to watch this talent play every minute he can. But with the alternatives available, plus five substitutes in La Liga and in the Champions League, we can see him being subbed off on the regular. He's going to have to get used to it.
But his status still undersells him. We are talking about what could be a generational talent, Barcelona's youngest-ever player performing with an assuredness of someone much older. Even if he does switch off defensively, he will learn through doing. And anyway, Koeman has set up the double-pivot and very obviously put Frenkie De Jong on that side to assist Alba during transitions.
Put simply, it doesn't even seem clear that Barcelona even know what they have. These rumours of an £135m bid from Manchester United seem far-fetched but it shows that while Barca are working overtime to keep Messi sweet, to accommodate Griezmann and Coutinho, the one with the biggest room to grow is right in front of them. Please, Barcelona, let Fati become one of the world's greatest players.