They say it's important for new signings to hit the ground running, and that has certainly been the case for Diogo Jota at Liverpool.
Twelve games and eight goals into his Anfield career, the Portuguese has answered any and all questions regarding his hefty price tag and suitability for Jurgen Klopp's team.
The early signs are that the Reds' sporting director, Michael Edwards, has struck gold once again.
Jota was by no means an obvious signing for a team looking to build on their first ever Premier League title.
If any Wolves winger felt primed for such a move this summer it was Adama Traore, whose performances in recent seasons had earned him rave reviews, a reported £70m price tag, and links with both Liverpool and Manchester City.
However, the Reds' recruitment staff had spotted that Jota's numbers were also quietly impressive at Molineux, and predicted that they would improve further with the help of better teammates and in a system made for the player's strengths.
And, as has so often been the case in recent seasons, they were entirely right.
Goals
Take Jota's shots per 90 minutes average, which has leapt from 2.5 last season to 3.6 this as might be expected under Klopp's more forward-thinking approach.
At those numbers, Liverpool only needed the winger's chance conversion rate to remain at last season's 43% but it has, in fact, gone up to 47%.
Any concerns over whether that is sustainable can perhaps be eased by the fact that Mohamed Salah and Sadio Mane are on 50 and 38% respectively this term.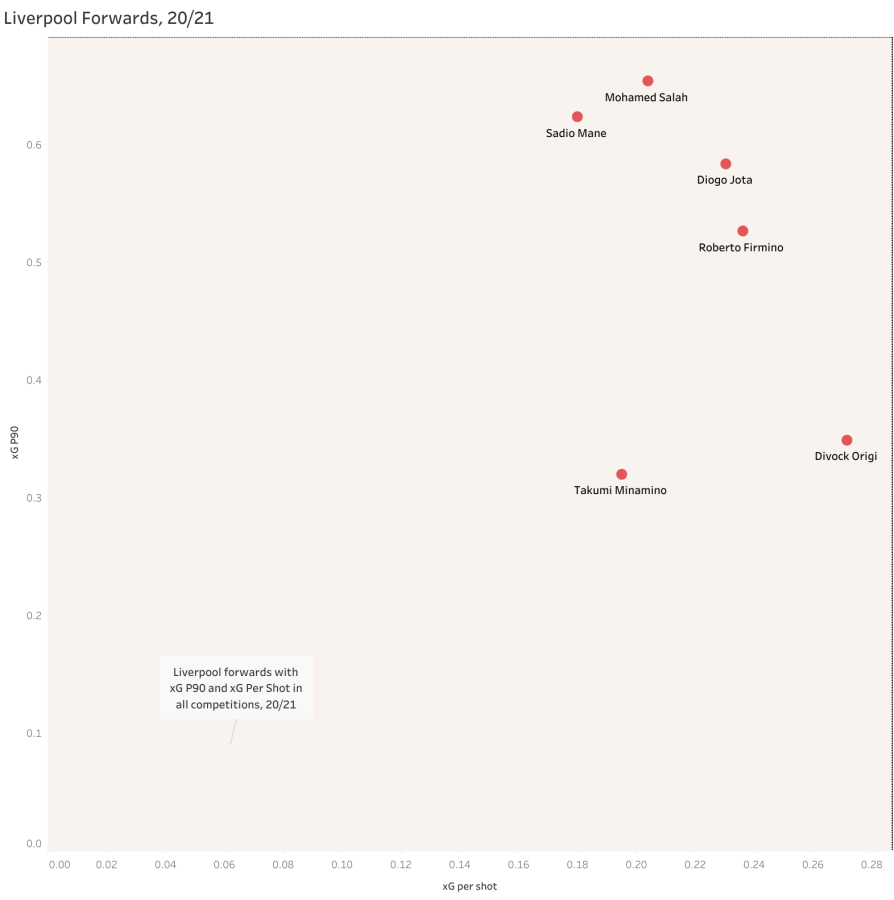 In short, good players take their chances.
Creativity
Playing alongside the Salah, Mane and Roberto Firmino has also, perhaps unsurprisingly, helped improve Jota's creative output.
The Portugal international has carved out 1.13 chances per 90 minutes so far this season, a step up from last season's 0.7 at Wolves.
His expected assists average is also up from 0.19 P90 to 0.34, a figure that puts him ahead of any of Liverpool's fabled front three this term.
Jota looks to be a player who makes good decisions in the final third.
Defending
If there is one obvious area for improvement for Jota, it is his adaptation to a pressing system that was at first unfamiliar.
The 23-year-old's average of 0.67 recoveries in the opponent's half last season was no doubt one of the major attractiones for Liverpool and Klopp.
That number has, however, dropped to 0.38 this term - placing him behind Firmino (0.67), Mane (0.63) and Salah (0.5).
The upside is that, as time passes, Jota's understanding of what his manager expects from him on that front will no doubt improve.
And, should every other facet of his game follow that same trajectory, then Liverpool's latest piece of business could look even better come the end of the season.