David Beckham is one of the most famous footballers of all time both for his work within the game and his extreme fame away from it.
It is easy to forget just how good Beckham was, particularly from crossing and dead-ball situations.
He was a striker's dream with his deliveries, but when a set-piece was in shooting distance, goalkeepers knew a precise, whipped effort was incoming.
We've teamed up with football analyst Marius Fischer, known as @Gegenpressing91 on Twitter, who has worked his magic with Microsoft Excel to map out all Beckham's scored free-kicks in his career.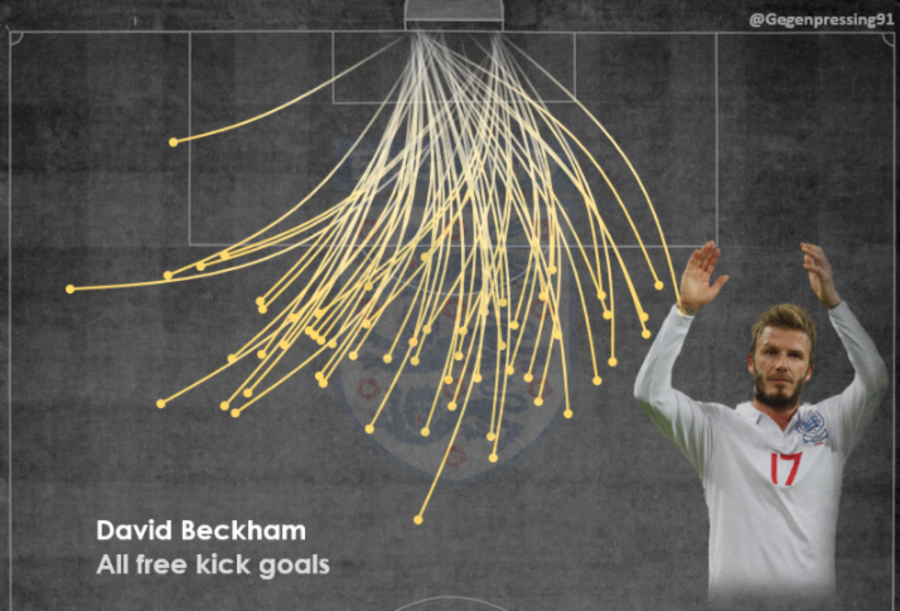 Marius says:
"The quote "Overrated by non-football-fans, underrated by football fans" sums up David Beckham's career.
"The English midfielder was the first real "off-the-pitch-poster-boy" in football. Still, his performances on the pitch were world-class too.
"He was able to put so much curve on the ball that people invented the slogan 'Bend it like Beckham' for him.
"He did not just score and assist from set-pieces frequently but also produced long-range goals from near the halfway line like his screamer against Wimbledon - a goal which put him on the map.
"Beckham was able to bring the ball up and down from all type of ranges and angles and always aim towards exact corners of the goal with it.
"So it was only logical that his arguably most famous goal came from an injury-time free-kick for England against Greece that sent the Three Lions to the World Cup and changed the image of Beckham among football fans forever."
Not only is Beckham one of the most respected players ever in Europe, but he is credited with catalysing an interest in Major League Soccer throughout the world following his move to LA Galaxy.