Atletico Madrid against Villarreal was a much-anticipated match from the fifth round of La Liga.
After starting the season with an impressive destruction of Granada, Atleti reverted to their old selves in a goalless draw against newly-promoted Huesca. Meanwhile, Unai Emery knew he needed to change his tactics in big matches after the 0-4 loss to Barcelona.
Atletico: Squad, FC Ratings, Matches, Formations
Line-ups
Atleti (4-4-2): Jan Oblak; Renan Lodi, Felipe, Stefan Savic, Kieran Trippier; Saul Níguez, Koke, Thomas Partey, Angel Correa; Joao Felix, Luis Suarez.
Villarreal (4-1-4-1): Sergio Asenjo; Pervis Estupinan, Pau Torres, Raul Albiol, Mario Gaspar; Vicente Iborra, Moi Gomez, Dani Parejo, Manuel Trigueros, Gerard Moreno; Paco Alcacer.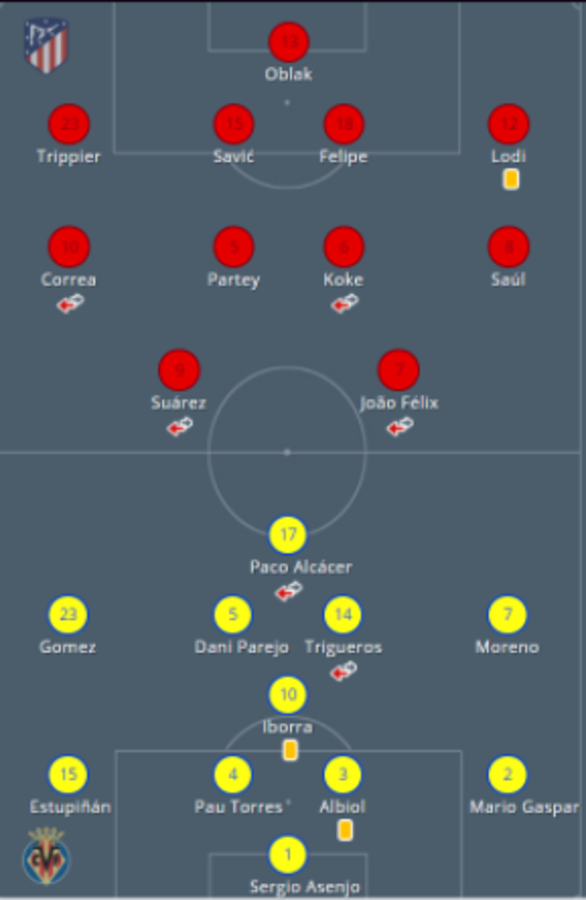 Villarreal in possession
Villarreal's passing was actually more direct than Atleti's, which was evident in keeper Asenjo's passing stats - 22 of which were long. Part of this was due to Atleti's willingness to compete for the ball high up the pitch. They set up in an unusual 4-3-1-2/4-3-3 formation. Here, we see the front three create a 3 v 3 match against Iborra and the centre-backs to instantly press them, forcing a long ball. Atleti's midfield three cover lots of ground, and could quickly shift towards the ball side. Saul was anticipating a short pass to Trigueros but instantly rushed back to win the ball towards Gaspar.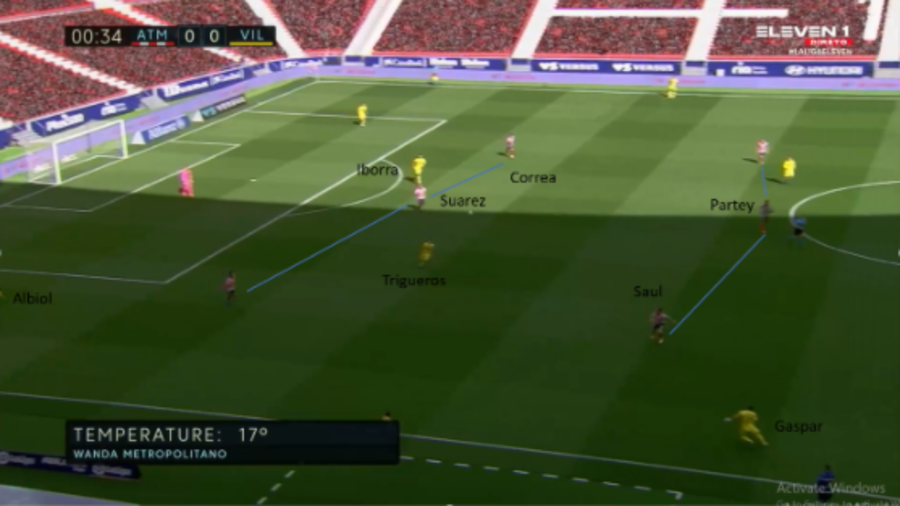 Usually, Correa would be between Felix and Suarez to follow Iborra - Villarreal's deep playmaker - and become the tip of Atleti's diamond midfield, which would form after a few short passes from Villarreal. Atleti's initial 4-3-3 shape inevitably forced a short pass towards a wing. Felix and Suarez would occupy the centre-backs, while the diamond midfield overload the ball area and give the opponent's full-back no nearby passing option. The midfield's pressing action must start right after the pass was made. Here, Saul anticipates a pass to Gaspar, and closes him down, with supporting movements from Partey and Koke.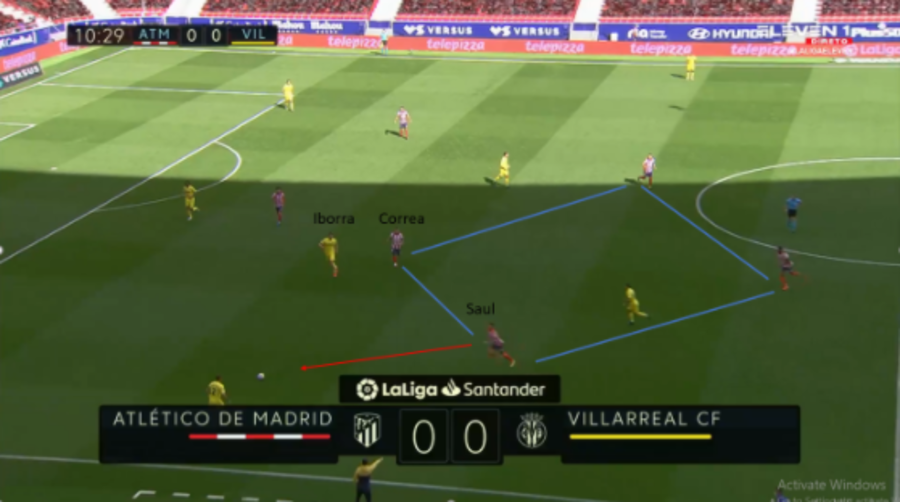 For the most part, Villarreal really struggled to get the ball forward. Trying to progress through second balls was not a good solution given the aerial quality of Felipe and Savic and the ball recovery ability of Saul and Partey. Upon winning back the ball, Villarreal often played it safe and cleared the ball instead of beating Atleti's counterpress. It's clear that they came into this match to get a draw.
The only bright spark in attack for Villarreal was Gerard Moreno. He was vital in his side's ball progression with his smart movements, vision and technical quality. While most of his teammates gave the ball away easily under pressure, he stayed calm and could either beat his man or combine with nearby team-mates. He completed 5/6 dribbling attempts.
His movements between the lines have been a trademark of his game. In the below example, we see him drop deep to create a triangle with Gaspar and Trigueros, thus enabling Villarreal to get the ball into Atleti's half. Triangle combinations were the away side's best way to beat Atleti's press.
A few good attacks from Villarreal came from his sheer individual quality. Here, Atleti counter-press by overloading the ball area. Villarreal tried to combine to find Moreno, who then nutmegged Koke to open things up for the side. He instantly found Moi with a pass towards the left. Two great touches from the forward left six Atleti men in behind to get the Yellow Submarine into a 2 v 2. However, Atleti's counter-pressing was mostly successful. The narrow diamond midfield made doing it easier than a spread out midfield in the flat 4-4-2.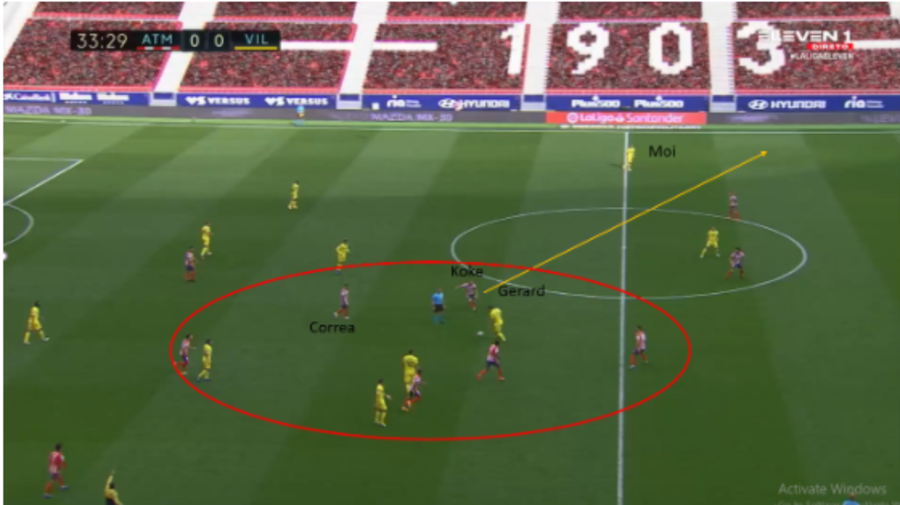 Villarreal used a 4-2-2-2 attacking shape, one similar to Atleti's common offensive formation. The winger would move centrally, leaving the full-backs isolated out wide. This narrow shape would force Atleti narrow and open up space for the likes of Pervis to cross. He proved to be a reliable crosser as usual, with 3/6 attempts being accurate.
It has to be said that Villarreal created very few chances in this match. Atleti's 4-3-1-2 pressing and counter-pressing heavily limited the visitor's ball progression. The ball was in Atleti's third for only 19% of the match. They created 0.02 expected goal in the first half, and 0.18 in the second half when Atleti's press weakened.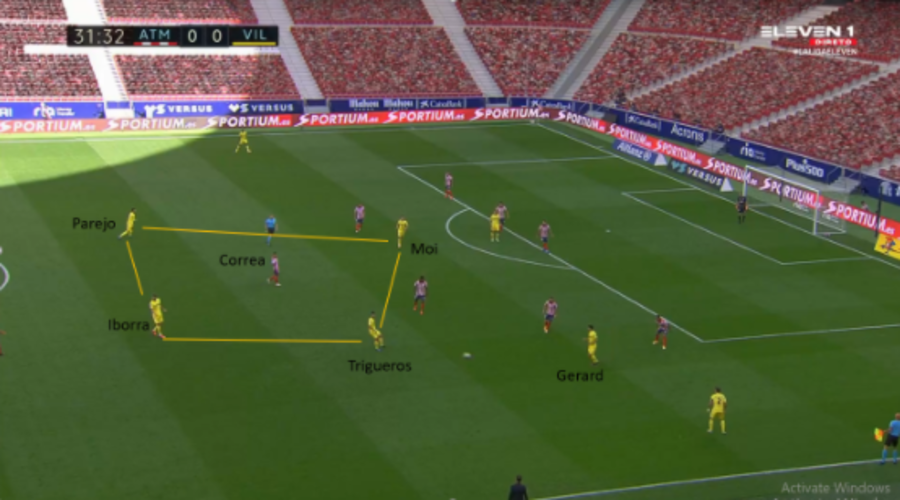 Atleti in possession
As the opponents did not press high, Atleti played from the back, using a lot of U-shaped passes at the back to move Villarreal's narrow shape around until finding space on either wing to progress. This was not a good tactic. A bunch of slow, horizontal passes instead of passes between the lines, plus the lack of off-ball runs to open up space couldn't help Atleti break down Villarreal's defence.
Indeed, it was partly Villarreal's tactic that forced Atleti into ineffective passing actions. Villarreal set up in a 4-4-2 mid-block with a narrow midfield four, and the forwards preventing passes towards Partey. Atleti's centre-backs were often left free, but were unable to play progressive passes. When Atleti went wide, Villarreal players would anticipate the pass, overload the ball-near area and mark the ball-carriers nearby passing options.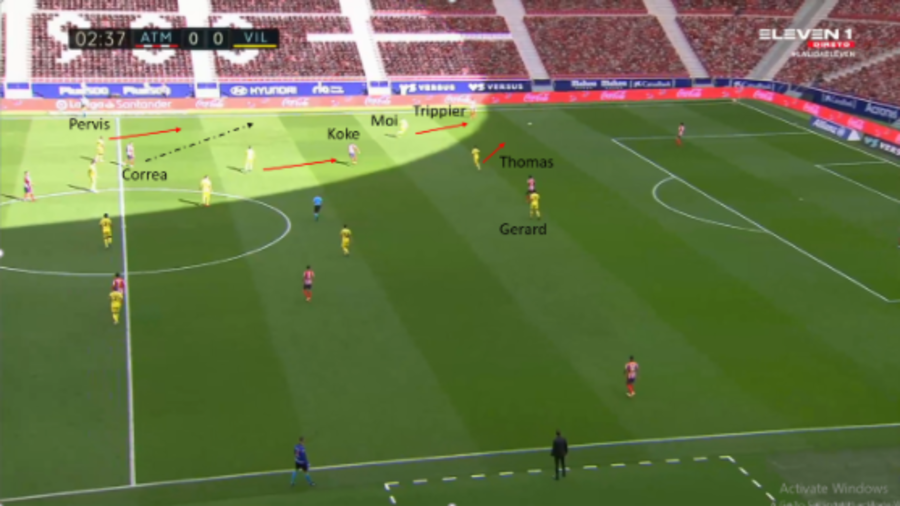 In instances which he was not marked, Partey could instantly launch long balls towards Trippier. That seemed to be Atleti's only idea to progress the ball in the first half.
Seeing these passes, Emery instructed Moi to drop to left-back to form a back five. As expected, Felix had to drop deep to collect and carry/distribute the ball as Koke and Saul's passes were slow and horizontal. Atleti liked to overload the centre and half-space (especially the right) with the likes of Correa and Koke. However, Villarreal's 5-3-2 was disciplined and compact, preventing them from creating any dangerous central combinations. The right wing became Los Colchoneros' main area of attack, but the low positioning of Pervis and Moi Gomez was enough to stop them.
The home side used a 4-3-1-2 in possession. Unable to attack down the middle, they tried a lot of early crosses (like ones from the position of Trippier in the below image). Saul tried to get into the box quite often (like in the below image) as Felix was better than him at dictating play from deep. Only 1/28 of Atleti's crossing attempts were accurate.
In the below example, Correa's run in behind was notable. Simeone did utilise this idea in the second half, when Trippier and pacey substitutes Yannick Carrasco and Marcos Llorente time and again overloaded the right half-space to combine and make these runs to send crosses in. However, Diego Costa's declining acceleration prevented him from making the most of these chances. In the end, the match ended 0-0.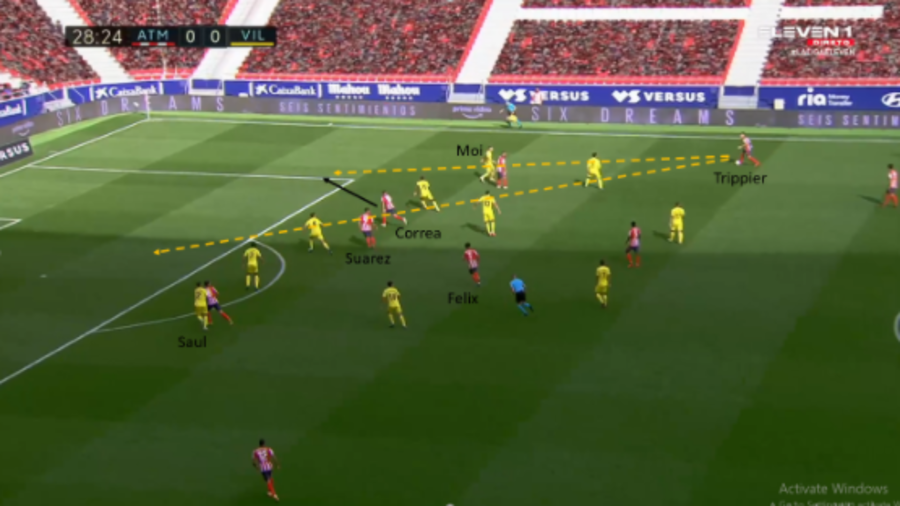 Conclusion
In conclusion, a 0-0 was a fair result. Villarreal focused most of their efforts on securing a draw and did their job well. Atleti's dull passing once again failed to break down an organised low block. It's hard to know whether Simeone will ever be able to create an effective offensive tactic with all of his illustrious attackers.