Ansu Fati's injury that will keep him out of action until March of 2021 cannot be underestimated in terms of the impact it will have on the club going forward.
Fati underwent surgery on Monday and the prognosis is extremely good - tearing the medial meniscus is a common injury in athletes in contact sports and he should come back to the team as good as ever, especially given his prodigious age.
So it's not the injury itself that is the problem, rather, everything else. From a tactical standpoint Barcelona have lost their most impactful forward this season.
It's not just what Fati does on the ball, but what he does without it. Fati stretches defences like no other member of the side (apart from maybe one, which we'll get to).
Fati has had as many chances P90, 2.4, as Lionel Messi, and creates only slightly less (2.1 to Messi's 2.4). His xG per shot is better than the Argentine, while he, again, is second only to the Argentine in terms of Expected Assists.
What's more, of the five goals he's scored this season in La Liga and Champions League, three has been decisive, meaning they directly impacted the outcome of the result. At 18, he's already a big-game player - if he's one that Koeman still feels the need to sacrifice to make changes late in the game; he is yet to complete a full 90 minutes under the Dutchman.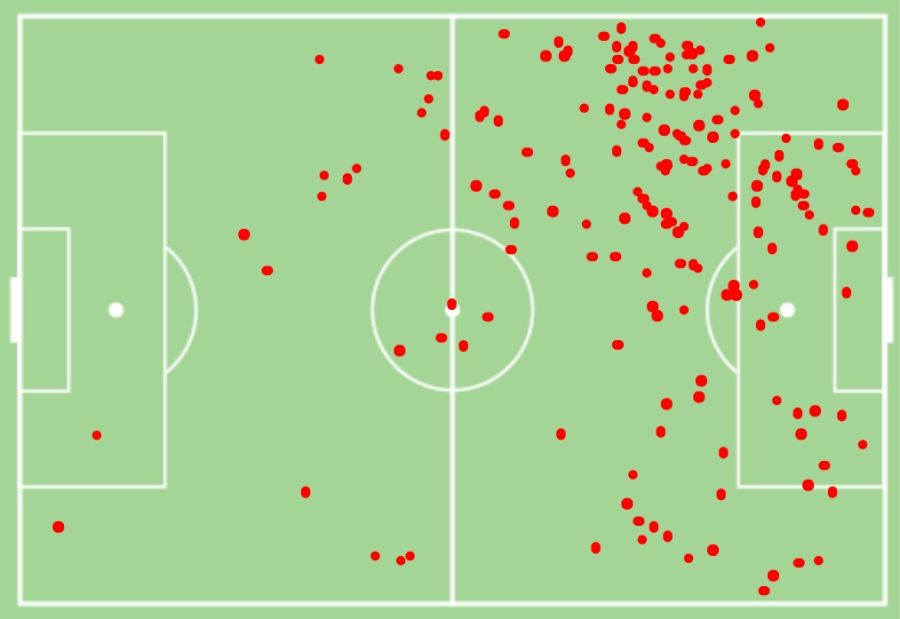 But it's noticeable in his touches map of how he is the only one of the attacking quarter willing to remain in his position. Fati hugs the left and stretches the defensive unit. When Jordi Alba wants to overlap, he slots into the half-space and makes angles. It's a relationship that has worked well.
Especially when in other areas of the pitch, things are simply becoming too congested. Lionel Messi, Antoine Griezmann and now Pedri are too often drifting into the same areas and there's only one king when it comes to that domain.
Messi goes where he likes, when he likes. It's his house, Griezmann just lives in it. And until Barcelona solve that problem that after 16 months of trying, doesn't look like it is going away, the width has to come from somewhere.
It's witnessed on the counterattack, it's witnessed in his finishing, and it's witnessed against a low block that Fati has an impact for all occasions. Indeed, in the recent draw against Alaves, with the visitors down to 10 men and camped 15 yards in front of their goalkeeper, that Fati was the only player igniting the play and creating moments with precious little space. The fact that Koeman subbed him was as baffling as always, and the match finished 1-1 without him.
READ MORE:
Ansu Fati: Player Stats, Career Stats, Position
Barcelona: Player Stats, Career Stats, Position
What's more, he's strong enough to accept Messi's looks of disgust. In the recent Clasico Fati - rightly - chose to shoot, and almost score, when Messi just wasn't in a suitable position to receive the pass. Messi balled him out but Fati challenged him and seemed to take it in his stride.
There isn't the same Messidependecia in his thought process that plagues others around him and, crucially, his confidence isn't broken by such moments. The same cannot be said for Griezmann or Dembele.
So Fati is a loss in all manner of ways and, really, in Koeman's 4-2-3-1 it simply has to be Dembele to step up. Trincao can hug the left but he isn't quite there yet in terms of playing at this level and Koeman knows that. Therefore, just a few months after it seemed he might never play for Barca again, Dembele has been catapulted to indispensable status.
It's been quite the journey to get here. And, at least, there have been glimpses of what he is capable of, scoring at Juventus and once again with an excellent goal versus Betis. But the weight of expectation is now at breaking point. There's no more second chances. The next three months will define his future - he better be ready.