All hope seemed lost when Barcelona lost to Cadiz at the beginning of December, followed by a 3-0 thrashing at the hands of Juventus.
But Ronald Koeman's men have not lost in eight games since then, and much of the team's success has centred around an upturn in form – in a changed role – from Frenkie de Jong.
Koeman was adamant that De Jong would be used in a double pivot under his stewardship, but as the Blaugrana continued to slip down the table he had a change of heart.
That loss to Juventus has been somewhat of a turning point for the team, with six wins and two draws in La Liga having them back up into third place and just a point behind Real Madrid.
De Jong has been freed to play in a more advanced role in the midfield three with Sergio Busquets as the sole sitter and Pedri on the other side in recent weeks.
The Dutchman took the limelight during Ajax's terrific Champions League run in 2019, earning himself a move to Barca in the summer and then a La Liga title in his first season.
But the No.21 has been largely scapegoated for a series of rather absent displays of sideways passing and an overall lack of progression – that is until this change in his role.
Across those eight games post-Juve, no team in La Liga has scored more than Barcelona's 17 goals, with De Jong himself contributing to four of those directly – two goals and two assists.
In fact, the 23-year-old has just about doubled his production across the pitch, in an attacking sense. Before the 13th of December, De Jong was averaging just 0.27 chances created per 90 minutes, but since then has improved drastically to average a chance created in every match.
His Expected Assists (xA) and Expected Goals (xG) have both more than doubled in that period and he has also added more dribbling power to his game averaging three dribbles P90 compared with 1.67 prior to December 13.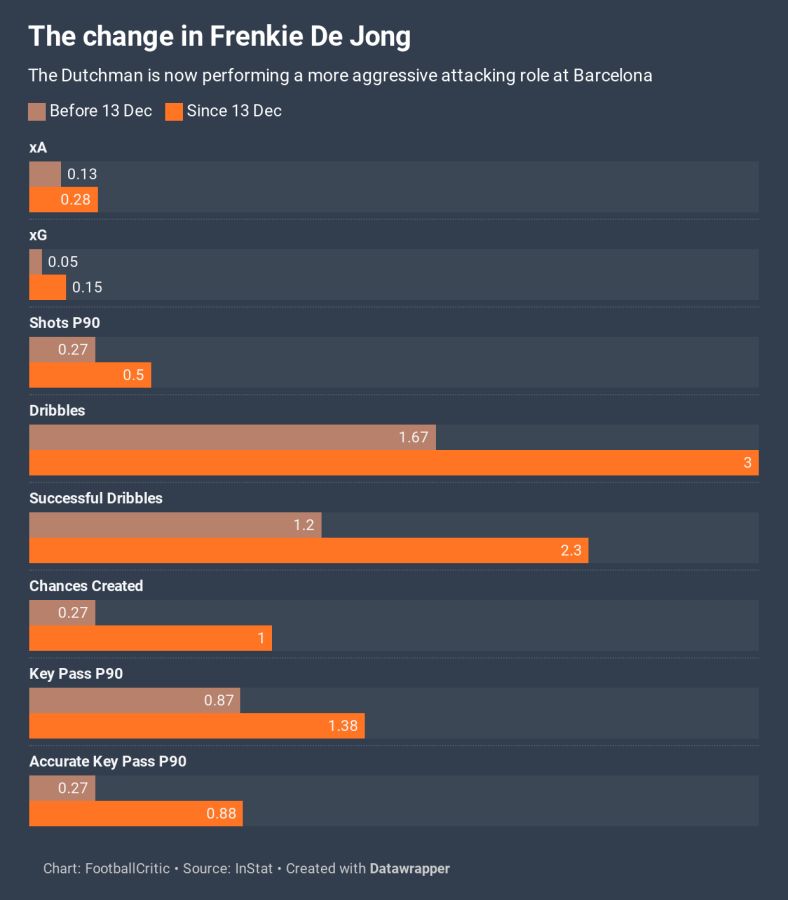 This change has seemingly benefited Lionel Messi, too, as the Argentine has netted seven of his 11 La Liga goals and notched both of his league assists in the last eight games.
Not only has De Jong been arriving in better attacking areas more often, but he is providing the quality that was otherwise lacking in the final ball into the forward line.
He has gone from playing 0.27 accurate key passes P90 to 0.88, and going at a vastly improved completion rate – 63.8% accuracy versus 31%. He has become what Philippe Coutinho hasn't been able to for Barcelona.
While much of the criticism levelled at the Catalan club has been the lack of a distinguished No.9 post-Luis Suarez – and even a supposed drop-off from Messi – this slight tweak in tactics has shown it might have been the midfield output all along.
The added impetus from De Jong through the middle has evidently had a big impact for Barcelona, and while they do still find themselves some way behind Atletico Madrid atop the league, the Dutchman could prove the key to any late charge to retain the title.