When Liverpool went 3-0 up in the first half against RB Salzburg at Anfield in October, few could have predicted the fightback the Austrians staged.
Pegging the reigning champions back to level the scores, only to lose 4-3, put Salzburg and their highly talented coach and playing squad on the map, and there was one main protagonist of the comeback – Takumi Minamino.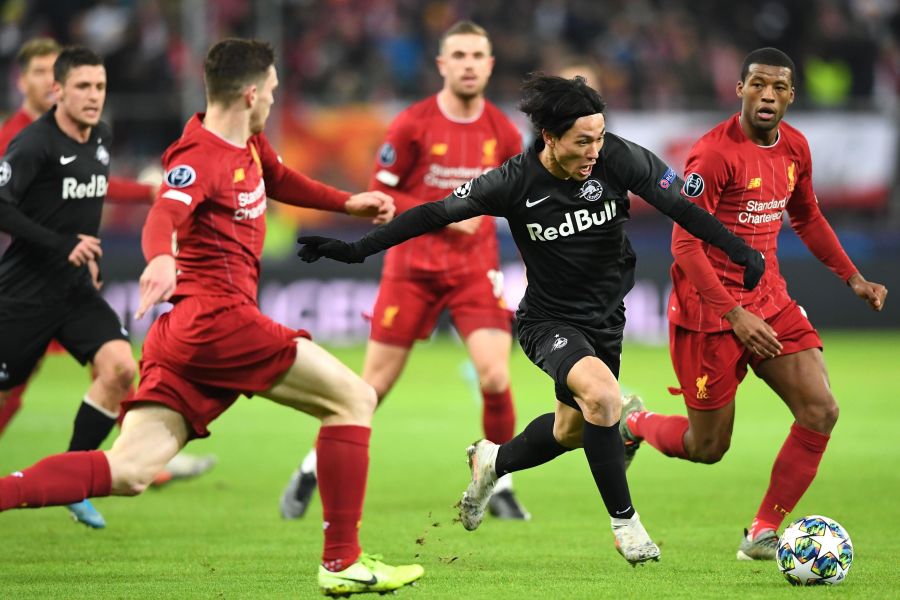 A wry smile from Jurgen Klopp as Minamino thumped in a volley for 3-2 on the night turned out to be an ironic sign of things to come, as two months later he was a Liverpool player having impressed even the Reds players so much to convince them of the deal.
Klopp said at the time this was a "wonderful signing" for his team and labelled the 24-year-old a "proper team player," and centre-back Joe Gomez hailed the Japanese international as "an unbelievable addition" in February as he began to settle into life on Merseyside.
Minamino only got to play three times in the league before it was shut down but with two starts and five other substitute appearances in Project Restart, the former Salzburg man has been able to adapt further to his new surroundings.
Roberto Firmino, with whom Minamino is competing for the centre-forward position, recently tipped his teammate for big things at Anfield as he approaches a first full season in English football.
He (Minamino) is a very good player and I think he will be very good for us.Roberto Firmino on Fox Sports Asia
That position in itself is a relatively new one. He has only played there 17 times in his last 50 games, with the majority of those coming in this short time for Liverpool, further indicative of the adjustment period he has had to go through.
With that being said, his numbers overall do actually paint a largely better picture than those from his start to the season at Salzburg. Aside from his nine goals and eight assists in the 22 appearances across all competitions in Austria, his time at Liverpool has seen an improvement individually.
While keeping in mind his vastly decreased sample size of 243 league minutes versus the 910 accumulated in the Austrian Bundesliga, Minamino is better in duels won, possession losses, dribbles and shots per 90 while an 89% pass completion rate far exceeds his 75% mark while at Salzburg.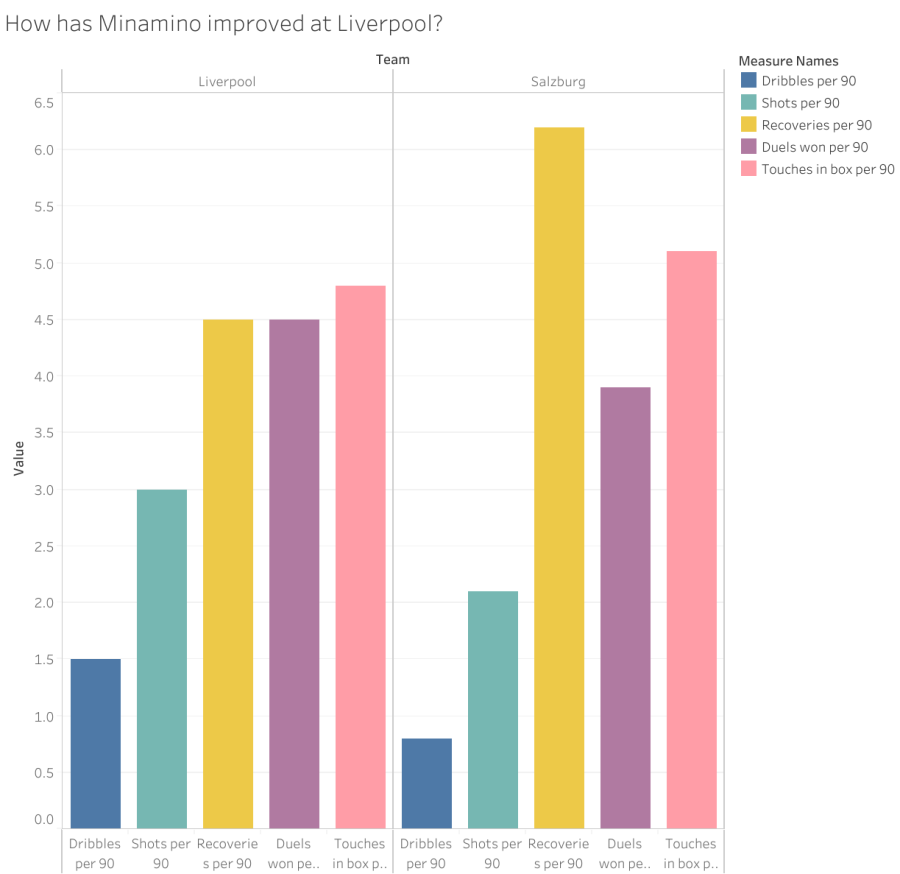 But rather than comparing him with himself, it is useful to look at how he stacks up against the rest of Liverpool's attacking ranks – back up for the front three remains a problem area and one of the more tantalising in this summer's transfer window.
Divock Origi failed to kick on from a memorable 2018/19 campaign, while Rhian Brewster hit 11 goals on loan at Swansea in the back half of the season. Roberto Firmino was effective as ever as the false nine, but had his worst goal-scoring season in the red shirt with only nine goals.
Again while acknowledging the limited minutes skewing the numbers, comparing these four makes for interesting reading – Minamino exceeds all three in key stats including touches and passes per 90 and he again passes with a far higher success rate.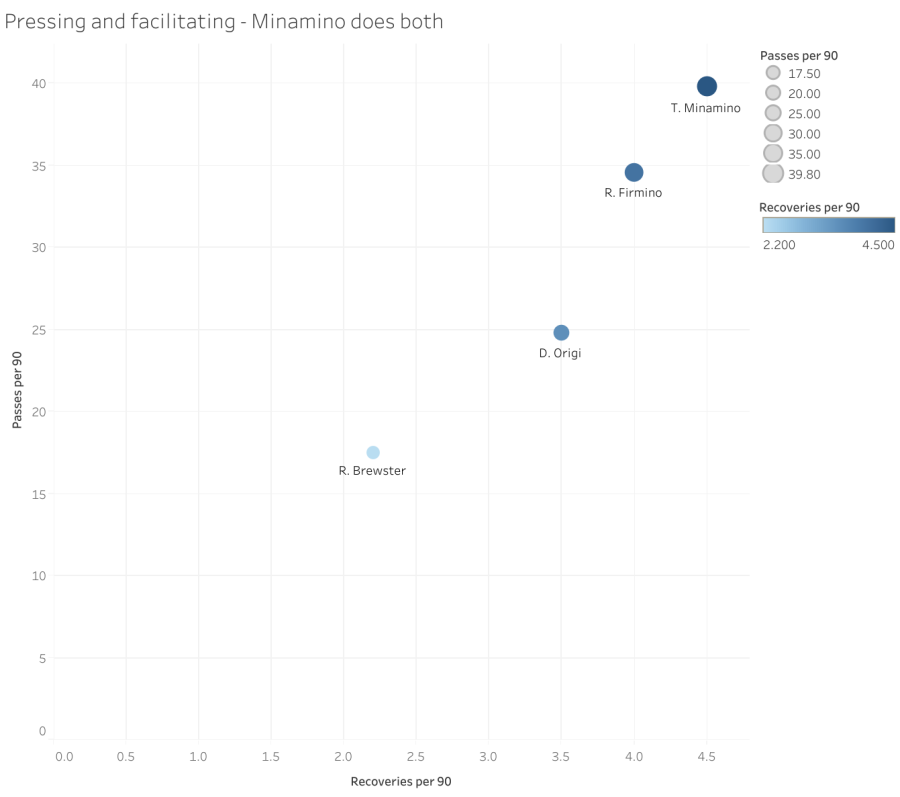 In fact, Liverpool's pressing machine Firmino fails to match Minamino in duels won and recoveries per 90. The Japanese's attitude and desire to press and win the ball back has been the recipient of much of the praise from his manager and teammates since arriving.
We know from Firmino's time at the Reds that Klopp loves the false nine role being a facilitator and creator just as much as a goal scorer, and early signs suggest that Minamino can be the Brazilian's successor based on the similarity in numbers.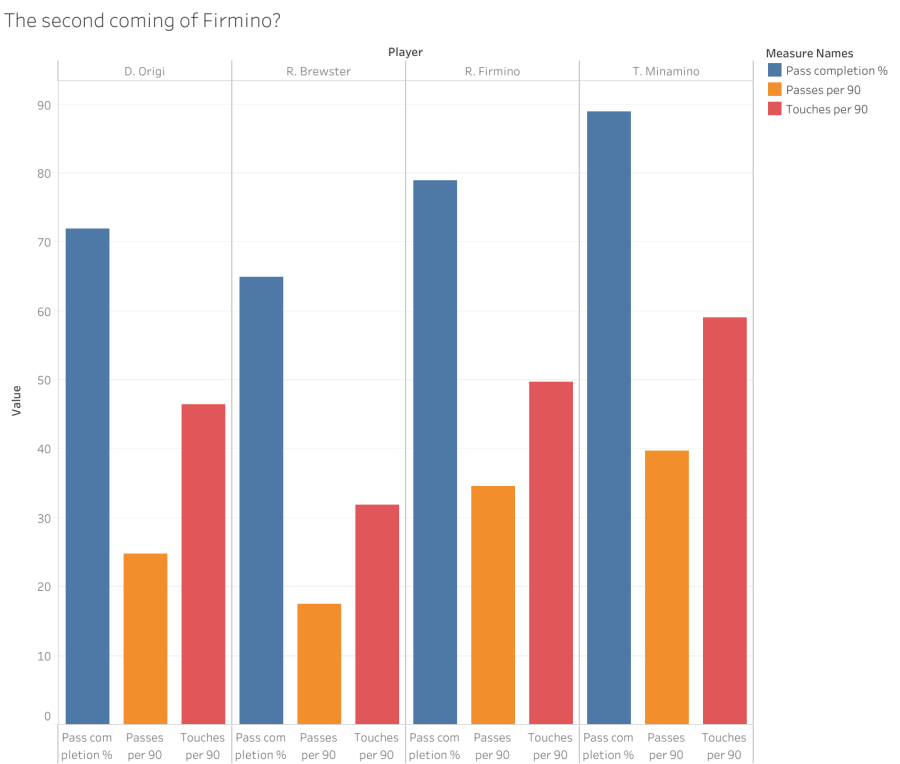 But the one glaringly obvious absence is the end product. No goals or assists and just one key pass in league minutes, with an xG90 of 0.32 and a measly 0.01 for xA90 according to Understat.
No matter what kind of role you play, be it false nine or target man, the striker needs to score goals, and hence even Firmino has faced questioning and scrutiny for his lack of output this season.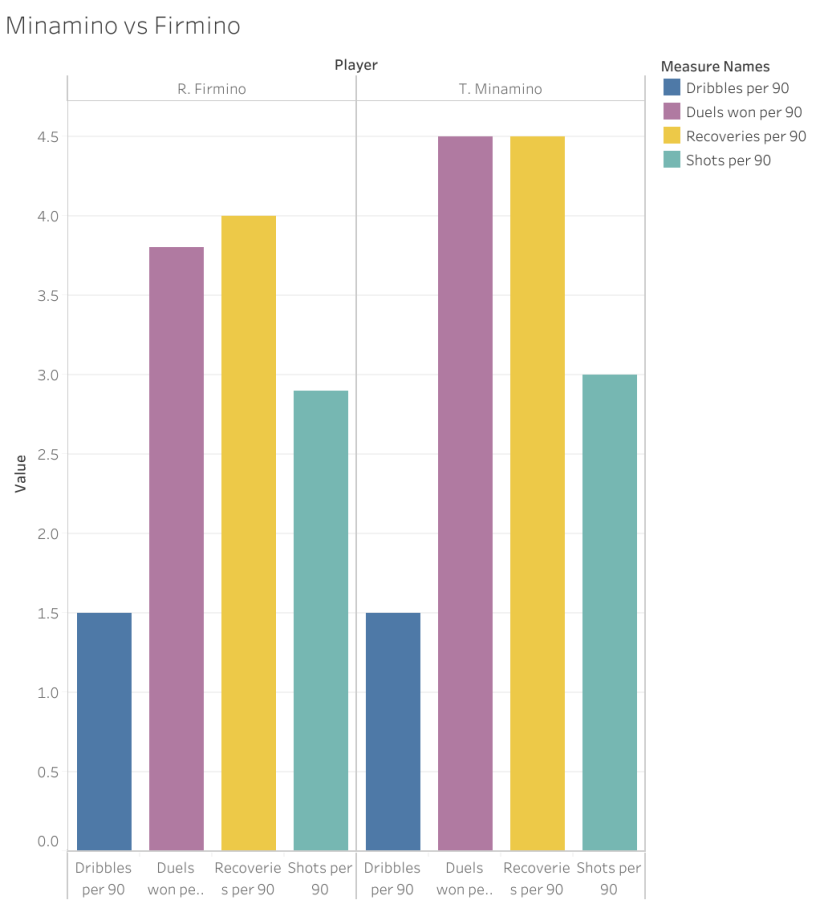 Minamino's lack of minutes means he has been rather void of any opportunity. He has been subbed off in both of his league starts, playing only 64 minutes at the most in any one game, and in fact he played on the right and left wings in those games against Everton and Newcastle respectively.
After that game on the final day against Newcastle, Klopp offered glowing praise of the performance, highlighting his ability between the lines and the tendency to initiate pressing situations in Liverpool's own attacking third.
There will come a time however when his manager will need to be praising him about goals and assists and helping the team to win points. With all due respect, there is a jump from Austria to England, and there is the inevitable adjustment time, in particular at Liverpool having witnessed Klopp's patience with a number of his signings at the Reds.
But the question will be when does the adjustment period end. When is it expected that Minamino just is a Liverpool player and should be performing regularly like one?
From all accounts he has the quality, he has the desire, and if his manager is to be believed he just needs a little bit of luck. Season 2020/21 will be a big one for Minamino, and one that should see more minutes and a marked improvement.