In the third part of Analysing Chelsea, we looked at who the Blues could bring in to upgrade the left-back position, which you can read here. In this third and final instalment, we will be looking at bringing in attacking depth to complement Tammy Abraham.
Abraham returned from loan at Aston Villa this past season, which saw him score 26 Championship goals (with an xG of 25.76) after playing 3702 minutes (0.63 Goals P90). At the start of the season, it was not fully clear who Lampard would look to rely on between Abraham, Belgian international Michy Batshuayi and French veteran Olivier Giroud.
As the season progressed, Tammy Abraham emerged as the clear first choice. However, with 2039 minutes played this season and 13 goals to show for it, it may not be a bad idea to find an alternative goalscorer to put less stress on the English striker's shoulders.
First and foremost when it comes to finding a new player, it is important to evaluate current options. Michy Batshuayi joined Chelsea back in the summer of 2016 for £33m, but has failed to come close to living up to the fee. After loan spells at Borussia Dortmund, Valencia, and Crystal Palace, Batshuayi has found himself an expensive third choice for Lampard. I think most would agree it is time for Chelsea to move forward without him.
Second choice striker Olivier Giroud is one of the Premier League's more underappreciated strikers and he is still getting the job done at Chelsea when needed, but he also carries a base weekly wage of £110,000, per Spotrac.com. At 33 and holding a contract that expires this summer, Chelsea could find a player with more upside on a lower cost with relative ease.
If we were to look at data to find a replacement playing outside of Chelsea's ranks, we can do this with relative ease given the capacity the replacement is coming in to perform. To keep the database limited, a selection of attackers with a minimum of 1,000 minutes played this season and a minimum of 10 goal contributions from the top five leagues of Europe has been formed.
The priority is finding an efficient goalscorer, given this player will likely be used primarily in a role complimenting Abraham. We will also examine the successful defensive actions P90 to try and find a better fit for Lampard's pressing system.
SHOOTING EFFICIENCY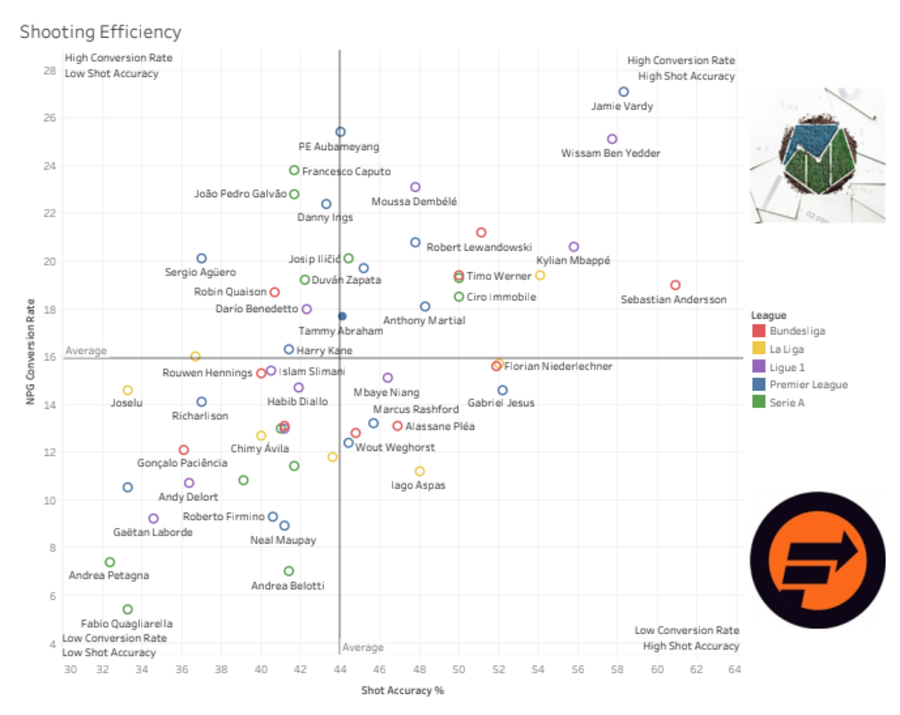 In the graph above, we compare Shot Accuracy % with NPG Conversion Rate. If you are unfamiliar with NPG Conversion Rate, this metric is simply (goals - penalties) / shots - penalty shots. For example, Kylian Mbappe's NPG Conversion Rate is 20.6, meaning 20.6% of the non-penalty shots he takes results in a goal being scored. In this graph, we included an average line to divide the player selection into quadrants. In QI, we see the most efficient players. These players are largely elite and would likely not play at Chelsea or would force Tammy Abraham to be the second choice.
However, some players are attainable in this quadrant. In with the Lewandowskis, Immobiles, and Vardys, we see Lyon's Moussa Dembele, Everton's Dominic Calvert-Lewin, Burnley's Chris Wood, and Union Berlin's Sebastian Andersson. Atalanta's Josip Ilicic also is in this quadrant, but at age 32, we would be just as well off keeping Giroud.
To expand our now-limited shortlist, we can extend into QII and QIV by 2% to include the players who are close enough to the database average that they can be included in the refined list without much discrediting. This adds Marseille's Dario Benedetto, Atalanta's Duvan Zapata, Southampton's Danny Ings, Renne's M'baye Niang, Augsburg's Florian Niederlechner.
Pierre-Emerick Aubameyang and Lionel Messi also qualify, but will be excluded for obvious reasons. The individual data can be seen in the table below for those who pass the first cut.
With these nine players, we can now move on and look at their defensive actions compared to Tammy Abraham.
DEFENSIVE ACTIONS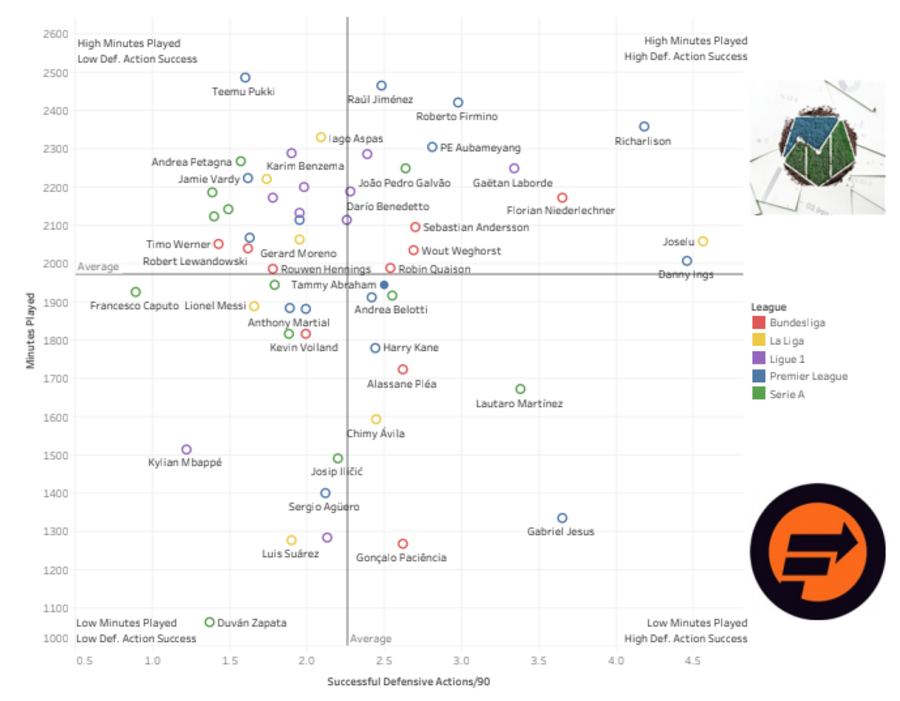 In the graph above, we want to look at candidates that have a high amount of successful defensive actions P90, meaning we only want to include the strikers in quadrants I and IV.
Of our shortlist, this rules out Chris Wood, Duvan Zapata, and M'Baye Niang. While the number of successful defensive actions is not crucial in our search, we must remember this potential recruit will likely see a majority of minutes in an off-the-bench capacity to try and be an additional threat when trailing, meaning the ability to win the ball is crucial. In the table below, we have the exact numbers of our remaining six players.
CONCLUSIONS
Now that we have looked at the data, we have to apply some logic to our potential recruits. The Bundesliga duo Florian Niederlechner and Sebastian Andersson are both respectable players who each have 11 goals in this Bundesliga season.
Niederlechner is valued at £9m and has taken advantage of Icelandic international Alfred Finnbogason's fitness issues this season at Augsburg, however, he is 29 and has never really emerged as anything more than respectable amongst the lower-budget teams of Germany's top flight.
Looking at Andersson, there is not much that separates him from Niederlechner on paper. While the Swedish striker performs well in a newly-promoted side that finds themselves mid-table, would Chelsea really be convinced to sign a 28-year-old valued at only £5.4m?
Probably not. Despite their strong pressing numbers, Niederlechner and Andersson both are on the lower end of efficiency and can be ruled out.
Looking to Ligue 1, and Dario Benedetto. Benedetto finally made his move out of the Americas this past summer to Marseille to join Andre Villas-Boas as his new striker for £12.6m.
The Argentinian has scored 11 goals this season, but given he is the worst presser amongst our final six and playing at a club performing really well as his performance levels start to decline due to age, he can also be ruled out from our list.
That brings us to our final three; Danny Ings, Dominic Calvert-Lewin, and Moussa Dembele. All of these players would make sense to bring in, meaning it comes down to the opposition's willingness to sell.
Starting with Danny Ings, the Englishman has revitalised his career after a summer move to Southampton and has proven to be a star player in the club's climb from relegation danger. With this being said, it is unlikely that Ings would be keen on a move to London to become a second choice, nor would Southampton let him go for a backup price after signing him for £20m this past summer.
Looking at Dominic Calvert-Lewin, the young Everton striker checks off a number of boxes and fits Lampard's preference of younger players. While he is an English player who would likely accept a secondary role at Chelsea, he signed a 5-year extension at the beginning of March to stay at Everton until June 2025, meaning he will likely be close to untouchable on the transfer market.
Finally, we get to Moussa Dembele.
Not only is Dembele a good fit per the data, but he also has gained the attention of Chelsea after reportedly failing to acquire their primary target, Timo Werner. The Lyon striker sees his side sitting in 7th and 10 points off a Champions League spot, meaning the attraction to Chelsea should be fairly obvious.
The 23-year-old has scored 16 goals in 27 league matches this season and has already enjoyed success at Celtic and Fulham previously in his career. Despite Lyon's struggles, he will not be cheap. Should Chelsea be able to sign Dembele in the summer, they will have a striker who will not only compliment Tammy Abraham but battle for a starting spot. The young striker fits the requirements of Chelsea better than any other player in Europe's top five leagues, but will they meet Lyon's price?
This is part three of a three-part series using data recruitment to strengthen aspects of Chelsea's squad. If you enjoyed this article, you can find many like it along with visuals and much more by following @ARDataAnalysis on Twitter.