He couldn't have been clearer - football will never be the same again.
Uefa president Aleksander Ceferin, fresh from his video conference with 55 league delegates to discuss the future of this season, suspended as the coronavirus grabs hold, gave an interview with Rob Harris of Associated Press in which he provided some clarity over what had been announced.
Euro 2020 is gone, Euro 2021 it will be. Uefa club competition remains out of action, with no defined date of return. Domestic leagues will strive to be completed by 30 June, however unlikely that date appears at this present time. The women's Euros and U21 tournaments will probably be pushed back to summer 2022 (an ironic twist in the Qatar 2022 debate, with the tournament's move to winter likely to prove a blessing). Next season's European qualifiers... who knows yet.
But Ceferin said so much more. He chose the moment to go on the offensive and denounce the nature of how fragile the football ecosystem has become. Ceferin admitted that this was the 'biggest crisis football has faced in history' but was also keen to press home the point that he sees this as a 'reset' moment.
There's no denying what he is referring to. Fifa president Gianni Infantino and his Club World Cup project, heavily funded but largely derided, was set to launch in 2021 but there's virtually no chance of that happening now and any attempt at politicking by Infantino would meet with serious opposition in the nature of this unprecedented situation. Infantino also ordered the expanded World Cup.
As FootballCritic has reported, the increased strain on players as extra competitions get piled into the calendar, as administrators plough their own paths toward legacy, towards revenue generation, and towards inexorably squeezing every last morsel from the modern professional footballer, has reached a tipping point.
FOOTBALL'S BIGGEST CRISIS
Players are being injured more often, but being rushed back quicker. They take part in domestic leagues, in domestic cups, in European club competition, international tournaments, international qualifiers, friendly tournaments, testimonials, charity events.. the list is endless.
Wayne Rooney, in his column in the Times this week, alluded to players being treated as 'guinea pigs', and when it comes to how professionals are treated, as commodities to make the keep the massive merry-go-round turning, it's hard to argue with this assertion.
There is no more time for selfishness. This is a reset for world football.Aleksander Ceferin
Ceferin knows that football's incessant quest to leave no day without games being played has helped to exacerbate this crisis. There's simply no room any more to alleviate such a stressful situation, and although the delivery mechanism could not be foreseen, the inevitability of this result most certainly could.
He said: "I don't know what will happen concerning the football calendar, but the fact is that what I saw today is that this situation brought us together.
"Then we saw that our ecosystem is fragile, that it's one ecosystem, that we have to act responsibly and that we have to help each other. There is no more time for egoistic ideas. There is no more time for selfishness.
"This is a reset of the world football."
Ceferin is not immune from adding to this fixture woe - the Nation's League and the upcoming new European competition, The Uefa Europa Conference League - have been devised on his watch. But it seems as if the penny has already dropped with him that this structure was totally unsustainable and will likely never return to its current format.
NO ROOM FOR EGO
And where he refers to ego, it's clear he means the two men who are coming for their share of football in different ways; Infantino and the European Club Association Chairman, Andrea Agnelli. If - and at this point it's a huge, glaring, massive if - all member clubs and associations survive this crisis intact, then their inter-connectivity has shown that it would be impossible to survive it again. There's too many stakeholders that rely upon each other in order to make this whole gargantuan mechanism work. To think that we can return to normal is a fool's errand and it seems, for now at least, Ceferin realises this.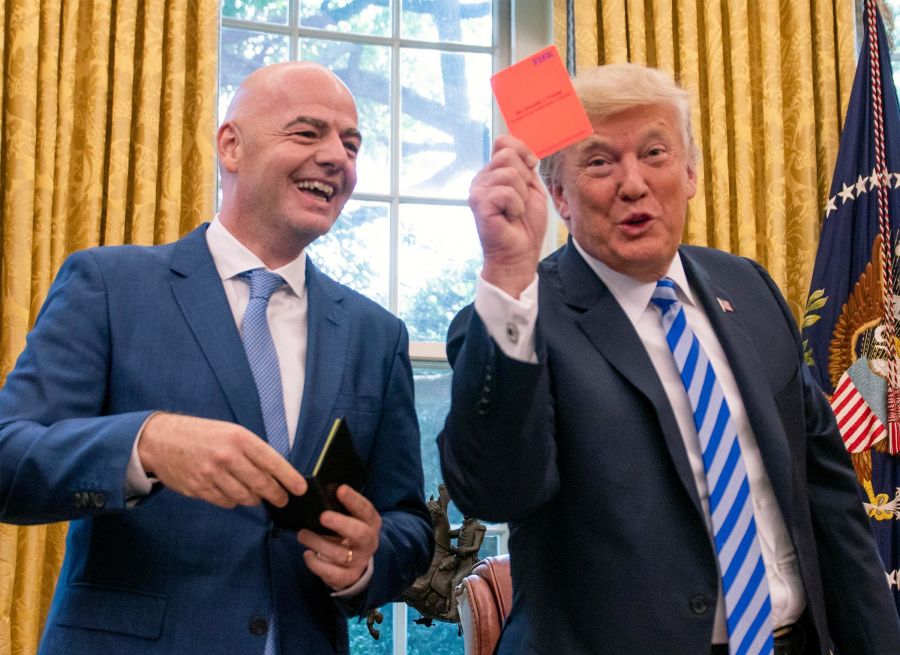 He knows that severe financial hardship is coming, and he added that two working groups are being created; one to assess the football calendar, and the other to monitor the monetary impact this break will have. He believes that 'It will be hard for months or years, but we will step together and I am very optimistic.
Ceferin concluded: "The ecosystem is fragile. We have to be very careful because we depend on each other and it also shows how important football is for people, for fans, because we always say football is about players and football is about fans. It's not about us football administrators and we shouldn't think we are the stars of the game."
He spoke well, and said precisely the correct things. It seems as if he has been awoken to the thought that football administrators - himself included - must now take a step back and realise that their sport is not invincible and does not exist in a higher plain. It is intrinsically linked with communities and with people's lives, and it needs to find its place again.
Time will tell if this is the much-needed wake-up call we hoped would arrive in altogether different circumstances.