The 2005-06 English Premier League title was won by Chelsea, retaining their crown in convincing fashion. Manchester United were their closest challengers, pushing Jose Mourinho's side further that they had been in the previous campaign, but the Blues always appeared in control and ended the season on 91 points, eight clear of United in second.
CHANGES
Chelsea were once again making the most of Roman Abramovich's lavish spending as they continued to build one of the finest squads in Europe. Added to a roster which had already routed the opposition the previous season were Michael Essien, a £24.5m capture from Lyon, and a host of other key signings, including Shaun Wright-Phillips (£21m from Manchester City), Asier del Horno, Maniche, while Hernan Crespo returned from a loan spell at AC Milan to further bolster the Blues' attacking options.
Manchester United carefully and quietly made two signings which would be instrumental to their future successes, in the form of centre-back Nemanja Vidic and the experienced Edwin van der Sar, who arrived from Fulham.
As for Arsenal, Juventus finally got their man, ending their long pursuit of Patrick Vieira by securing his signature for a fee of £14m. The Gunners, heading into their final season at their Highbury ground, responded by purchasing the young but talented Theo Walcott from Southampton, as well as Emmanuel Adebayor & Abou Diaby from Ligue 1. Alexander Hleb also joined as Arsene Wenger refreshed his attacking midfield alternatives.
But arguably one of the most eye-catching deal came in the North East. Michael Owen had spent just one season at Real Madrid, but Newcastle United decided to exceed the fee they had spent on Alan Shearer nine years prior to bring the striker back to England, parting with £18m in the process.
The promoted sides were Sunderland, winning the league in style, Wigan, who would compete in the top flight for the first time, and West Ham, who snuck in via the play-offs.
SEASON SUMMARY
Given how Chelsea had won the league with such ease the season prior, coupled with their new additions, they were expected to rack up wins from the off once again, and Jose Mourinho's side did not disappoint. The Blues won 10 of the first 11 matches of the campaign, defeating Liverpool and Arsenal in the process. Even defeat to Manchester United, courtesy of a Darren Fletcher goal, did little to derail their incessant ability to win; by mid-January they had only dropped five points in the entire season, and held a seemingly unassailable 16 point lead over a shell-shocked league who could not deal with them.
United were the best of the rest, if such a team is applicable, and to their credit a nine-game winning streak in mid-April made Chelsea at least look over their shoulders. The Red Devils were able to close the gap to just seven points in that period.
But United couldn't keep up their form, and when doomed Sunderland were able to claim an unlikely 0-0 draw at Old Trafford, Chelsea put their foot on the accelerator, demolishing West Ham 4-1 despite being reduced to 10 men in the first half. The title was finally sealed by putting United in their place courtesy of a humbling 3-0 victory over their rivals at Stamford Bridge, with Joe Cole scoring the pick of the goals.
It is a fantastic feeling, unbelievable. This is my second in England and my fourth consecutive title if you include Porto. One day we'll lose but, for now, we are the best team in the country.Jose Mourinho
Liverpool were never in the title race but with Steven Gerrard in fantastic form the Reds won their last nine games of the season to finish on 82 points, just one behind United.
Arsenal, such a competitive side under Arsene Wenger, proved inconsistent and submissive, losing 11 times in a season where they were hopelessly off the pace. However, Thierry Henry remained incredibly prolific and they were able to maintain their Champions League qualification record, pipping rivals Tottenham on the final day after the Spurs squad, ravaged by food poisoning, was defeated at West Ham.
Tottenham had enjoyed their best campaign in years under Martin Jol, with Robbie Keane scoring on a regular basis, and despite their European failure had a platform to build from in campaigns to come.
In the relegation zone, Sunderland proved to be one of the worst sides in Premier League history. The Wearsiders won just three matches all season and finished with 15 points. Joining them in the Championship were West Bromich Albion and Birmingham City, two sides who spent much of the decade shifting between the divisions regularly.
AWARDS
PLAYER OF THE SEASON
THIERRY HENRY
The Frenchman clinched the award for the third time after another superb goalscoring campaign.
MANAGER OF THE SEASON
JOSE MOURINHO
The Portuguese retained the Premier League and solidified his position as the new managerial force in Europe.
YOUNG PLAYER OF THE SEASON
WAYNE ROONEY
The Manchester United forward continued his development into one of the league's leading talents.
TOP GOALSCORER
THIERRY HENRY - 27 GOALS
The Frenchman was able to defy Arsenal's poor campaign to strike an impressive 27 goals.
TEAM OF THE SEASON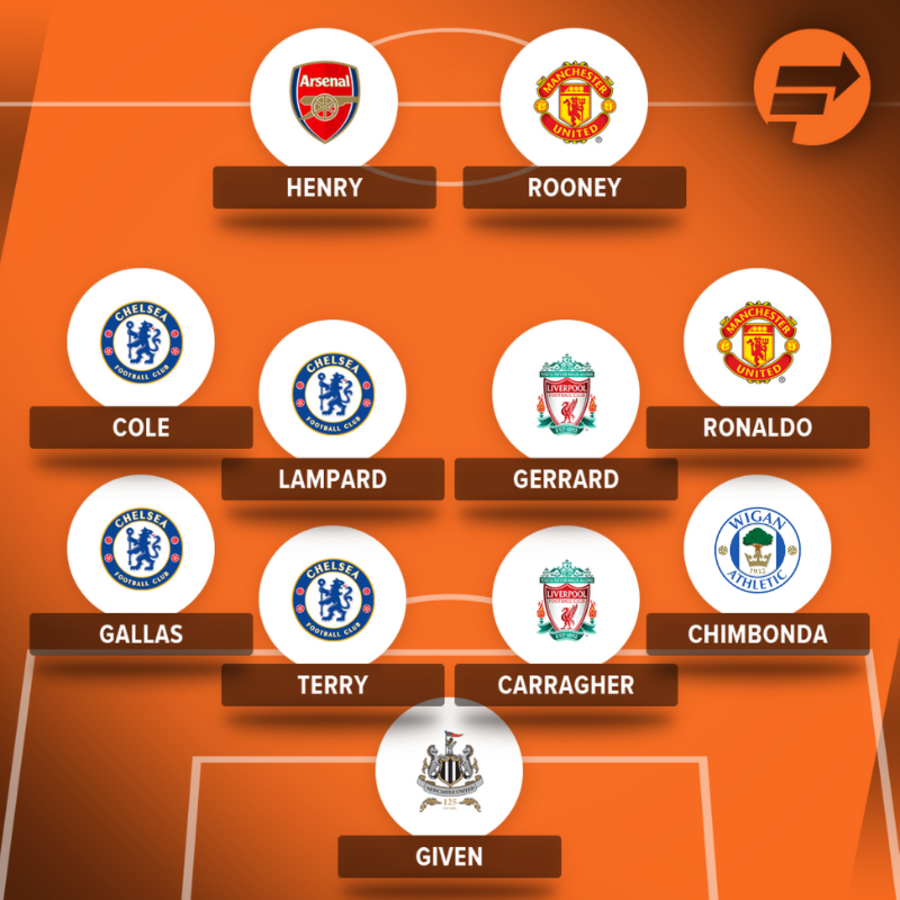 GOAL OF THE SEASON
STEVEN GERRARD rounded off a captain's display in the FA Cup with a blistering 30-yard drive in added time, but...
As this is a Premier League season review, it should be CRAIG BELLAMY'S largely forgotten strike for Blackburn against Portsmouth.
MOST EXPENSIVE TRANSFER
Michael Essien
Lyon to Chelsea
£24.5m
KEY MOMENT OF THE SEASON
Chelsea taking advantage of United's late-season slips to set up clinching the title at Stamford Bridge against their closest rivals, which they duly did in a comprehensive 3-0 triumph.