The 2008-09 English Premier League title was won by Manchester United, their third in a row, a season in which the perennially underachieving Liverpool emerged as a true force once again, and pushed their eternal rivals all the way in a thrilling second half of the season. United were forced to collect a huge 90 points in order to see off the challenge from Anfield, with Rafa Benitez's side defeating United both home and away within the campaign.
CHANGES
In one of the most breathtaking deadline days ever, Manchester United were able to add to an already-enviable strikeforce with the inclusion of Dimitar Berbatov from Tottenham for fee of £30.75m, but, even with such an incredible deal squeezing through with minutes to spare, United were outdone by their city rivals.
Manchester City's Abu Dhabi takeover went through at the last moment after protracted negotiations, and to issue a message to the rest of the league, they completed the signature of Robinho from Real Madrid for £32.5m in the last moments of the window. It was the first signing of what would become a billion-pound enterprise at Eastlands.
Elsewhere, Arsenal's prudent spending continued to keep the purse strings tightened, with the only prominent arrival being Samir Nasri, brought in from Marseille for £9m.
Chelsea, who had run United so close the previous year, brought in new coach, World Cup winner Luiz Felipe Scolari, and he arrived with the Portuguese duo of Deco and Jose Bosingwa.
Tottenham's money was spent on David Bentley, so impressive for Blackburn the previous year, for £17m and Russian hitman Roman Pavlyuchenko from Spartak Moscow. Liverpool spent big on Robbie Keane from White Hart Lane, but that deal proved short-lived, the Irishman returning to London before the season was out.
West Bromich Albion were promoted from the Championship as winners, followed closely by Stoke City. Hull City won the play-off to fill the slots for the 2008-09 season.
SEASON SUMMARY
European champions Manchester United suffered from the inexorable lure of Real Madrid turning the head of their star player, Cristiano Ronaldo. The Portuguese eventually stayed but the arrival of Berbatov suggested that Sir Alex Ferguson was already preparing for life without the prolific winger. As a result their season started with a lack of fluency, drawing with Chelsea and Newcastle while losing 2-1 at Liverpool.
Indeed, the Reds' unwavering consistency was proving a real and genuine threat to the title holders, and at the turn of the year Rafa Benitez's side held a three-point lead over Chelsea at the top, seven clear of United, who had two games in hand.
Benitez begun to take on Sir Alex Ferguson directly in the art of mind games. In a press conference he read out a list of decisions he felt had went in United's favour, but the move failed to convince anyone and United emerged with new-found verve and ability to win. The champions embarked, as they are accustomed to doing, on a 11-game winning streak after Christmas, while Liverpool slipped up at home to Manchester City and Middlesbrough, leaving United seven points clear with a game in hand.
The great challenge now is to try to win it next year because that would be something special. A 19th league title would give us a special place in the club's history.Sir Alex Ferguson
It appeared to be all over. But Liverpool were to embark on a run of their own, commencing at Old Trafford. United hadn't been dominated by their rivals at home in such a manner for years, losing 4-1, with Fernando Torres bullying Nemanja Vidic into a red card. Suddenly, it seemed as if the race was on. United were still reeling from the Liverpool loss when they went down 2-0 at Fulham, with Wayne Rooney dismissed. Liverpool were back within a point and when Aston Villa were 10 minutes from victory at Old Trafford in the next match, momentum appeared to be shifting. However, a low Ronaldo shot and an astonishing turn and curler from 17-year-old Federico Macheda flipped the game on its head, and the momentum, in that moment, shifted backwards.
United won the next six in a row to cement their advantage, while Liverpool's only aberration was a 4-4 draw with Arsenal in one of the games of the season. But that was enough; despite taking 28 points from a possible 30, United matched them to take the title and keep Liverpool waiting.
Chelsea rallied to finish in third spot after Guus Hiddink replaced Scolari, his tenure barely making it beyond Christmas before owner Roman Abramovich ruthlessly ended his reign. The Dutchman picked up 11 victories in the final 13 games, to finish well clear of Arsenal, who were a distant fourth.
At the bottom, West Bromich Albion went down in 20th position, while, on the final day, the North-East duo of Middlesbrough and Newcastle needed wins to stay afloat. Both failed, and were consigned to relegation.
AWARDS
PLAYER OF THE SEASON
STEVEN GERRARD
The midfielder was the driving force of a Liverpool team who came so close to pinching the league title from Manchester United.
MANAGER OF THE SEASON
DAVID MOYES
The Scot, a stalwart in the Goodison Park dugout, guided Everton to consecutive fifth-place finishes despite the constraints of a tight budget.
YOUNG PLAYER OF THE SEASON
ASHLEY YOUNG
The Aston Villa winger was the key component of an excellent side under Martin O'Neill.
TOP GOALSCORER
NICOLAS ANELKA - 19 GOALS
In an uncharacteristically low-scoring golden boot race, Anelka triumphed with 19 goals, one ahead of Cristiano Ronaldo.
TEAM OF THE SEASON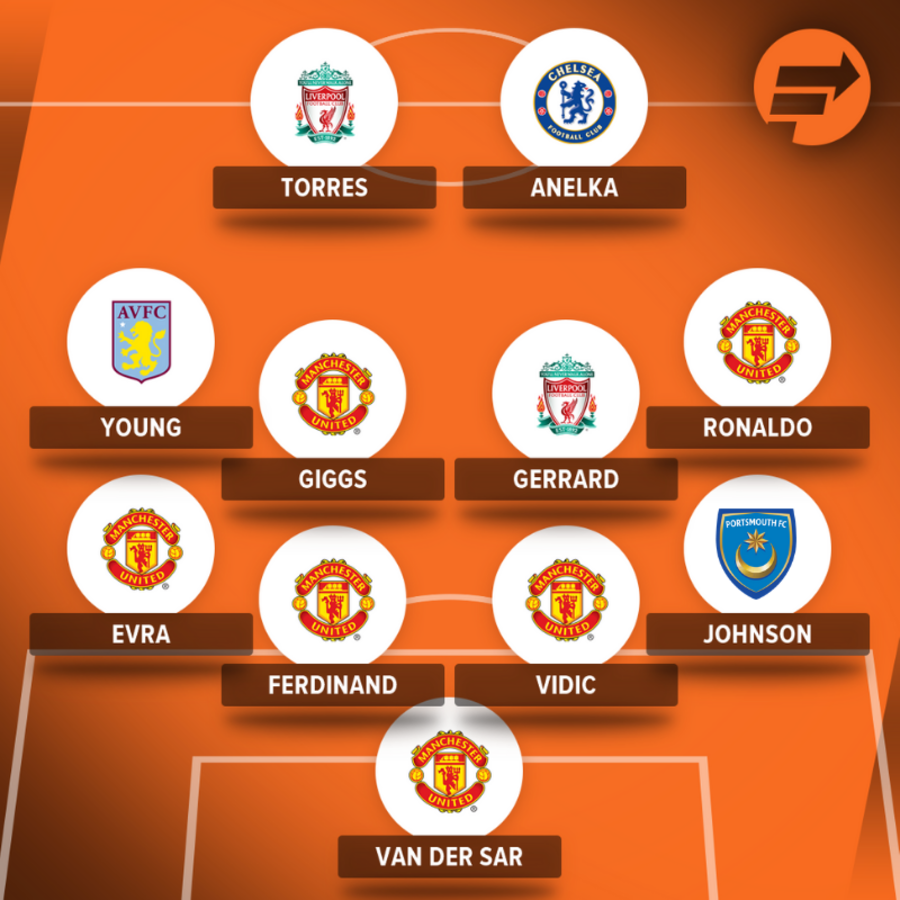 GOAL OF THE SEASON
GLEN JOHNSON'S chest and flying volley for Portsmouth against Hull City was a unique goal full of skill.
MOST EXPENSIVE TRANSFER
Robinho
Real Madrid to MANCHESTER CITY
£32.5m
KEY MOMENT OF THE SEASON
Federico Macheda's swivel and curling strike when 2-2 going into the 90th minute was enough to defeat Aston Villa and put United back on track for the title.