The 2007-08 English Premier League title was won by Manchester United for the second season in succession, though they were pushed all the way by their rivals of the era, Chelsea, who shrugged off the mid-season departure of Jose Mourinho to push United all the way to the final round of the season. United finished on 87 points, two clear of Chelsea.
CHANGES
Manchester United, after reclaiming their title in 2006-07, made major moves to strengthen an already impressive squad. Carlos Tevez arrived on a two-year loan from West Ham, while a raid of Portuguese football picked up Brazilian Anderson from Porto for £17m and Nani from Sporting for £14m. The arrival of Owen Hargreaves from Bayern Munich rounded off a dangerously productive window for Sir Alex Ferguson's side.
Long-time Manchester United target, Fernando Torres, left Atletico Madrid for Liverpool for a fee of £23m, who also bolstered by adding Ryan Babel from Ajax for £12m.
Chelsea went back to Lyon to pick up flying winger Florent Malouda for £13.5m, and also added Nicolas Anelka mid-season from Bolton Wanderers for £15m. For Arsenal, however, it was more a case of who had left, rather than who came in.
Thierry Henry, one of the greatest players in their history, left for Barcelona, with the Gunners choosing not to reinvest the money earned into the squad.
Tottenham, under Martin Jol, spent big on Darren Bent, for £16.5m, but Jol would eventually be replaced mid-season by the Spaniard Juande Ramos. Manchester City meanwhile welcomed Sven Goran-Eriksson to English football, replacing Stuart Pearce.
From the Championship arrived Sunderland and Birmingham City via automatic promotion, and Derby County, who won through the playoffs.
SEASON SUMMARY
Manchester United had finally ended Jose Mourinho and Chelsea's control over proceedings the season prior, but Mourinho wouldn't hang around long enough to mount a response. After a below-par start to the season Jose was gone in September, with Chelsea choosing to replace him with the relatively inexperienced Avram Grant. They would soon get back to form under the new man, but it would be Arsenal's form that would catch the eye.
Despite the absence of Thierry Henry, Emmanuel Adebayor emerged as a prolific goalscorer in his own right, and with the inspirational, imaginative play of Cesc Fabregas and Alexander Hleb behind him, the Gunners were in a fantastic position to win their first league title since the Invincible side of 2004.
United, meanwhile, saw Cristiano Ronaldo mature from a goalscoring wideman into a consummate machine the likes of which the Premier League had never seen before. His goals ensured United were well in contention but with 12 games to go, Arsenal had amassed a five-point lead as they headed to play Birmingham City. And then, it all went wrong. Firstly, Eduardo's horrific leg break clearly knocked Arsene Wenger's men from their stride, but despite that setback they were 2-1 up in injury until a late penalty conceded cost them two points. William Gallas lost his head, kicking the advertising hoarding, and in the matches that followed his team-mates lost theirs, too. Further draws with Aston Villa, Wigan, and Middlesbrough culminated with a 2-1 defeat to Chelsea and an abrupt end to a challenge that had promised so much. During the same spell United won six games in a row, scoring 18 goals in the process, to open up a five-point gap over Chelsea with six games remaining.
United had a great season, played very well and are champions. I especially want to congratulate Sir Alex Ferguson. He is a great manager and a great person.Avram Grant
But United suffered a mini-wobble. A Tevez goal in the closing stages could only earn a point at Blackburn, while, a clash of the top two, Chelsea emerged deserved victors, winning 2-1 to leave both sides level on points with two games remaining.
United, however, retained a distinct advantage on goal difference, meaning two wins and the league would be theirs. They obliged, overcoming Wigan 2-0 on the final day, while Chelsea, in an academic result, failed to beat Bolton. The pair would meet in the Champions League final, too, where United would again come out on top, this time on penalties.
The relegation zone saw a team so ill-equipped to deal with Premier League football that it bordered on the embarrassing. Derby County's 11 points from 38 games was a record low - with a goal difference of -69. Fulham's great escape having looked doomed just months prior condemned Birmingham City and Reading to relegation.
AWARDS
PLAYER OF THE SEASON
CRISTIANO RONALDO
Ronaldo developed from a player of promise to a bona-fide world star, scoring 31 times as United won out again.
MANAGER OF THE SEASON
SIR ALEX FERGUSON
Another award for the legendary manager who had managed to restore his team to the top after a mid-decade spell where Arsenal and Chelsea threatened to move clear.
YOUNG PLAYER OF THE SEASON
CESC FABREGAS
Much of Arsenal's relative success in this season came from the emergence of the imaginative Spaniard.
TOP GOALSCORER
CRISTIANO RONALDO - 31 GOALS
31 goals in a devastating season, 42 goals in all competitions - a performance which made Real Madrid sure who their next Galactico should be.
TEAM OF THE SEASON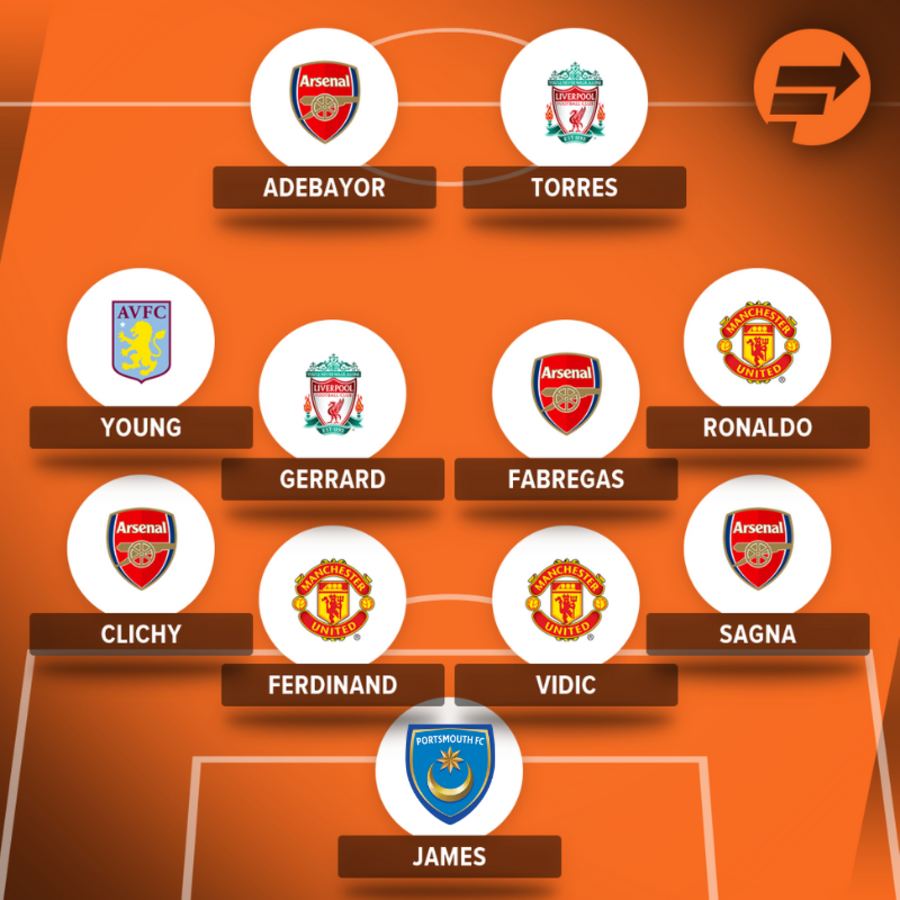 GOAL OF THE SEASON
EMMANUEL ADEBAYOR shows how to score the perfect chest and volley, in the North London derby no less, for Arsenal against Tottenham.
MOST EXPENSIVE TRANSFER
Fernando Torres
Atleticol Madrid to LIVERPOOL
£23m
KEY MOMENT OF THE SEASON
Eduardo's leg break. Had Arsenal not suffered through that incident and then dropped points in the fixture against Birmingham, they might well have gone on to win the league.