The 2013-14 English Premier League title was won by Manchester City in one of the most dramatic ends to a season in history. After Liverpool's incredible run of victories it appeared that Brendan Rodgers' side would end their long wait for glory, but a series of stumbles at the business end of the season, coupled with Chelsea's dip in form, allowed City to take full advantage and clinch their second title in three seasons.
CHANGES
As the television deals continued to exponentially rise, so did the level of spending. Arsenal broke their transfer record to bring in Mesut Ozil from Real Madrid in a real statement of intent, while Chelsea brought in the efficient Willian from Anzhi for £30m, closely followed by Andre Schurrle, arriving from Bayer Leverkusen.
Manchester City, perennial big-spenders, were extremely active, bringing in Fernandinho, Jesus Navas, Stevan Jovetic and Alvaro Negredo for a combined fee in excess of £90m.
Manchester United, however, were noticeably quiet, failing to back new boss and Sir Alex Ferguson replacement David Moyes in the transfer market for the signings he requested. In the end Marouane Fellaini arrived from Everton in an deadline-day deal, while Juan Mata came from Chelsea in January.
But the biggest displacement took place at White Hart Lane; after protracted negotiations, Gareth Bale signed for Real Madrid from Tottenham for a world record £90m fee. Tottenham's use of the money was erratic at best, being splurged on a series of signings rather than a big-name replacement. Erik Lamela was the most prominent, arriving from Roma, while Roberto Soldado, Paulinho & Christian Eriksen also came in for big fees.
Other than Moyes, the return of Jose Mourinho to Premier League football after a six-and-a-half year hiatus meant that Chelsea were expected to compete for the title after a spell of managerial upheaval and underachievement domestically.
SEASON SUMMARY
The Premier League was in uncharted waters, a league without Sir Alex Ferguson for the first time. David Moyes started well, winning comfortably at Swansea, but the enormity of the task did not take long in revealing itself. A soporific goalless draw with Chelsea was soon followed by defeats to Liverpool, West Bromich Albion, and a notable humbling from City, 4-1, in the derby.
Ultimately United, so dominant the season prior, were never in the hunt and Moyes' tenure seemed to be on borrowed time from the beginning. He would not see out the season.
It looked for a long time as if a three-horse race was emerging between Arsenal, enjoying the talents of Ozil, City and Chelsea, making steady progress under Mourinho. Just a single point separated the trio at the beginning of 2014, while Liverpool, although showing their potential in wins over Manchester United and impressively, 5-0, against Tottenham, back-to-back defeats to City and Chelsea at Christmas seemed to express their limitations.
I think we were the best team of the Premier League. It's a very special group. Maybe they were in a very difficult moment when I arrived here, but they always believed what I told them.Manuel Pellegrini
However, Rodgers' Reds embarked on a remarkable 16-game unbeaten run, 14 victories, to put them in pole position to clinch their first title since 1990. Luis Suarez produced one of the most prolific Premier League seasons ever, scoring 31 goals in total, including in destructions of Everton (4-0), Arsenal (5-1) and United (3-0). Their test of credentials came when facing City at home, which, in a classic encounter, they emerged victorious, Philippe Coutinho striking the winner. The result put Liverpool two points clear with four games remaining. Their task was simple - win all their remaining fixtures and they would be champions.
Chelsea, meanwhile, looked to be in a strong position only to have their challenge derailed by a series of teams struggling at the wrong end of the table. Aston Villa,
Crystal Palace and Sunderland all defeated Mourinho's men, meaning they were already effectively out of the title race by the time they visited Anfield with three matches left.
But Mourinho's side were still able to wreak havoc, winning 2-0, meaning that Manchester City were back in the box seat. Liverpool then capitulated at Crystal Palace, drawing 3-3 when leading 3-0, but in the end that result was academic. City held their nerve, something their rivals failed to do, winning their five remaining matches to take the title by two points.
At the other end of the table, Cardiff, promoted for the first time, promptly went straight back down, finishing bottom, while Fulham and Norwich struggled for goals all season and they were relegated alongside them.
AWARDS
PLAYER OF THE SEASON
LUIS SUAREZ
One of the all-time great Premier League seasons from a player who transformed Liverpool into genuine title contenders.
MANAGER OF THE SEASON
TONY PULIS
The wily Welshman took Stoke City to a record-high PL finish of ninth and received the respect of his peers in the process.
YOUNG PLAYER OF THE SEASON
EDEN HAZARD
The Belgian gave an indication of what was to come, proving to be Chelsea's key architect and providing 14 goals and seven assists.
TOP GOALSCORER
LUIS SUAREZ - 31 GOALS
Suarez's 31 goals gave him the golden boot at a canter, ending the season a full 10 goals ahead of second-placed team-mate, Daniel Sturridge.
TEAM OF THE SEASON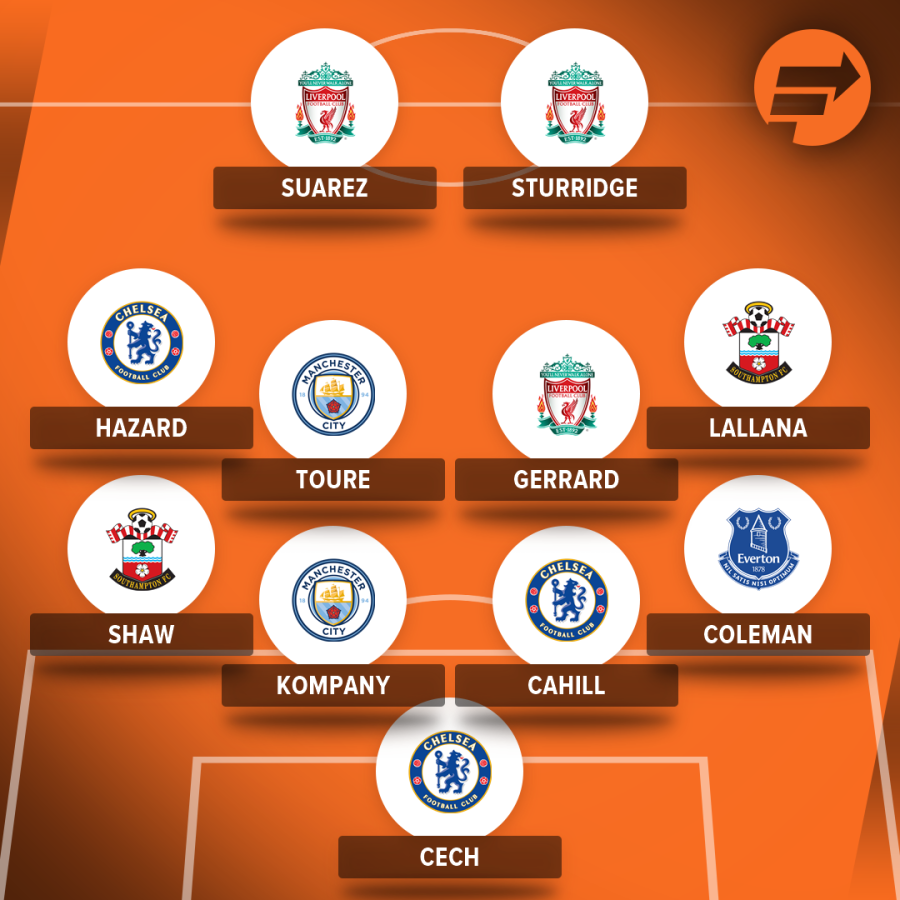 GOAL OF THE SEASON
JACK WILSHERE'S slick interplay and pinball passing involved Santi Cazorla and Olivier Giroud to produce a brilliant, and unique, goal for Arsenal against Norwich City.
MOST EXPENSIVE TRANSFER
MESUT OZIL
Real Madrid to ARSENAL
£42.5m
KEY MOMENT OF THE SEASON
In the key, season-defining match against Chelsea, Liverpool's Steven Gerrard slipped, allowing Demba Ba to run through and score and alter the destination of the title.