Pep Guardiola's Barcelona confirmed their status as the world's pre-eminent football force with a third straight title, obtained by a margin of four points over second-placed Real Madrid. The Merengue boasted newly crowned Champions League winner Jose Mourinho on the bench, but the club's third coach in as many seasons could not break Barca's winning run.
Mourinho's men did run the Catalans close over the course of the season. Cristiano Ronaldo, La Liga's top scorer with an impressive 40 strikes in his second campaign at the Santiago Bernabeu, meant that Madrid even managed to outscore their rivals in 2010-11. Barca's all-round talent, however, pulled through, with the likes of Dani Alves, Andres Iniesta and Xavi reaching superlative levels of form – not to mention that year's Ballon d'Or winner, Lionel Messi.
CHANGES
With Guardiola's Barca running rampant not just domestically but in Europe, Real Madrid pulled out a hail mary and recruited Mourinho from Inter to try and halt the Blaugrana monopoly. The 'special one' quickly used Madrid's financial might to bring in Mesut Ozil, Sergio Canales, Angel Di Maria, Ricardo Carvalho, Sami Khedira, and Pedro Leon. Legendary striker, Raul, meanwhile, left for the German Bundesliga with Schalke. Barca made some key acquisitions too, bringing in David Villa to replace Zlatan Ibrahimovic, while Javier Mascherano would go on to patrol the defence and midfield for years to come. Real Sociedad, Hercules, and Levante gained promotion for the campaign the previous season.
SUMMARY
It was a slow start to the season nevertheless for Pep's men, perhaps understandable after the exertions required to win Spain's first-ever World Cup left Iniesta and Co. in less than optimum condition.
Barca had spent heavily on stars like Villa, Mascherano and Adriano, but in their first Liga clash at Camp Nou they were upset in a shock 2-0 reverse to Hercules, Paraguayan striker Nelson Valdez hitting a famous double.
The defending champions soon got back on track, however. Barca won all but one of their next 20 league fixtures, a run that included a 5-0 thrashing of Madrid at the Camp Nou that has gone down in Blaugrana folklore. Villa made himself an instant favourite after switching from Valencia with two goals, while the rout was completed by goals from Xavi, Pedro and Jeffren.
That defeat, meanwhile, was the first Mourinho had suffered in La Liga after an impressive opening to the campaign. But losing in such emphatic fashion in their rivals' backyard appeared to have a detrimental effect on Madrid, as they saw an encouraging title challenge fade away.
I'm delighted because it has been a very difficult title to win. We've had to work very hard to be champions and more so against a great rival like Real Madrid. Now we have to enjoy it.Lionel Messi
While Barca went from strength to strength the Merengue started to drop points with depressing regularity, losing to Osasuna and Sporting Gijon before defeat to Zaragoza on the same weekend Barca finally lost their second game of the season, to Real Sociedad, effectively handing a third straight crown to Pep.
Barca let their foot off the gas in the final weeks, losing once and drawing two of their final five matches, but the lead built up earlier in the season meant that La Liga never looked in danger.
The only consolation for Mourinho was Copa del Rey final victory over their Clasico adversaries, clinched with an extra time goal from the outstanding Ronaldo which at least gave Madrid something to shout about in another season dominated by a side Sir Alex Ferguson described as the best he had ever seen.
PLAYER OF THE SEASON
MANAGER OF THE SEASON
PEP GUARDIOLA
The Catalan narrowly beat out Atletico's new boss Diego Simeone in the voting, after El Cholo swiftly turned around fortunes at the Vicente Calderon.
TOP GOALSCORER
CRISTIANO RONALDO - 40 GOALS
While Madrid finished La Liga empty-handed the club's star striker picked up a considerable consolation prize with his first Pichichi, scoring at the astonishing rate of more than a goal a game under compatriot Mourinho.
TEAM OF THE SEASON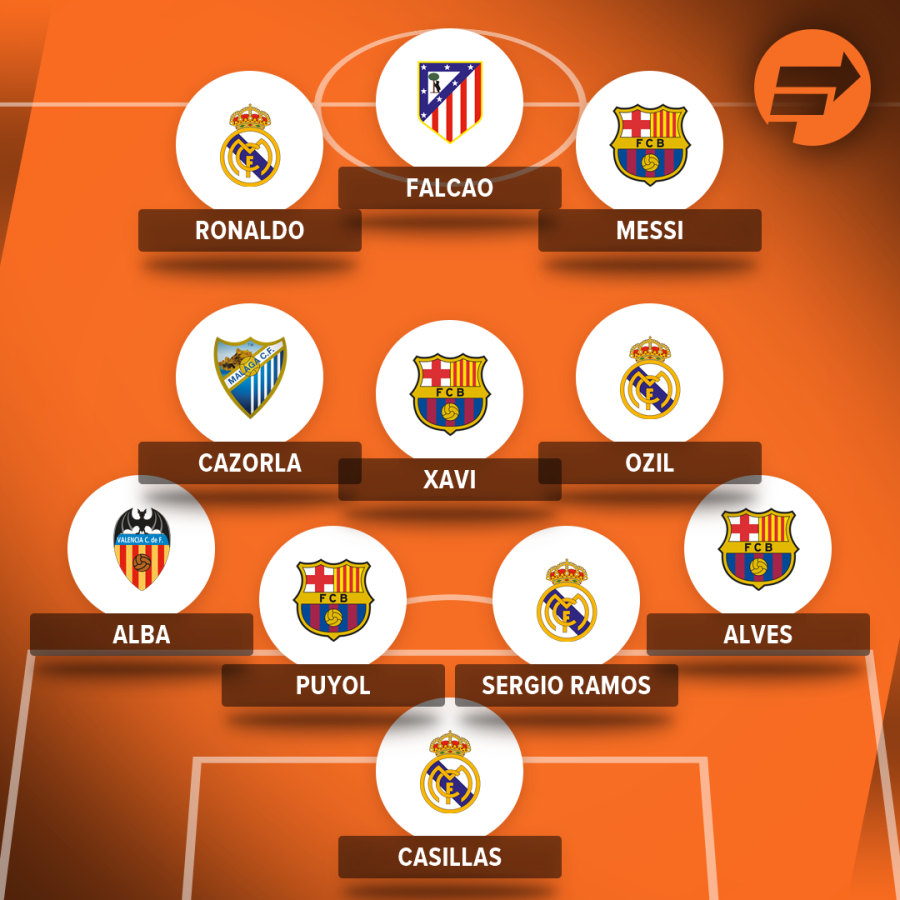 GOAL OF THE SEASON
EMMANUEL ADEBAYOR finishes off a superb team goal for Real Madrid, as no less than three one-twos are played before he slots home.
MOST EXPENSIVE TRANSFER
DAVID VILLA
Valencia to Barcelona
€40m
KEY MOMENT OF THE SEASON
The unheralded Jeffren swooping in to complete Barcelona's 'Manita' and seal a 5-0 thrashing of Real Madrid. That game turned the season on its head, and made the Venezuelan a cult hero at Camp Nou.