WHERE: Etihad Stadium, Manchester
WHEN: 3 February, 2014
COMPETITION: English Premier League, Week 24
WEATHER: Dry
LINE-UPS:
Man City (4-4-2): Hart; Zabaleta, Kompany, Nastasic, Kolarov; Navas, Demichelis, Y. Toure, Silva; Dzeko, Negredo
Chelsea (4-2-3-1): Cech; Ivanovic, Cahill, Terry, Azpilicueta; Matic, Luiz, ; Willian, Ramires, Hazard; Eto'o
RE-LIVE
PRE-MATCH
This was the tightest title race in decades and given the Liverpool/City run-in it's often forgotten that Chelsea and Arsenal were still every much in the mix until near the end of March. City were significant favourites here with a perfect home record and Mourinho revelled in the underdog status handed to his team.
⏱️ 1' - Chelsea almost make a mess of it in the first minute, with Gary Cahill heading a backpass to Petr Cech, only for the GK to come right to the edge of his area and just - just - clear it before Alvaro Negredo can take advantage.
⏱️ 3' - City line up with a 4-4-2 with Edin Dzeko and Negredo up top (Sergio Aguero out injured), with Martin Demichelis replaced the also-injured Fernandinho and operating in central midfield alongside Yaya Toure, with David Silva given a free role to create. Negredo gets in behind early but lacks support and blasts his shot over the crossbar from a tight angle.
⏱️ 5' - Chelsea's 4-2-3-1 sees Nemanja Matic, making his first start since his return to the club in January from Benfica, employed alongside David Luiz in the double pivot. It's a protective formation but one that can easily propel Chelsea forward with the pace of Hazard and Willian.
⏱️ 7' - A lack of communication between Kompany and Nastasic sees the latter clean out his captain and give Chelsea a corner, sending the Belgian crazy at his young team-mate. But it's clear that Chelsea aren't here for a draw - they think there's something in this for them on the counter.
⏱️ 10' - Kolarov whips a tremendous low cross right across the front of Cech, giving the GK no chance of coming for it, but Toure coming from deep stretches and is inches away from making connection at the back post.
⏱️ 12' - City have won 11 out of 11 at home this season and haven't failed to score at home for nearly four years. Just in case you can't remember how this match plays out.
⏱️ 14' - Hazard runs 70 yards with the ball at his feet and is ably joined by Ramires, Eto'o and Willian, with a near half-pitch gap to Luiz and Matic, stoutly protecting in case they lose the ball. Jose thinks that quartet can do the damage on their own, clearly.
⏱️ 16' - Toure curls one from the edge of the box, looking to catch Cech out with a first-time effort, but his shot just dips over Cech's crossbar.
⏱️ 18' - Never ever forget just how brilliant a player Toure was at his peak. He bursts forward here on the right and into the area, before cutting the ball back invitingly for Silva, but the Spaniard skews his shot wide of the far post from close range. Best chance of the match so far.
⏱️ 20' - Another superb Hazard dribble into the edge of the City area wins a free-kick from a clumsy Demichelis challenge, but Luiz's free-kick is whipped far too high to trouble Hart. But Hazard's runs are giving Chelsea penetration
⏱️ 23' - Chelsea doing a really good job of closing the space between the lines where Silva operates and the absence of Aguero is noticeable so far in terms of stretching Chelsea's back four and creating room. City have scored 42 goals so far at home but have been off it in the final third so far.
⏱️ 25' - The first example of Chelsea's clear counter-attacking strategy. That front four once again run as a unit at City and when Willian shifts the ball left to Ramires, he has time to measure his shot but his curler is at an easy height for Hart to beat away. Willian hacks the rebound over the bar, but the pattern is being set here.
⏱️ 27' - Chelsea know that without Fernandinho the level of protection just won't be as diligent from a centre-back in the form of Demichelis in that position, and so when they counter they are getting a direct run at the back four.
⏱️ 29' - Kompany is striding out from the back to try and make things happen, but it's causing two problems - one, leaving Nastasic basically alone, and two, just adding congestion to an area of the pitch that already has 18/19 players in it. City will have to circulate the ball quicker to get Chelsea out of position.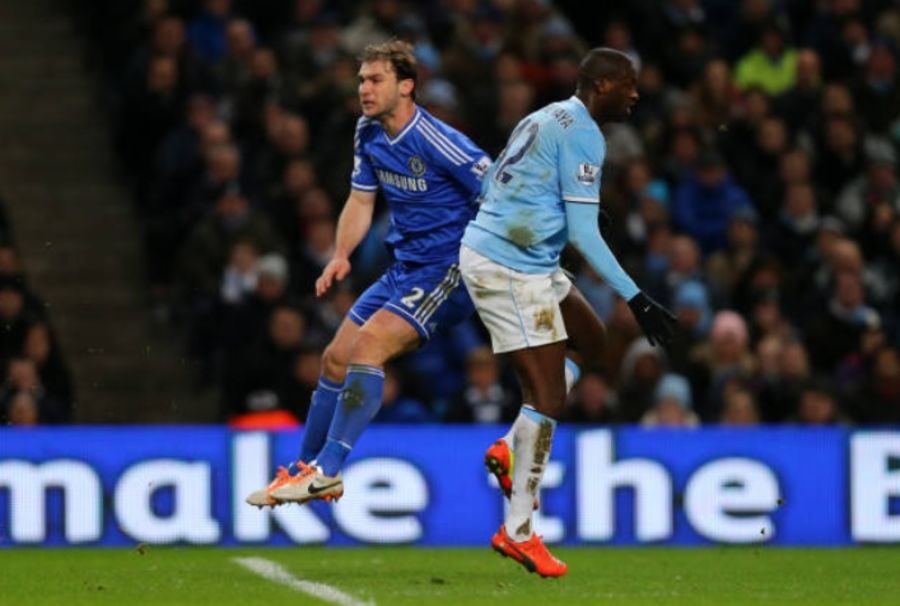 ⏱️ 31' - ⚽ GOAL! GOAL! GOAL! Chelsea score! The Blues' four attackers are once again in attendance, but literally for the first time in the half Ivanovic breaks ranks to join them, and after Ramires' shot is blocked by Kompany, Ivanovic is there at the edge of the area to drill a beautifully-timed effort into the far corner.
⏱️ 33' - Ivanovic, clearly still buzzing from his goal, cleans out Silva and receives a booking. Mourinho is roaring on the touchline, either at the decision to book his player or at Ivanovic for diving in. Either he is throwing shapes in the technical area and the City fans are hurling abuse in his direction.
⏱️ 35' - Hazard's just standing up to the City defence and they can't handle it. They look nervous and tetchy, and their clearances are ending up in Chelsea possession each and every time. Eto'o gets in behind easily again but his pass fails to find Willian, but the clearance falls to Hazard, whose low shot towards the corner is well held by Hart.
⏱️ 38' - Pellegrini and Brian Kidd looking pensive on the touchline, their team tactically outdone so far and other than Silva's miss have barely been in a position to score. Chelsea are extremely disciplined - it's almost a 6-4 formation they are operating with, two separate units working in tandem
⏱️ 41' - Dzeko and Negredo have barely been in the game so far and Chelsea have ensured that the players they don't want on the ball - namely Toure and Silva - are being aggressively marked out of the contest.
⏱️ 43' - ⚠️ CLOSE! Hazard is magnificent again, leaving Zabaleta for dead and sliding his cutback across the box, and coming in from an acute angle at the back post is Eto'o, who strikes at goal but his effort crashes off the post and out.
⏱️ 45' - HALF-TIME! Chelsea aggressive, determined, disciplined, and City have been lured into the type of game they should have been smart enough to avoid. They have been completely passive and the City players are struggling to understand quite how they've been outplayed to such a degree so far. Mourinho has got it spot on so far.
SECOND HALF
⏱️ 46' - City moving the ball quicker already at the start of this half and immediately try to put the ball into an area which works for Negredo. The Spaniard gets his head on Navas' cross but it loops up into the arms of Cech.
⏱️ 48' - Once again City can't clear the ball, can't retain possession, and just seem surprised by the application of Chelsea's press in winning the ball back as quickly as possible. Luiz this time snatches the ball and when it reaches Willian at the back post, Zabaleta throws his body in the way to block.
⏱️ 50' - ⚠️ CLOSE! The ball is worked into Dzeko's feet on the edge of the six-yard box and his first-time layoff allows Toure to strike, but his low shot skids off the surface and goes just past the post. Cech might feel he would have had it covered if heading in the corner.
⏱️ 52' - ⚠️ CLOSE! Matic takes a rare foray into City territory and with virtually nothing ahead of him he unleashes an unbelievable strike from fully 30 yards that swerves away from Hart but crashes off the join of bar and post. Would have been one of the goals of the season had it gone in.
⏱️ 54' - In the build-up to this match Mourinho had asked for more from Hazard in all aspects of his game, and he is giving it to his manager here. Not only is he devastating on the counter but his defensive work, slotting back into protect Azpilicueta from the overlaps of Zabaleta, has been well-drilled.
⏱️ 56' - A very clear example of Chelsea's ability to retain shape; Hazard has possession on the right and Luiz moves forward to give him an angle to pass. Without thinking Willian slots in alongside Matic to retain the formation and the screen to protect against the counter.
⏱️ 58' - Negredo, barely in the contest, goes off to be replaced by Stevan Jovetic. A different type of player, with more pace, Jovetic will look to alter City's approach a little by offering a different option.
⏱️ 61' - You wonder if Hazard relishes playing in games like this, because if he doesn't, you could have fooled me. He has been irresistible here, with positive carries, ball retention, intelligent play and generally precisely what Mourinho would have asked of him.
⏱️ 64' - Luiz showing here why he was always better as a central midfielder than he ever was as a defender and it's baffling to think he would ever be deployed anywhere else. He's doing it right, keeping Silva anonymous while winning the ball high and keeping City far from his goal.
⏱️ 66' - ⚠️ CLOSE! Chelsea hit the woodwork for a THIRD time in the match! Willian's corner into the penalty spot is met by Cahill and his header hangs in the air before rebounding off the post and to safety. Chelsea really should be home and hosed here.
⏱️ 68' - And City immediately turn up the pressure. Zabaleta gets into the box on the goal-line and his cutback eventually reaches Jovetic, with his low drive being hooked to safety from underneath the bar by Terry.
⏱️ 70' - City coming to life, finally. Kolarov gets around the back just as his opposite full-back did moments ago and his low cross is intercepted by Cahill, who turns the ball into the side of his own net. Silva and Toure also getting more touches, and Toure wins a free-kick on the edge of the area.
⏱️ 71' - Silva whips the resulting set-piece towards Cech's top corner, but the GK gets across relatively easy to scoop over the bar for a corner kick.
⏱️ 73' - It's more City territorial domination now, but Chelsea, once again, fall back in line so instinctively and automatically. It's what a good defensive coach would have his team doing, and they are doing it brilliantly.
⏱️ 75' - The Matic-Toure battle has been a highlight of the contest; Matic presses Toure high into City territory to win the ball back, then a minute later Matic tries to go past the Ivorian but Toure shrugs him off to win it back.
⏱️ 77' It's testament to the job his players have done that Mourinho hasn't made a substitution yet as we head into the final 10 mins. Every one of them has executed the game plan to the letter and Jose sees no point in switching things up when his players are still fit and running.
⏱️ 79' - Silva gives the ball away in good positions twice in the space of a minute, and his shoulders heave afterwards. He looks knackered, because he's been constantly on the move trying to find the space that Chelsea have strangled throughout.
⏱️ 82' - Mourinho finally makes a change, taking off Eto'o and shoving on Oscar to see the rest of this match out. But everything about City's acquiescence has played directly into Chelsea's set-up. Yes, Chelsea haven't allowed them to play but City haven't changed things at all and just hoped some magic would happen. It categorically hasn't.
⏱️ 84' - Navas, Zabaleta, Kolarov - all three guilty of seeing much of the ball and doing precious little with it. Their crossing poor and selection indifferent. Dzeko has had nothing to work with and Toure and Silva have in the main been too contained to make anything happen.
⏱️ 86' - Mourinho goes BALLISTIC as Oscar is pulled down by Nastasic on the half-way line with a clear run on goal but Mike Dean opts for a yellow card. Jose is flashing the patented imaginary card to the fourth official but Oscar was 60 yards from goal - yellow probably correct.
⏱️ 88' - It must be remembered that Chelsea were real underdogs going into this match and Jose plays the downtrodden, embattled role better than anyone. His team have absolutely delivered in every element of performance.
⏱️ 90' - Three minutes of added time but City could play all night and not create a decent opportunity, let alone score. Anything that has got past Ivanovic and Azpilicueta out wide, Terry and Cahill have mopped up. There's plenty of inferred threat and elbow grease but City will take the L here.
⏱️ 92' - ⚠️ CLOSE! Jovetic finally decides to have a shot on goal and his effort is straight at Cech, but the GK moves ahead of the ball a little too far and has to readjust himself to palm over the crossbar. But that's likely to be City's final effort.
⏱️ 93' FULL-TIME! Manchester City 0-1 Chelsea
Ivanovic's brilliant strike seals the win for Jose Mourinho's side. There's been a weird re-assessment of this match over time as the Jose sheen began to fade, but watching it back Mourinho got his set-up and his personnel simply perfect. Was this arguably his last great tactical performance? Hard to say, but it unquestionably has his fingerprints all over it.
WHAT HAPPENED NEXT?
Chelsea were back in the title race and promptly took themselves out of it with horrid displays at Aston Villa and Crystal Palace. In the end Liverpool, Steven Gerrard, a slip and another Mou masterclass, not dissimilar to this, sent the title to City instead of Anfield.