1. 14-YEAR-OLD PLAYS PROFESSIONAL GAME
Something to make you feel old no matter what age you are. Irish side Bohemians fielded 14-year-old Evan Ferguson in their 0-0 draw against Derry last Friday in the Airtricity League Premier Division match. There's already supposedly Premier League interest in Ferguson, who was fielded in a pre-season friendly against Chelsea and apparently the teenager didn't look out of place. One to keep an eye on.
2. HANDBALL RULE GETS EVEN MORE RIDICULOUS
Yes, this is technically handball. But if you're happy with this then football isn't for you. Montpellier defender Hilton (who is 42 years of age, worth adding) has his hand across his chest. The ball hits it. His chest is directly behind his hand, so no advantage has been gained. But it's a penalty, apparently. Come on.
Watch Hilton's handball on YouTube
3. NEYMAR GETS THE TREATMENT IN LYON
Neymar has been derided by all fans in France, even his own, after his drawn-out transfer saga in the summer, but in Lyon on Sunday night it went to another level, with full-blown hot dogs being launched at the Brazilian while he was taking a corner.
Neymar had the last laugh, scoring the winning goal in the closing stages.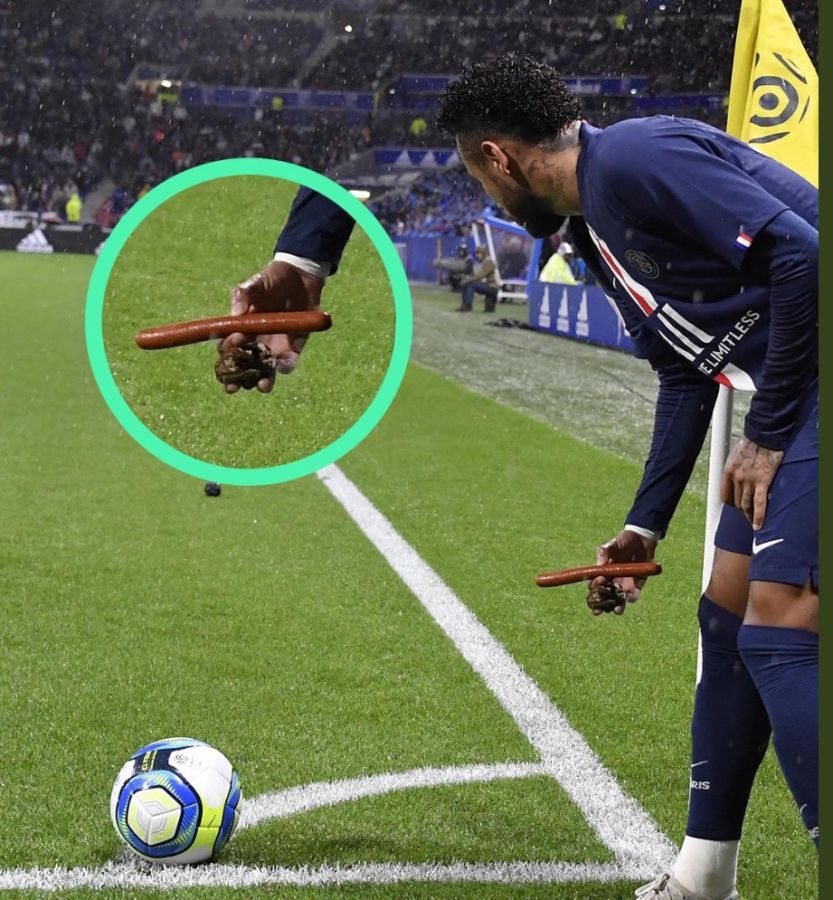 4. LEEDS LEEDS IT ONCE AGAIN
Leeds have been languishing in the lower leagues since 2004, easily the biggest team in Britain to have spent so long outside the top flight. They are widely tipped to win the Championship this season but their bizarre propensity to implode at home is becoming chronic. Their away form is fantastic, winning 4/4, scoring 10 and conceding just one, but at home they capitulate on a regular basis. Here it was Derby, one shot on target, one goal, to get a 1-1 draw in the last minute. Two weeks ago it was Swansea, two shots on target, one goal, in a victory at Elland Road. And last month it was Nottingham Forest, one shot, one goal, to claim a 1-1 draw as well. Leeds' efforts on goal in those three games? 48.
5. DOUBLE CLEARANCE OFF THE LINE!
It's great when you clear the ball off the line. But to do it twice within a second is even more impressive. Step forward, Steven Davis.
@StevenDavis8 doing whatever it takes to get @therealgreegsy1 his clean sheet. pic.twitter.com/wygOhmjrXd

— Rangers Football Club (@RangersFC) September 23, 2019