Konrad Laimer is very much a symbol of what it means to be a Red Bull football athlete.
He is proactive, energetic and relentless in his work and it has seen him become one of the most significant youth products to graduate from the Red Bull Network.
After beginning at Liefering FC in 2014, he moved to RB Salzburg and then to RB Leipzig in the summer of 2017. Over the course of 2014-17, he worked under several different managers while coming through the ranks. The young Austrian's development was being keenly followed by Ralf Rangnick, who was the director of football for Red Bull's Salzburg and Leipzig sides, at the time.
Fast forward to the present, Laimer is one of Europe's best pressing midfielders and remains a vital cog in Leipzig's attacking machine under Julian Nagelsmann. So what is it that makes him so indispensable for the German side? Well, for one, he is good at more than just defending the ball.
It would not be an exaggeration to say that Laimer is the Austrian version of N'Golo Kante. He is a high volume presser of the ball and is extremely effective at hassling his opponents when they are in possession and regaining the ball for his team.
In fact, he did this better than anybody across the Top Five European Leagues last season.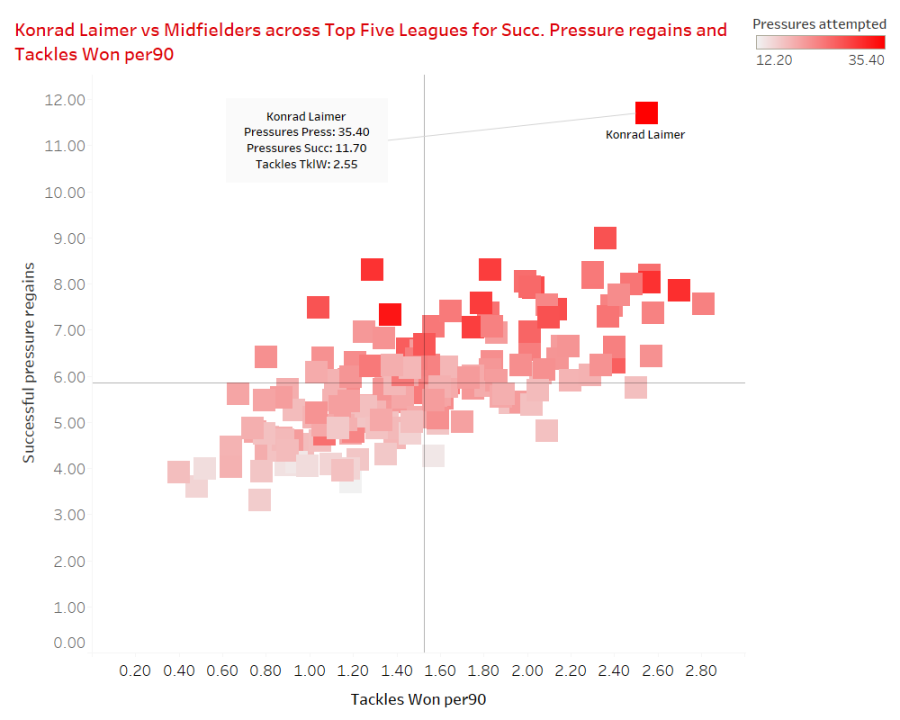 Starting the season in a double-pivot alongside the anchoring presence of Diego Demme, Laimer had the freedom to press higher up the pitch and help Leipzig produce high turnovers. However, after the German's departure to Napoli midway through the campaign, Laimer was the sole defensive midfielder in the team. Nonetheless, he did not let that affect his output per match.
As his hugely impressive numbers tell us, he won the ball back more times via pressures applied per game than anyone else across the Top Five Leagues, winning the ball back almost 12 times per game. What's also worth noting is that due to his aggressive and high-energy style of play, he also attempted the most pressure regains, far and away more than any midfielder had attempted last season per game.
Apart from pressing the ball, Laimer won the ball back via tackles 2.55 times per game last season. Although there are others across Europe who did better in the this department, Laimer's numbers still show the level of trust that Nagelsmann places on his young shoulders.
Progressing the Ball
Under Nagelsmann, Leipzig have become famous for being a side that are tactically very flexible. They are focused on keeping the ball moving via quick passes that break the opposition lines and progress the team moves through passes or ball carries. For this to work well, the coach needs players who are comfortable with the ball at their feet, and are also good at finding space in dangerous areas.
Fielding, in general, either a 4-2-2-2 or a 3-3-2-2, Laimer has featured as a sole pivot or in a double pivot with generally an anchor beside him. In a double pivot, Laimer aims to progress with the ball at his feet with his energetic running centrally to go beyond his markers. Furthermore, he also helps in creating overloads out wide for Leipzig's attackers to take the opposition apart with their numerical superiority.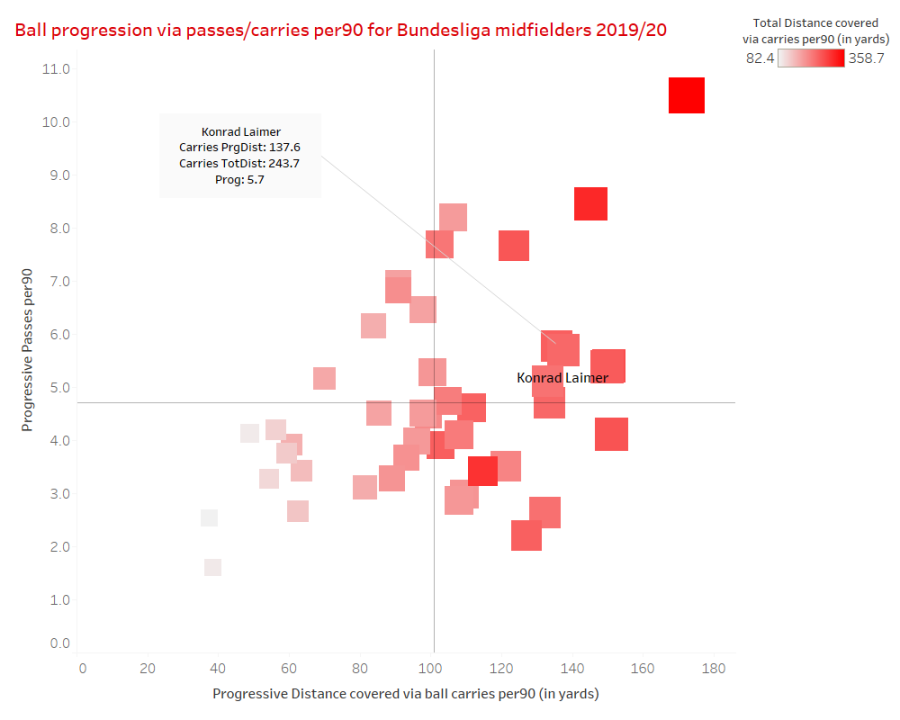 In the above scatterplot, there are four regions divided as per the metrics, and Laimer is in the second quadrant. What it means is that he is significantly better than the average Bundesliga midfielder at progressive passing as well as ball carrying. Making 5.7 progressive passes last season and covering a progressive distance of 137 yards towards the opponent's goal per game.
Counter-press resistance
The Bundesliga is a very technical league and a lot more emphasis is placed on turnovers and pressing by most teams. This also means that if you're a midfielder who presses opponents a lot, you also have to be ready to face the same yourself.
In this context, Laimer is once again one of the league's best midfielders at being press-resistant. While Thiago is far and away the best at this, Laimer is not too far behind, which is very impressive, given how different both of their roles are.
Laimer completed almost 12 passes under pressure per match in the Bundesliga, which is significantly better than the average Bundesliga midfielder, as the graph shows. He is just as good as evading the press as he is at pressing itself.
This makes him a superbly industrial player who has the recovery pace to regain the ball when he loses it, as well as navigate his way through tight situations as well.
Laimer is vital to Leipzig
Leipzig sold Timo Werner early in the window and brought in Hwang Hee-Chan from RB Salzburg as a replacement for him. However, keeping Laimer is the priority for Nagelsmann's side.
A player of his ilk and effectiveness will be hard to come by and the club certainly knows that. He's not someone you build a team around, however, he is someone that the team cannot dominate without.
Laimer is a crucial part of Leipzig's system of play, a manager's favourite and enjoys the trust of his team-mates as well. For now, at least, there seems to be no better place for him to grow and develop. As Europe's elite keep a watchful eye on him, Laimer's next move will definitely be an interesting one, but with several suitors in the waiting, he can take his time to progress while still at Leipzig.