Atletico Madrid face Chelsea in the Champions League on Tuesday under pressure for the first time this season.
Diego Simeone's men have seen their lead cut at the top of La Liga to just three points by Real Madrid, and while they do have a game in hand, it was only a matter of weeks ago that they enjoyed a 10-point advantage.
Remarkably, Atleti have suffered only two losses in their 23 La Liga matches this season. But having once been a relentless winning machine, they have suddenly stopped getting over the line in recent weeks.
Indeed, in their last four matches, they have picked up just a single victory.
But as the prepare to face Chelsea in the first leg of their last-16 match, is this a hiccup or more symptomatic of a team that has been punching above its weight?
By taking Atletico Madrid's expected goals (xG) for and against in each match and converting those figures into expected points, it is clear that Simeone's side have been punching above their weight for much of the season.
The graph below illustrates this point. It plots cumulative expected points minus actual points over time.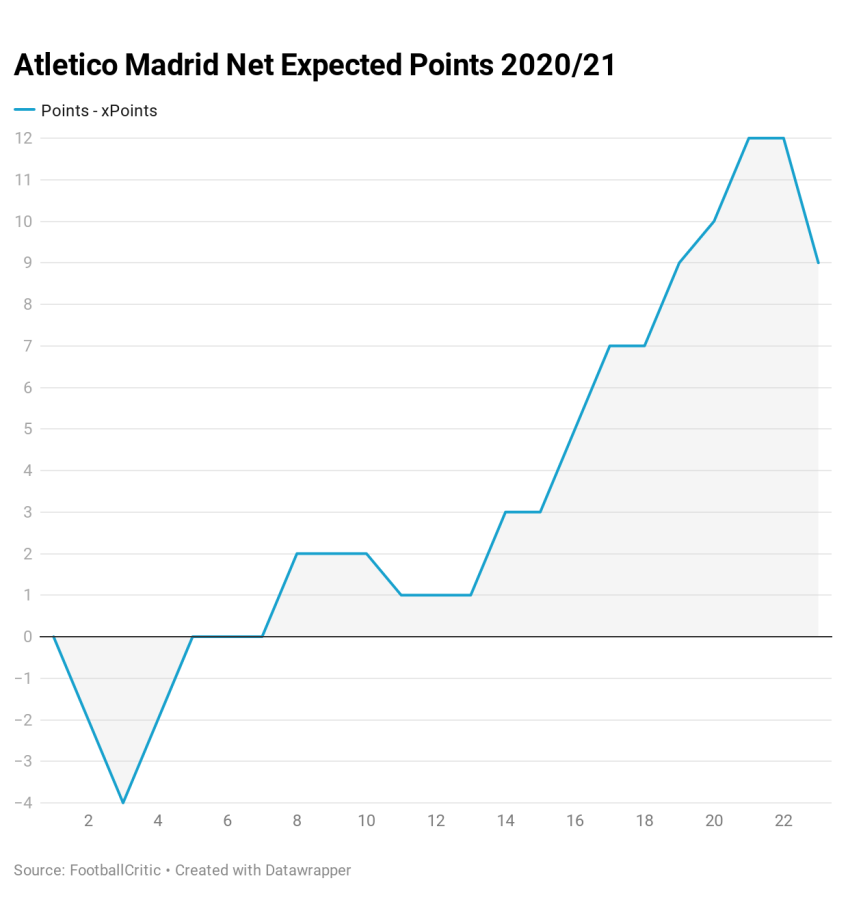 Basically, it shows how much a team is over or underperforming at any given point in the season. A positive balance suggests they are picking up more wins and draws than they deserve, while anything below zero indicates a team that is performing better than their actual points tally.
Atletico Madrid have spent much of the season with a positive figure.
Indeed, they have most dramatically overperformed in recent weeks. Since their 14th match of the season, they would have been expected to win 15 points based on the shots they took. In actual fact, they have won 23.
The above graph illustrates their recent over performance. Areas of red indicate they have won more points than could reasonably expected whereas areas of green are games in which they could feel hard done by not to earn more. It is the red that dominates in recent weeks.
Ironically, one of only three games they have 'deserved' to win was last Saturday's loss against Levante.
This illustrates that as Simeone's side prepare for their big match with Chelsea, they are actually more out of form that even their recent results suggest.
Thomas Tuchel's side should be licking their lips, while the chasing pack in La Liga, including Real Madrid and Barcelona, can still dream of title success.