The current domestic Premier League TV contracts run until 2021/22, with Sky Sports and BT Sport paying the majority of the £5.1Bn distributed among the clubs across the three season.
Amazon pay for a package too, while BBC Sport retain their Match of the Day agreement for free-to-air broadcasting.
CURRENT UK BROADCAST ARRANGEMENT
Package 1: BT to show 32 matches on Saturday early KO (1230GMT)
Package 2: Sky Sports to show 32 matches on Saturdays at 17:30
Package 3: Sky Sports to show 32 matches, 24 on Sundays early KO (1400GMT) and eight on Saturdays late KO (1945GMT)
Package 4: Sky Sports to show 32 matches on Sundays late KO (1630GMT)
Package 5: Sky Sports to show 24 matches on Mondays late KO (2000GMT) or Fridays late KO (2000GMT) and eight on Sundays early KO (1400GMT)
Package 6: Amazon to show 20 matches in two batches of 10, on a chosen Bank Holiday and on Boxing Day
Package 7: BT to show 20 matches from two midweek fixture programmes
Much is made of how broadcast revenues can send clubs' ability to spend to a completely new level. Much of the 'big six' are keen to balance their revenue generation across the three key strands; broadcast, commercial and matchday.
But some clubs are largely reliant on TV money to pay the bills - but how much?
Let's look at 2018/19 TV revenue distribution versus total revenue.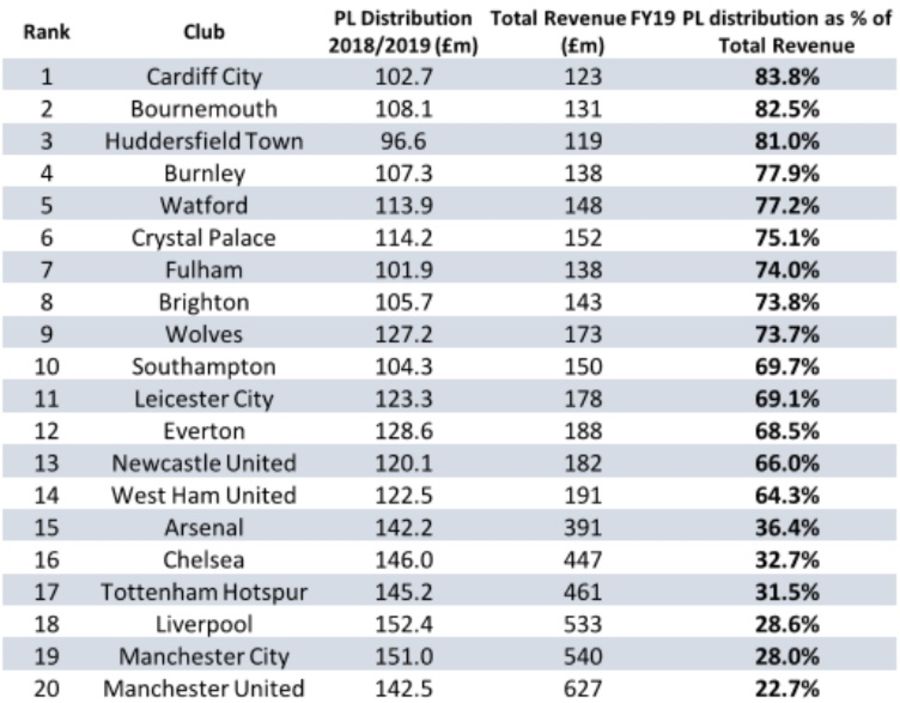 Takeaways:
- Cardiff City's promotion to the Premier League in 2018 meant that of the £123m revenue they generated in 18/29, a whopping 83.8% came from TV.
- Bournemouth, still in the Premier League at the time of writing, aren't far behind, with 82.5% coming from the same source.
- The disparity between the established Big Six and the rest of the league is stark, and concerning.
- From Manchester United (22.6%) to Arsenal (36.4%) the average distribution for the Big Six from TV revenue is 29.9%
- But for the remaining 14 teams, that figure increases to 74%.
- If there is a clear message as to why the Premier League teams are desperate to get the action back underway following the COVID-19 lockdown, the threat of TV revenue being handed back or lost is it, and this table explains the extent of the predicament they would face in a worst-case scenario.