We are in the middle of an injury crisis in football.
Players are being crocked all over Europe as condensed calendars lead to matches every three days and very little recovery time.
This weekend we saw Trent Alexander-Arnold ruled out for a month with a calf problem while Ansu Fati won't be seen again in a Barcelona shirt until March after tearing the medial meniscus of his left knee.
Professionals are being tested to the limit and while the coronavirus crisis has made calendar concerns all the more pertinent, fixture congestion has been getting worse for a number of years.
Zone7 utilise AI to predict injuries before they happen. They use examine millions of data points gathered by wearable technology to create a pattern recognition system of injury and performance factors for each individual team and player. They have analysed over five million hours of performance across various sports.
Zone7 conducted a study looking at 550 different injuries sustained via comprehensive reports provided by 14 professional teams worldwide. This was done across a three-year period from 2017 until 2020.
Injury Types
As you can see from the image above, football players suffer injuries to the 'lower extremities' of the body, such as hamstring (18%), knee (16%), adductor (12%) and quadriceps (12%). Indeed, 58% of all injuries recorded came from these four body parts, and 90% of all injuries suffered were in the lower extremities.
And it's not just that these injuries occur on a pretty consistent basis, but every one of them means a lost training or matchday for the player in question, leading to squad inefficiency.
Zone7 also looked at these 'lost days' and categorised them by injury type, and how long that specific injury kept a player out of action.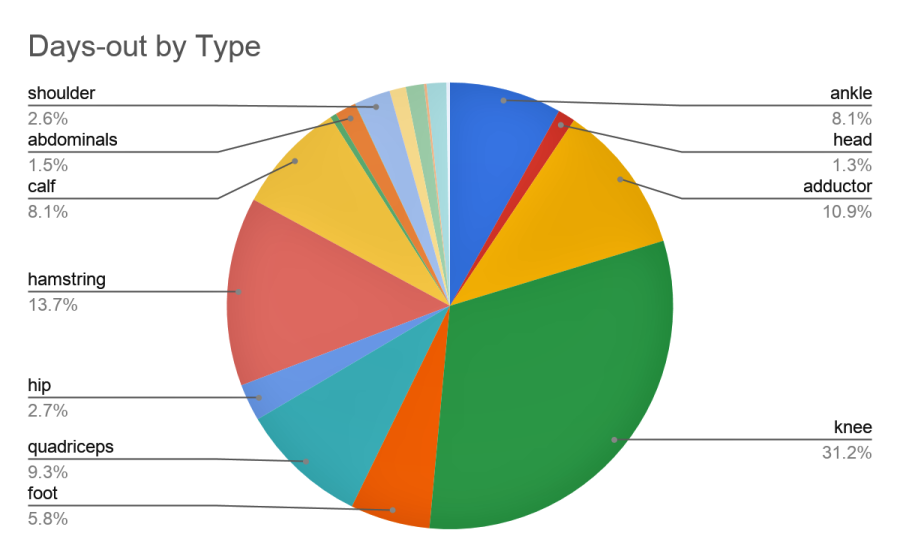 In the image above we can see that knee injuries account for nearly a third of man days lost, even though they are only one-sixth (16%) of the injuries overall. This stems from the severity of knee injuries, when they do occur; as we've seen with Fati this week, they usually require an extended period of recuperation in order to return to action in optimal condition.
Zone7's technology finds that, at any given time, as many as three players can be categorised as being of 'high risk' to injury up to 80% of the time. That means, in essence, that in four days out of five on a normal training week, there could be three players on the cusp of becoming injured.
With the stress being placed on players at this current moment, we can reasonably expect these numbers to continue upwards exponentially and more days to be lost.