Juninho Pernambucano will go down as one of the best set-piece takers this century, with his ability to generate dip and pace on his corners and free-kicks key to Lyon's ascension up European football in the noughties.
The Brazilian ensured that, whenever Lyon were given a set-piece, the opposition had to be at attention to try and stop what would likely be a blistering shot or delivery.
We've teamed up with football analyst Marius Fischer, known as @Gegenpressing91 on Twitter, who has worked his magic with Microsoft Excel to map out all Juninho's scored free-kicks for Lyon.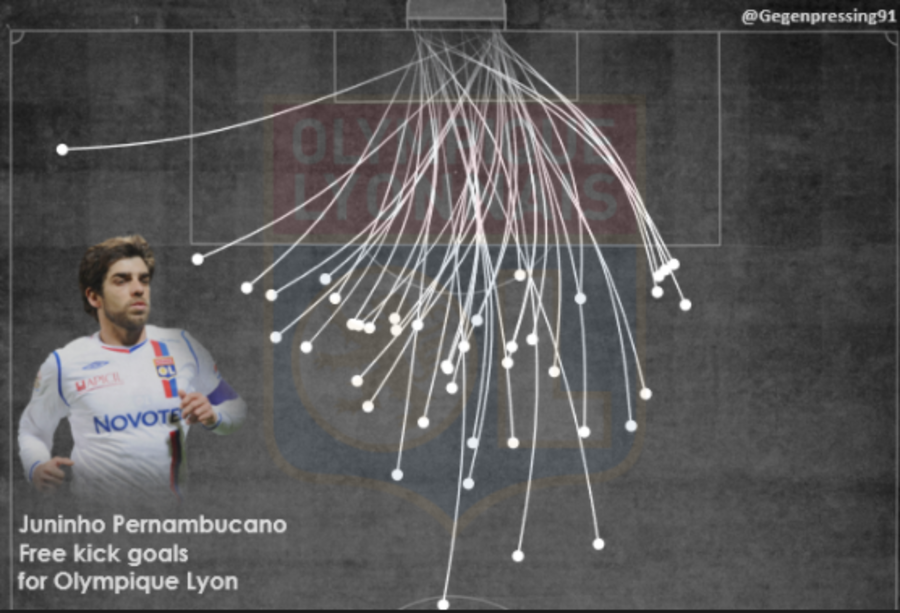 Marius says:
"Juninho Pernambucano is arguably the best free kick taker that football has seen in the past 30 years.
"The Brazilian started his European career in 2001 when he moved away from CR Vasco da Gama in his home country to play for Olympique Lyon.
"In the following nine seasons he scored 100 goals for the French club – 44 of them were free-kicks. A phenomenal number.
"Juninho was not the most physical player but he possessed a deadly shooting technique that allowed him to strike the ball on goal with limitless range.
"The right-footer managed to put so much curve on the ball, that keepers mostly had no chance to reach it as the ball just curled away from them.
"His most famous free kick goal and at the same time one of the most iconic Champions League goals ever happened in the round of the last 16 in 2009.
"Juninho stroke from such an impossible angle on the left side of the pitch that no one – including Barca keeper Victor Valdes – thought it an actual shot.
"But, Juninho provided so much curve on the strike that it eventually ventured away and finally ended up in the far corner over Valdes."
The amount of free-kicks scored by Juninho is remarkable, and his ability standing over the ball can be summarised by saying that each and every time he had a free-kick in striking distance, Lyon would look at it as a golden opportunity for a goal.