Although Scotland may not be considered among the very best international teams at the moment, when Steve Clarke's side walk on to the Hampden pitch on Thursday evening to play Austria, viewers will be presented with a team full of Premier League talent.
In defence Manchester United's towering talent Scott McTominay will be calling the shots, in midfield Aston Villa's John McGinn will be desperate to get stuck into his Austrian counterparts and up front Newcastle United winger Ryan Fraser may well be partnering alongside Southampton striker Che Adams, as he makes his international debut.
Yet the English top-flight talents that will most likely steal the attention of most fans will be the left-flank duo of Kieran Tierney and Andy Robertson. When it comes to Scotland, the former has been re-engineered into a central defender, while the latter continues to maraud up and down the wing as he does so well for Liverpool.
However, despite Clarke's best attempts to accommodate both defenders, the debate rumbles on north and south of the border: Which Scot is the better Premier League left-back? Let's find out.
Which player is the better defender?
First and foremost, both Tierney and Robertson are tasked with defending for their respective teams by ensuring that opposing players don't get by them and score goals.
Since his reputation has him pegged as an attacking wing-back, Robertson should naturally suffer when it comes to defensive stats when compared to Tierney. After all, Mikel Arteta clearly rates the former Celtic star's defensive abilities and has often moved him into the centre of defence when called upon.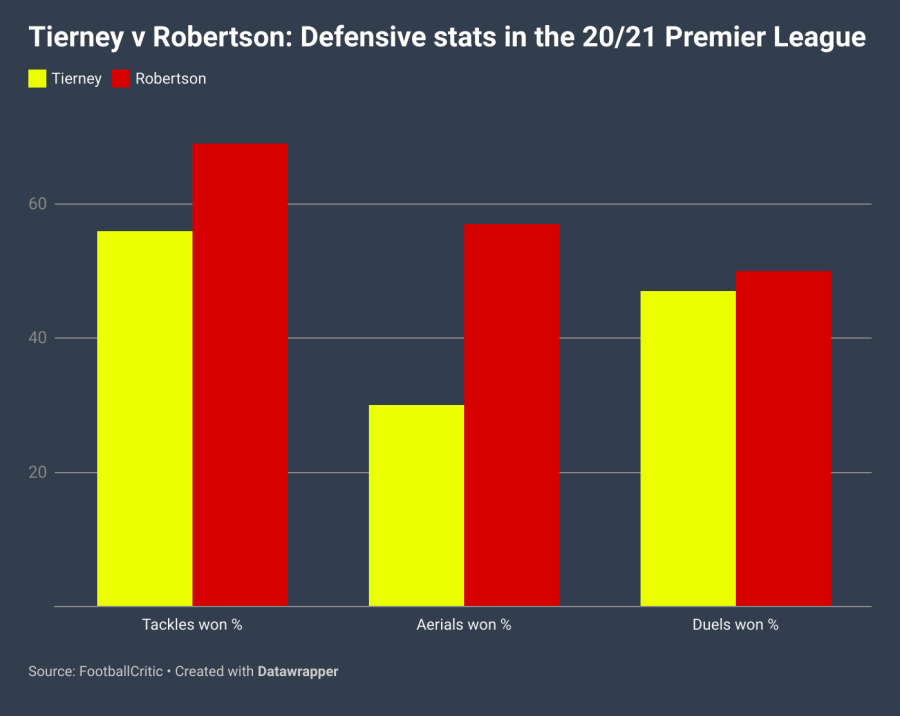 However, that doesn't entirely stack up with the stats. As we can see from this season's Premier League data, Robertson beats Tierney in tackles won, aerial duels won and over defensive duels won.
Intriguingly, when it comes to interceptions made per game both players have the exact same average of 0.6, while Tierney averages 2.1 clearances per game to Robertson's 1.5.
Who offers more in attack?
Unfortunately for Tierney, if he wasn't going to beat Robertson in defensive metrics then he certainly isn't going to beat him in attacking ones either.
When it comes to dribbles and crosses per game, Robertson's average of 0.8 dribbles and 7.9 crosses both beat Tierney's 0.7 dribbles and 4.7 crosses per game handily. And the Liverpool full-back averages 24.3 passes into the final third per game, compared to just 15 per match from Tierney.
In terms of rock-solid service from the left wing, Robertson ultimately wins out with 0.17 assists per 90 minutes of Premier League football this season, while Tierney has averaged just 0.09. That suggests the Liverpool left-back is setting up goals at almost twice the rate as his Scottish compatriot.