Jose Luis Chilavert was a pioneer in more ways than one.
These days, the prerequisite for a goalkeeper is to be excellent with the ball at his feet and almost be as adept at passing the ball as they are in keeping shots out of the net.
Back in the 90s, the Paraguayan was smashing in free-kicks and showing his skill with the dead ball back in an era where goalies were told to stay in the goal. But where did Chilavert's free-kick goals come from?
We've teamed up with football analyst Marius Fischer, known as @Gegenpressing91 on Twitter, who has worked with magic with Microsoft Excel to map out all the Paraguayan's free-kick goals in his career.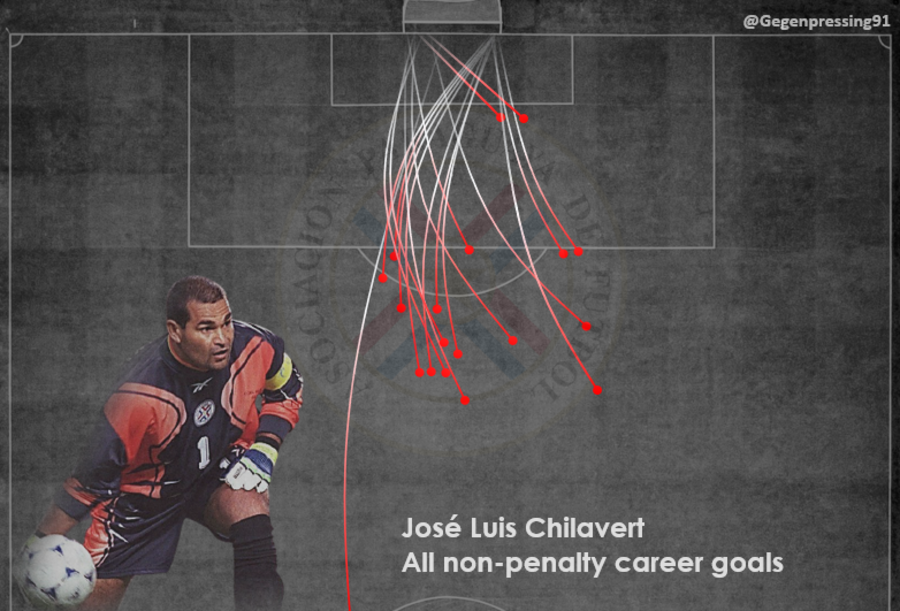 Marius says:
"A goalkeeper taking penalties or even free kick? You can't imagine that nowadays in modern football.
"Paraguayan Jose Luis Chilavert did both. Beside two short spells in Europe at Real Zaragoza and Racing Strasbourg, he spent most oft his career at Velez Sarsfield in Argentina.
"Chilavert scored over 60 goals, a remarkable number for a goalkeeper that gets even more iconic if you consider that half of these goals came from free kicks and not from the penalty spot.
"It was THE sequence of the 90's. Whenever a team with him in goal had a free kick in a good position it was Chilavert who rushed all the way out of his goal to take it.
"This was not just a good marketing gag as the goalkeeper possessed a great shooting technique that also helped him to shoot the ball above average from goal kicks."
What a strange range of free-kick goals, all curled in from his wand of a left foot. There's a few indirect free-kicks in there from inside the area, and who can ignore the half-way line effort, which was a quick take smashed over the opposition shot-stopper from range. What a player!