Injuries, and how many incidences we will see of them, are a major talking point ahead of the Premier League restart.
Both the Bundesliga and La Liga have reported a high frequency of muscle concerns as players return from what has likely been the longest break from training and conditioning in their careers.
But as far as the 2019/20 season has been concerned, just how have certain teams who have competed for the titles in Premier League, Serie A and La Liga compared in terms of keeping their squads healthy? Let's take a look.
On all graphs, 2 represents the opening day of the 2019/20 season, 2.1 is the 10th matchday, 2.2 is the 20th matchday, and so on.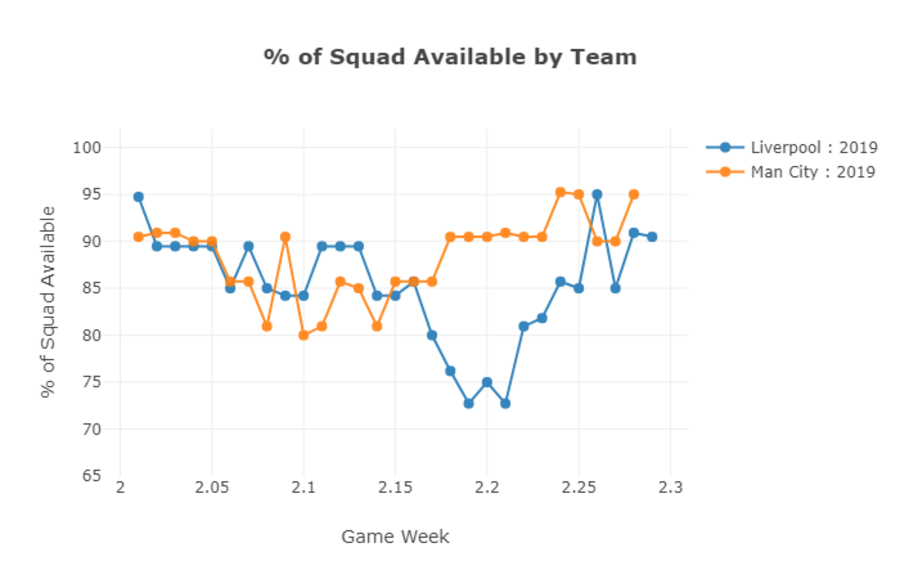 Key Takeaways:
- Liverpool's incredible form this season and inevitable title win is all the more remarkable considering the relative injury crisis they suffered in mid-season which pushed their squad availability down to nearly 70%
- During that period, Naby Keita, Fabinho, James Milner and Alex-Oxlade Chamberlain were all injured across the same period, while Joel Matip and Dejan Lovren, the backup centre-backs, were also simultaneously out of action.
- Perhaps Liverpool's success can be placed on the face that barring a minor knock to Sadio Mane, all of the front three have been readily available for much of the campaign.
- City, by comparison, have had a reasonably clear run with injuries occurring at the same time - but perhaps the absence of Aymeric Laporte and the extended period of months he missed proved to be the most devastating of all.
LA LIGA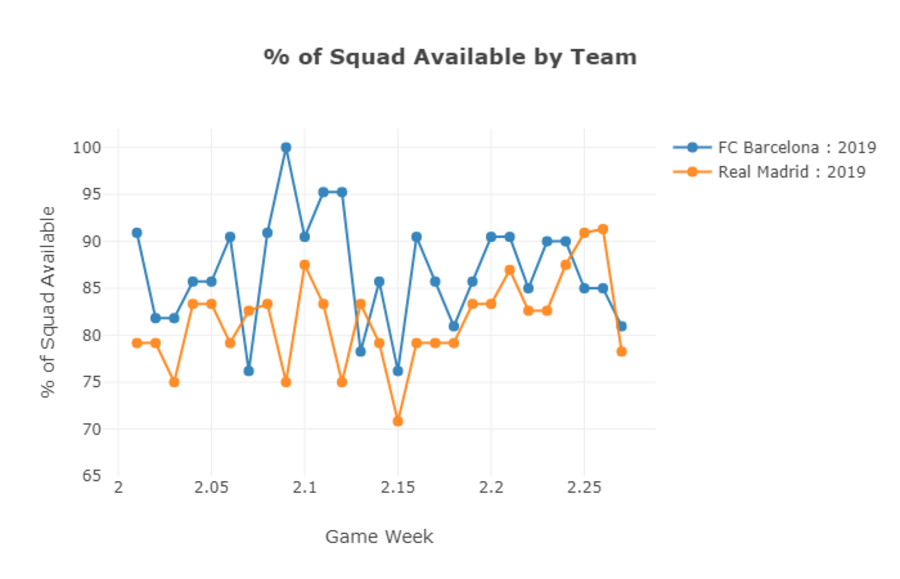 Key Takeaways:
- Both Barcelona and Real Madrid have saw key players missing for extended spells of the season but the latter have been slightly worse off.
- Madrid players have suffered 34 separate injuries across the season so far as opposed to Barcelona's 29.
- But Barca's smaller squad depth has been put under strain with the injuries they have faced, with forwards Lionel Messi, Luis Suarez and, chronically, Ousmane Dembele all being missing for various periods.
- Madrid's problem meanwhile was initially at full-back, with Marcelo and Ferland Mendy both out at the same time, but in attack they have suffered longer-term losses, such as Marco Asensio, Eden Hazard, Lucas Vazquez and Gareth Bale that has left Zinedine Zidane short of options.
- As the league restarts, they can add Luka Jovic and Mariano Diaz to their tale of woe.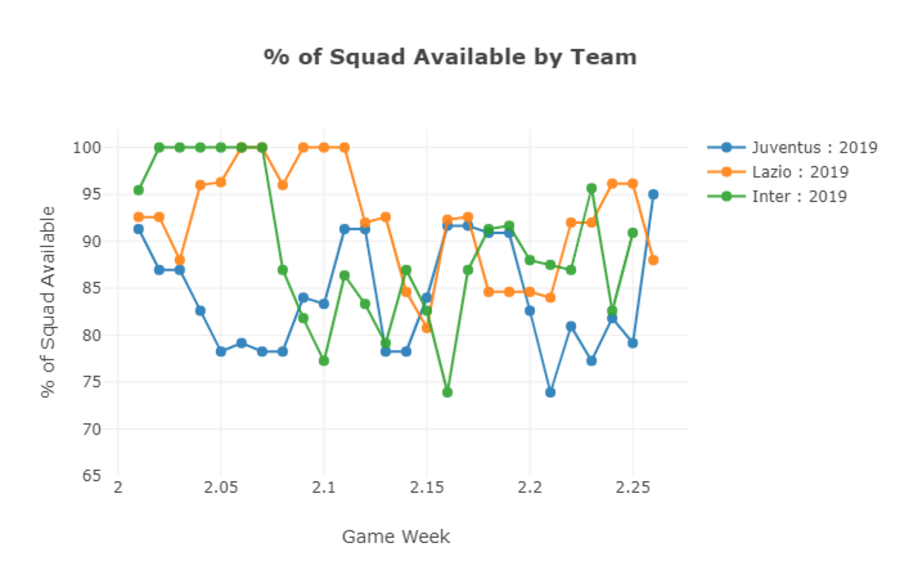 Key Takeaways:
- Juventus have really struggled to keep their squad in a clean bill of health for much of the season.
- They have suffered particularly in defence, with Leonardo Bonucci and Matthijs De Ligt the only two who haven't experienced a period of extended absence.
- Antonio Conte's intensity of training can perhaps by identified by the stark drop from having a full selection fit early in the season, only for this to drop to almost 75% and, for a while, the Italian battles injury.
- The likes of Stefano Sensi, Nicolo Barella and Alexis Sanchez were all out for spells.
- Lazio meanwhile have the best consistency of the three in terms of keeping their squad healthy and this could be reflected in their season overperformance.