It is a damning indictment of Italy's struggles over the past decade that this great footballing nation has not produced a generational talent born after the 1970s.
Andrea Pirlo, who retired three years ago, is the last outfield Italian to truly light up the sport.
However, at long last, Italy may have found their successor to l'architteto.
Brescia's Sandro Tonali has been labelled the 'new Pirlo' due to his appearance, style of play and career origins. And as the young midfielder confidently admits, he has all the qualities to "reach the top of the world."
"He has everything to be a champion," Pirlo himself told Gazzetta dello Sport.
"He could already play for a great team; he's the best in this league. He's much more complete than me, especially defensively."
Tonali has brushed off the Pirlo comparisons and has cited the Italy legend's former Milan team-mate Gennaro Gattuso as his role model.
In truth, Tonali is a combination of both World Cup winners. He boasts the wonderful passing range, playmaking ability and coolness on the ball of Pirlo, as well as the grit, strength and pressing ability of Gattuso. This season Tonali is in the Serie A top 10 for distance covered per game.
Tonali's natural position is Pirlo's regista role at the base of the midfield but he has the tactical versatility of being able to play as a mezzala (the right or left of a three-man centre midfield) or in a two-man combination.
His five Serie A assists is an impressive return for a team that is comfortably the worst in the league with just 18 points in 28 games. Only eight players have created more goals in 2019-20.
Despite just turning 20, he has few weaknesses. Having scored only once this term, he will be expected to contribute more goals going forward. But this shouldn't be a problem for a player who strikes the ball beautifully and is developing into a dead ball specialist – scoring a memorable free kick from an acute angle versus Genoa.
"He'll become one of the world's best midfielders," gushed Francesco Totti. "He has everything a great player should have – technically gifted, good mentality and sharp in any situation."
Paris Saint-Germain, Manchester City, Barcelona and AC Milan have all been following him but it is bitter rivals Inter and Juventus who have been at the front of the shopping queue.
Juve had been strong favourites for Tonali's signature at the start of the year but FootballCritic understands that Inter are closing in on a deal worth up to €50 million.
Tonali has given his approval to a transfer to the Nerazzurri, who have the available funds following the €58m sale of Mauro Icardi to PSG.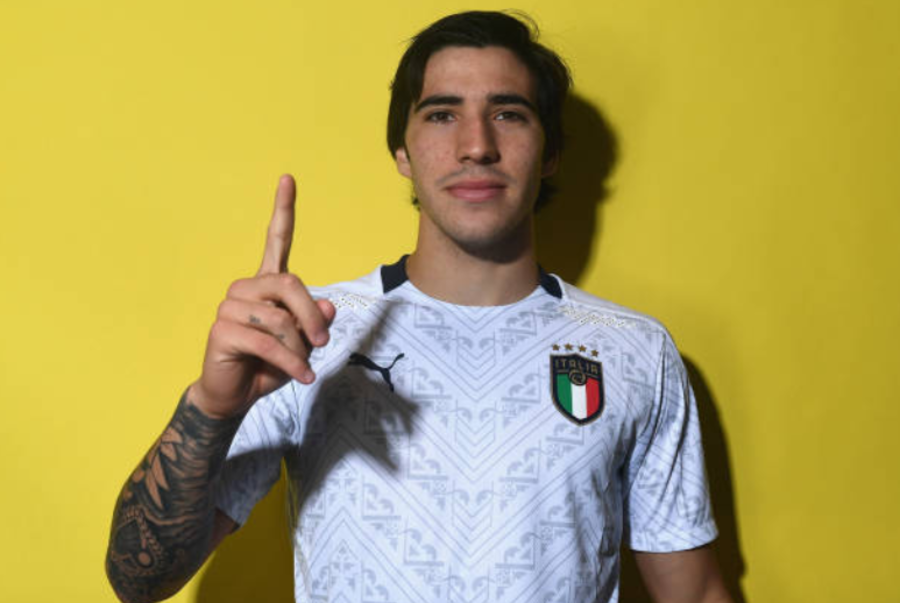 The Bianconeri, meanwhile, are unable to make any big signings unless they sell first. CFO Fabio Paratici is currently struggling to find buyers for a string of players, including Miralem Pjanic, Sami Khedira, Adrien Rabiot, Federico Bernardeschi and Mattia De Sciglio.
Should Tonali complete his San Siro transfer, it will add to the growing feeling that the Serie A balance of power is slowly shifting towards Inter following eight years of Juve domination.
While it will be difficult to overhaul the Bianconeri and Lazio when the current season restarts after the Coronavirus lockdown, the Nerazzurri may already be early favourites for 2020-21.
With the strong financial backing of their Chinese owners, Suning Holdings Group, Inter are building a formidable team under coach Antonio Conte. Stefan de Vrij and Milan Skriniar are two of the best defenders in Serie A, while in Romelu Lukaku, Christian Eriksen and Lautaro Martinez (whose €110m release clause Barcelona are struggling to afford) the Nerazzurri also possess a mouth-watering attack.
Now Conte is constructing an exciting, Italian-dominated midfield; Tonali would join fellow Italy Internationals Nicolo Barella and Stefano Sensi, as well as the Croatian Marcelo Brozovic. Along with defender Alessandro Bastoni and attacker Sebastiano Esposito, Inter have a young Italian core that can be around for the next decade.
Traditionally, it is Juventus who have built their squad around the best Italian players. They remain the only Serie A team in history to win a major European title – the 1977 UEFA Cup - with no foreigners. Internazionale, meanwhile, as their name suggests have always been a more International squad; all 11 of their starters in the 2010 Champions League final were from abroad.
It is often said that a successful Juventus team makes a successful Italy team; the ItaloJuve World Cup triumphs of 1982 and 2006 a perfect example of this.
He'll become one of the world's best midfielders.Francesco Totti on Tonali
The tables have now turned. Juventus currently have only two Italian first-teamers in Giorgio Chiellini and Leonardo Bonucci – both of them well into their thirties.
While this also demonstrates that there is less Italian talent around today, it also shows how confused Juve's transfer strategy is. Paratici is hamstrung by his inability to offload players on high wages and is under growing pressure from fans, who don't see a coherent plan of team-building that's visible at Inter.
The man responsible for building this Inter is CEO Giuseppe Marotta, who masterminded the construction of the current Juventus dynasty. Marotta left Juve suddenly in 2018 shortly after the record signing of Cristiano Ronaldo, with Paratici promoted into his position. It is suggested that Marotta opposed the increasingly corporate and commercial approach to the transfer market that president Andrea Agnelli was supporting.
Tonali's potential move to San Siro will be Marotta's latest victory over his former protégé. Make no mistake about it, the 20-year-old has everything to be a generational player.