Roberto Carlos was a key part of the Real Madrid squad for over a decade between 1996 and 2007, winning four La Liga titles and three Champions League titles in that time.
Though a left-back, his best attributes came going forward, while he was known for a mean strike of the ball from set-pieces.
We've teamed up with football analyst Marius Fischer, known as @Gegenpressing91 on Twitter, who has worked his magic with Microsoft Excel to map out all Brazilian's scored free-kicks in his career.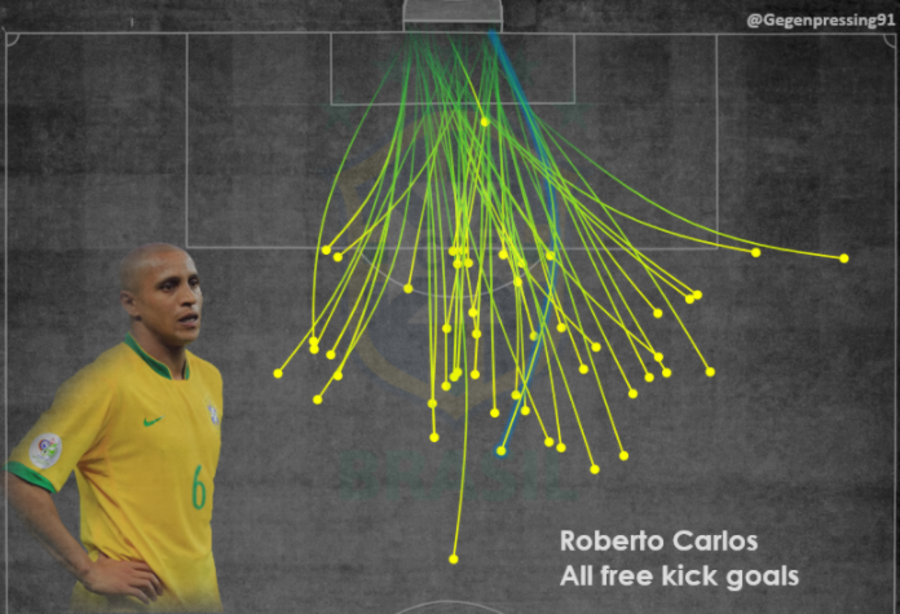 Marius says:
"Whenever you talk about the 'best free kick' in history someone will come up with this:
"1997 Tournoi de France – France against Brazil. Left-back Roberto Carlos prepares himself for a free-kick, approximately 30 metres away from goal. He steps back around 8 metres away from the ball and starts his trademark approach run for the ball.
"He hits it with the outside of his left foot to give it such an absurd curve that the ball is at least one metre to the right of the goal mid-air, just to bend its way right into the right corner of the goal.
"It was not just the curve that made this free-kick so famous – it was the simple fact, that Carlos took this and all his other free kicks with the outside of his foot to give them a curve like a right-footer would do.
"A technique that remains rare until this day.
Like most free-kick takers, Carlos hit plenty that went wayward, but when he find the back of the net they were usually absolutely spectacular.