The 2019/20 Premier League season will be concluded behind closed doors in a chaotic six-week period.
With fans unable to attend for the time being, a significant chunk of matchday revenue will be lost, something none of the top 20 clubs can escape from.
But some will be impacted more than others. The Football Finance Times team have crunched the numbers and the findings are below.
These numbers are calculated by taking the average matchday revenue each team receives, divided by the number of home games they hosted during the 2018/19 season.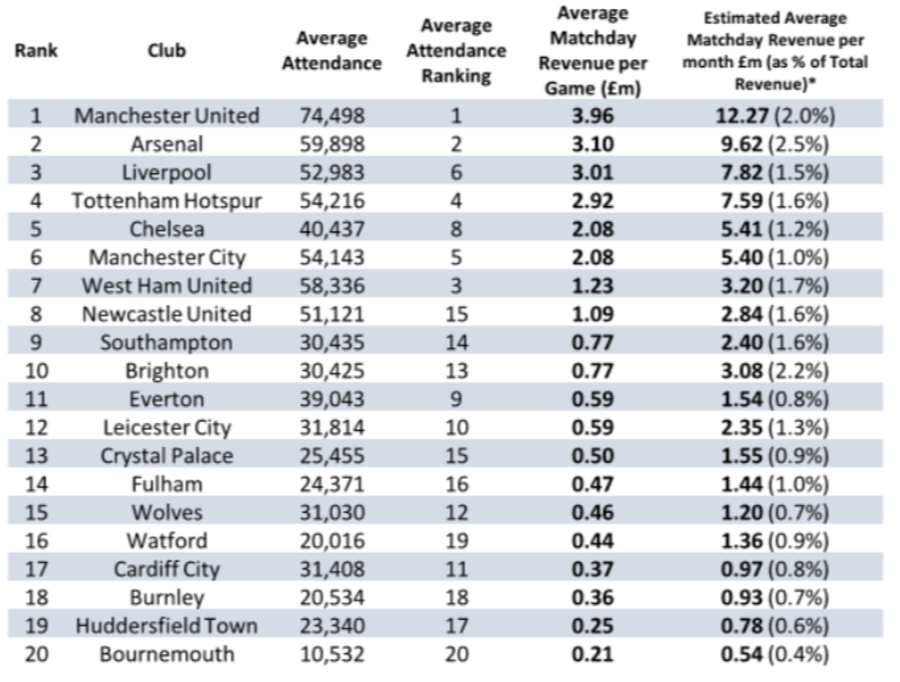 AT-A-GLANCE
- Manchester United will suffer the biggest loss in gate receipts - around £3.96m per home match for the remainder of the campaign.
- With four games at Old Trafford remaining, they stand to miss out on a total of £15.84m.
- This number is well clear of Arsenal in second, Liverpool in third and Tottenham in fourth.
- The team least affected team is Bournemouth, who play their fixtures at the Vitality Stadium, averaging an attendance of just 10,532 per match.
- Their combined average gate receipts with the number of home matches they have remaining, will mean a loss of just over £1m.
- Arsenal (2.5%), Brighton (2.2%), & Manchester United (2%) will suffer the biggest financial impact, in terms of % of overall revenue home matches provides.