There has been some focus recently on the usefulness of possession, and how a player's pass completion rates and indeed number of completed passes aren't much of an indicator of what a player does well, other than the fact they retain the ball.
Could this be similar with teams? Are there teams who retain a lot of the ball but aren't able to convert their dominance into goals? Let's compile a quick test.
Let's take two simple statistics; possession percentage and goals scored in this season's Premier League. We can look at how 'possession effective' teams are by taking their goals scored and dividing it by their average % possession across the season, and see what it gives us.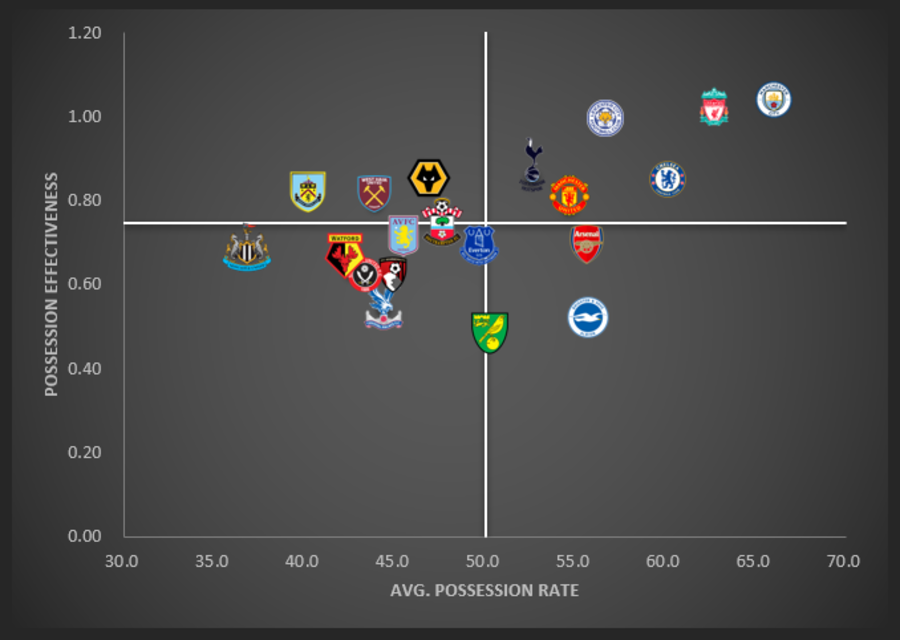 Manchester City and Liverpool catch the eye, two teams with possession % on average above 60% but are also scoring a number of goals to go along with it. They are where we would expect to find them, in the top right hand side of the above graph.
Brighton are an interesting selection. This would require a deeper dive into the data, but at first glance you could say that Brighton are a team who have more than their fair share of possession but don't do an awful lot with it. Arsenal are only slightly better off in this regard.
And then there's Norwich. A possession percentage of 50.2% on average but with the joint-lowest goal total in the league suggests they are struggling to convert their chances into goals with the possession they have.
At the other end of the scale, Wolves' have lower possession (46.9%) but they are using it effectively. Crystal Palace, meanwhile, you could say at underperforming both in the possession stakes and also their ability to score.
Finally, Newcastle make for interesting reading. Much has been made about how they have outperformed expected goals models this season and it can be seen here - the lowest possession average in the league but have a possession effectiveness far better than some of their relegation rivals. When the Premier League returns, it will be interesting to see if this trend can be maintained.