Just 0.2% of professional football matches feature 'close encounter' contacts that put players at considerable risk from breaching the WHO guidelines for social distancing, research finds.
A study conducted by the Dutch FA in association, who provided tracking data for 483 Eredivisie matches, in association with sports performance firm Inmotio, analysed over a billion data points to assess the proximity of each player to another.
What they found was that players interacted within the social distancing guidelines of one metre for more than 30 seconds in just 0.2% of cases, and their advice is that this should be a trigger to get football, and other outdoor sports, back in action.
One of the other key findings is that even within the small percentage, removing interaction at goal celebrations and reducing the amount of time jostling at corner kicks can take this number down by another half.
Vincent van Renesse, CEO of Inmotio said of the study: "The research clearly has a global impact, especially now that sports around the globe are slowly starting up again.
"One of the findings is that player couples tend to cluster during moments of set pieces (corners), VAR decisions, celebrations of goals and injury treatments.
"Some of these moments can be reduced or eliminated by setting smart guidelines. Changing goal celebrations can result in up to a 35% reduction in close encounters, whilst reducing the time allowed for taking a corner can result in up to a 45% reduction in mean player pairing exposure."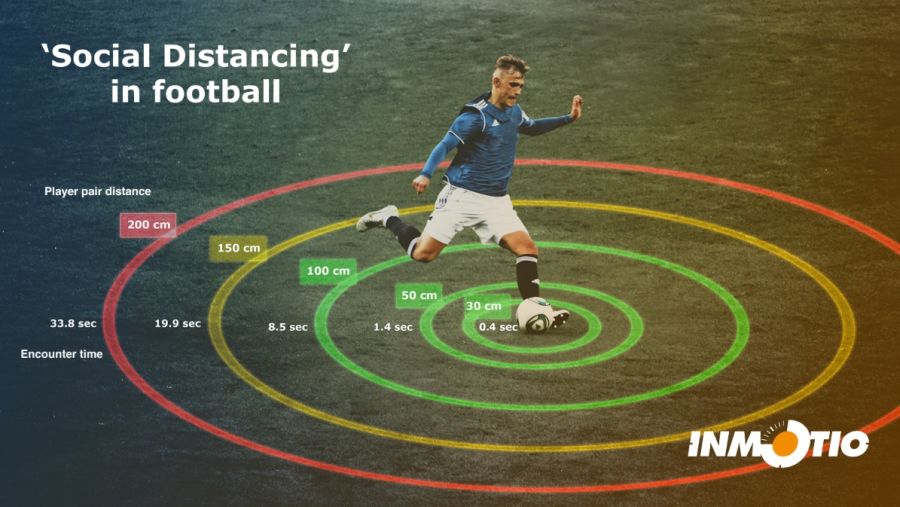 Data Scientist Floris Goes added: "Close encounters calculate the cumulative distance between player couples. We were able to research over one billion data points in 482 Eredivisie matches over the seasons 2018/2019 and 2019/2020.
"In our research, we've focused on quantifying close encounters over multiple distances. The Dutch FA is the first football federation that actively opened their research facilities, with Inmotio as their Innovation Partner.
"The next step is to research the training exercises, which enables us to determine whether we can provide optimized training situations for the Covid-19 period."
The Dutch FA were one of the first in Europe to cancel the 2019/20 season and have no champion, leading to consternation among the league members.
In France Ligue 1 did similar, with Lyon president Jean-Michel Aulas currently leading calls to restart the competition.