The Chelsea evolution under Thomas Tuchel is starting to take shape. Timo Werner has ended his goal drought, Marcos Alonso has returned from exile, and Callum Hudson-Odoi is excelling in a role nobody before presumed possible. But one man is thriving under the tutelage of Tuchel more than most: Mateo Kovacic.
Many believe Tuchel was brought to west London in a desperate attempt to extract the best form out of his compatriots Werner and Kai Havertz after the club failed to see a return on their £118.5 million investment in the pair under Frank Lampard.
However, it's Chelsea's Croatia midfielder who has been transformed beyond compare in the German's short time at Stamford Bridge.
The 47-year-old is considered to be a typical modern coach, obsessed with the fine details of the game and psychologically taxing training sessions, who has also managed to formulate a relatively successful hybrid between Jurgen Klopp's Gegenpressing and Pep Guardiola's possession-orientated positional play.
Tuchel has frequently referred to his preferred system as containing a 'double-six'. Essentially two holding midfielders responsible for providing a solid base, breaking up opposition play and kickstarting attacking moves of their own by playing penetrative passes and recycling the ball with purpose.
Spells at Borussia Dortmund and Paris Saint-Germain revolved around a central figure capable of dictating the tempo and controlling the middle of the pitch.
Julian Weigl was Tuchel's jewel in the crown during his time at the Westfalenstadion, and Marco Verratti picked up the mantel in Paris. The pair were cherished by their German leader, although, both lacked a natural partner fit for Tuchel's desires.
Raphael Guerreiro and Gonzalo Castro performed admirably alongside Weigl, while the likes of Idrissa Gueye and Ander Herrera gave a good account of themselves as Verratti's stablemate, though all either took time to adjust or were left looking like square pegs in round holes.
At Chelsea, Jorginho's ability to accept the ball under pressure in tight areas and play line-breaking passes automatically made the Italian first-choice under these new criteria, but it's Kovacic's rise to prominence that has come as somewhat of a surprise.
Under Lampard, the ex-Inter and Real Madrid man was almost a luxury player, often sacrificed at the first sign of trouble for a more stable and secure presence. The 26-year-old's half-time exits against West Brom and Arsenal earlier in the campaign are evidence of that.
Now, though, Chelsea's No.17 has become a pivotal part of Tuchel's setup, seamlessly slotting into his new role as if it's been tailor-made for him.
Despite the fact that few - if any - were predicting such a prominent starring role for Kovacic after Tuchel was announced, upon closer inspection, perhaps it should have been clear for all to see. According to Smarterscout, the midfielder's five best attributes are perfectly suited to the demands his new boss places upon players in his 'double-six' position.
The Champions League winner ranks extremely highly for link-up passing, ball retention and ground duels out of possession, while also scoring very highly for dribbling and ground duels in possession. No wonder his adaptation was instantaneous then.
Kovacic has started all of Tuchel's first five Premier League fixtures and has not only seen his time on the pitch increase, but also his contribution to the game in hand. As detailed in the chart below, Kovacic is now much more involved in Chelsea's build-up play and has adapted to the added responsibility in stopping the opponent's forays forward with ease.
Comparing the stats from his five top-flight starts under Tuchel to his 10 when Lampard was at the helm earlier in the season, it is clear Kovacic is now central to Chelsea's style and system, with the majority of their play going through the Croatian.
Against Newcastle last time out, he had the most touches, completed passes, progressive passes, carries and dribbles, while also having a 96.6% pass completion rate, second only to Tammy Abraham, who left the field injured after just 20 minutes.
In the recent 2-1 victory over Sheffield United, Kovacic hit a season-high 19 long passes, and against Wolves and Burnley, he made 21 passes into the attacking third of the pitch. His previous record in 2020/21 was 11. Chelsea fans complained of the mechanical football under Maurizio Sarri as his methodical approach turned stale and appeared to lack attacking intent. Bar the bore draw with Wolves, the same can't be said about Tuchel's tactical approach so far.
Kovacic has epitomised the change in style since Lampard's departure, and over the last couple of outings, the Dinamo Zagreb academy graduate has offered a considerable threat with his range of passing, an attribute that didn't always get to shine in his previous position.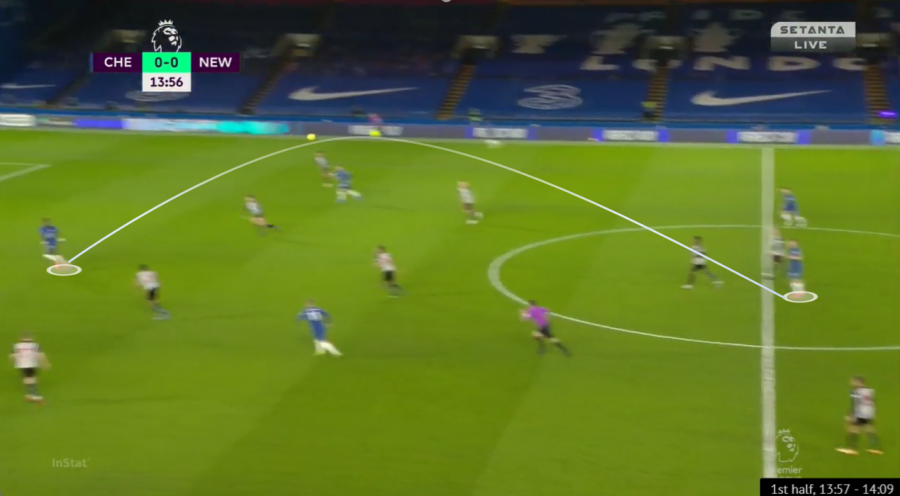 In the above image, the Chelsea man receives the ball 10 yards inside his own half, shimmies past Newcastle loanee Joe Willock and lofts a perfectly weighted pass into the feet of Abraham. The England international finds himself in on goal, and only a last-ditch tackle from Jamaal Lascelles prevents a shot at Karl Darlow's net. An almost identical situation occurred the week before at Bramall Lane, only this time it was Werner on the receiving end.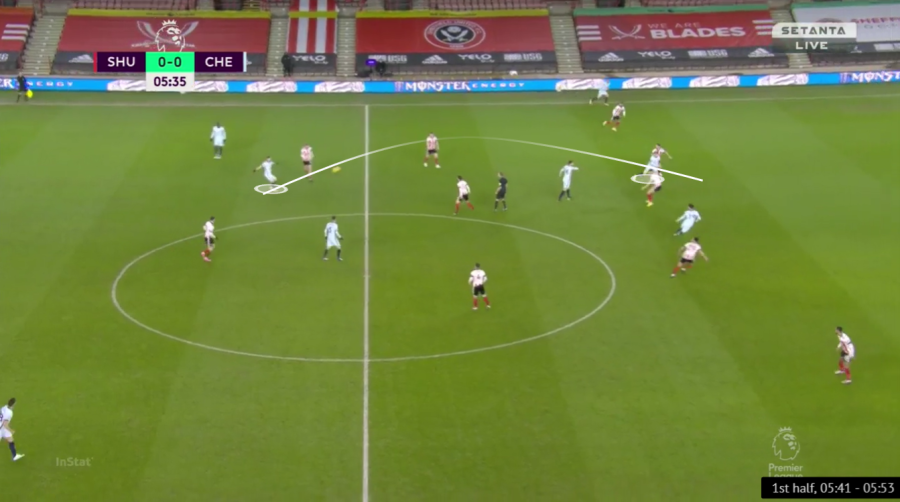 Here, the former RB Leipzig hitman races onto another precise pass and manages to lift the ball over an onrushing Aaron Ramsdale but is unable to put enough pace on the shot, and a Blades defender gets back in time to clear.
It's not just the long-range artillery that Kovacic poses a threat with. The forward-thinking midfield man is just as capable when further up the field and has been awarded the freedom to roam into advanced areas, while Jorginho is tasked with permanently protecting the three centre-backs.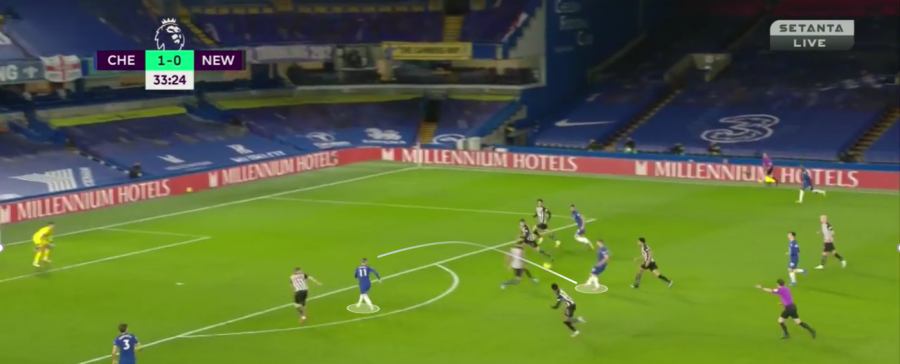 Against the Magpies, Werner made a terrific out-to-in run and found himself with space to run into directly in front of the Newcastle goal. After playing a slick one-two with Olivier Giroud, Kovacic delicately dinks the ball into the path of the Germany international, whose first-time effort goes narrowly over the bar.
In the next instance, the Chelsea man receives a pass with a well-organised Sheffield United low block ahead of him. Kovacic takes a touch before showing his creative instincts and scoops the ball over the Blades' midfield and defence for Giroud.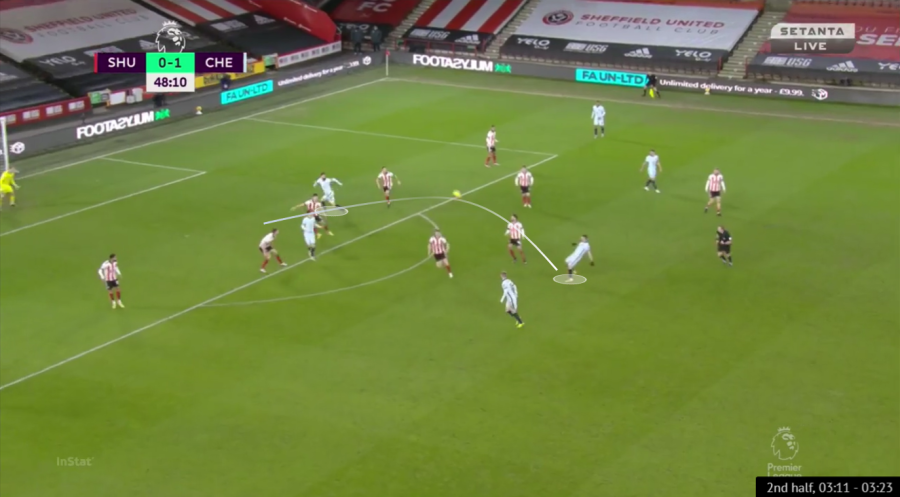 The Frenchman is unable to get a clean connection and Ramsdale gratefully gathers the ball into his chest.
Although none of these examples led directly to a goal, they are symptomatic of Kovacic's new-found role in Tuchel's unique system. He may not get the headlines and media acclaim that some of his teammates receive due to his lack of goals and assists, but Kovacic is quickly becoming a crucial cog in this Chelsea side.