It is increasingly common to see talented footballers leave Brazil just days after they have turned 18, with fans of the clubs they grow up at having little or no chance to see them turn out for the first team before they are whisked off to Europe.
Inserting them into the elite of world football at an early age fast-tracks their development, but even for those who move to the Old Continent's glamour clubs, it means that the average Brazilian football fan is not particularly familiar with their skill set or personality. Whilst their reputations burgeon in Europe, they are disregarded at home.
For Marcos Antônio, the odd path he has chosen to tread – from the academy of Athletico Paranaense to Estoril in the Portuguese second tier and then on to the Ukraine – means he is even more forgotten than most.
Marcos Antonio Statistics, Position and Career Stats
On Monday night, though, the 20-year-old Shakhtar Donetsk midfielder will have the chance to put himself into the International spotlight as the Ukrainian champions take on Inter Milan in the Europa League semi-final in Dusseldorf.
Perhaps more importantly than becoming a story back home, Marcos Antônio will want to use this opportunity against high-profile opposition to demonstrate that he has what it takes to become the latest Brazilian to make a move from Shakhtar to a prestigious club in a top five league, following in the footsteps of Willian, Fernandinho, Douglas Costa and so many more.
Like those Shakhtar alumni, he will also be looking to build his reputation enough to eventually make the jump from the Brazilian youth national teams to the senior side. Given his consistent involvement in the U17s and U20s, the Seleção set-up will be well aware of Marcos Antônio's metronomic passing, constant movement, and ability to progress the ball through central areas.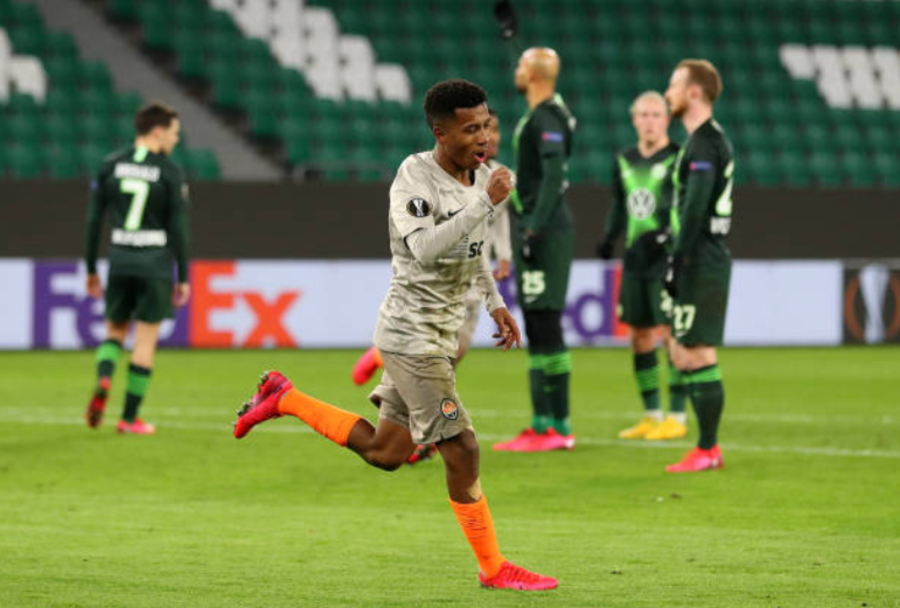 In 2017, he was part of the squad that, led by future Real Madrid player Vinicius Jr., stormed to the South American U17 Championship and lost to England in the U17 World Cup semi-final, playing some excellent football along the way.
At the time, he was still the star player at the academy of Athletico Paranaense – the same club at which Fernandinho got his start as a footballer – but soon he would be off. Marcos is represented by OTB Sports, a company with a reputation for irritating players, clubs and even other agents with their questionable practices and aggressive negotiating tactics.
After turning 18, he refused to sign a professional contract with Athletico, allegedly following OTB's advice, and instead moved to Estoril for nothing.
Later, he told SportBuzz that playing for Estoril's first team he "gained experience in a hard-fought league", and though he was he was out of sight for the Brazilian public in the Portuguese second tier, the youth national team selectors stood by him.
In 2019 he was included in the squad for the ill-fated campaign at the South American U20 Championships, where he played alongside current Shakhtar team-mates Tetê, Marquinhos Cipriano and Vitão.
Though the results and overall displays were poor – Brazil finished fifth in the six-team, round-robin final stage – Marcos again performed well in his role as the more attacking of Brazil's midfield two in a 4-2-3-1, on the back of which he earned his move to Shakhtar.
This season he has worked his way into the first XI, becoming increasingly influential as the campaign has gone on. In the Champions League before Christmas he featured only off the bench, but since Shakhtar dropped down into the Europa League he has made four starts and a further substitute appearance.
He played well in the wins over Benfica, Wolfsburg and most recently the destruction of Basel, with an impressive 94% pass completion rate overall.
Marcos has fine balance, is comfortable taking the ball in tight spaces and often works play up the pitch by laying the ball off to a team-mate before taking up intelligent positions to receive it once more. His peripheral vision is also excellent and helps him make lucid decisions about what he will do next before he receives the ball, perhaps the essential skill for a modern midfielder.
He is capable of playing through balls to Shakhtar's creative Brazilian wingers and breaking into the box himself, which he proved with his goals in the Round of 16 Europa League game against Wolfsburg and the crunch domestic league tie with Dynamo Kiev. He can dribble well too, though does so sparingly, preferring to take the passing option if possible.
During his time in the Ukraine, Marcos has also developed physically and begun to press with more intensity. 18 months ago, he was small and frail, but now looks to have put on enough muscle mass to hold off bigger, more imposing players, which will be necessary on Monday as he faces Marcelo Brozovic and Roberto Gagliardini in the Inter midfield.
Surrounded by a cohort of his compatriots, the 20-year-old from Bahia has been central to the fine attacking football Luís Castro's side have been playing in this tournament. And if he can repeat the display he put in against Basel, when he was full of movement, inventive passing and saw a fine shot hit the crossbar, he and Shakhtar will certainly cause Antonio Conte's team trouble.
Should the Ukrainian champions reach a first European final since 2009 – when a team containing Luiz Adriano, Jadson, Willian and Fernandinho beat Werder Bremen 2-1 to lift the Uefa Cup – Marcos Antônio will be very much back in the limelight, both for viewers at home and the European giants hoping to find the next Brazilian off Shakhtar's impressive production line.