An early red card for Andreas Christensen proved pivotal as Liverpool ultimately cruised to a 2-0 victory over Chelsea at Stamford Bridge.
But which players, good or bad, decided the contest?
Chelsea 0-2 Liverpool: Player Ratings, Match Statistics, Player Statistics
The GOOD
The forward was a constant thorn in Chelsea's side with his superb movement and utter determination to win the ball back high up the pitch.
The first of his two goals was a brilliant header, edging in front of Reece James to bullet into the corner, and the second took advantage of Kepa's dallying on the ball to rob him and slide into the net.
But Mane's all-round performance was impeccable, completing three dribbles and winning 10 of 17 duels in what was a physical contest. It seems that each week one of either Mo Salah or Mane steps up when it really counts.
Apparently, Fabinho isn't a centre-back, but he managed to fool all of us with his performance against Chelsea. He positively strolled through the contest and kept Timo Werner in check for virtually the entire contest.
He won 3/4 tackles, made four interceptions and a huge 12 recoveries, while making 89 passes at a completion rate of 98%. Liverpool seem to think they need another central defender - but now it's not immediately obvious that they do.
The BAD
There's not really much more that can be said about Kepa other than it's almost time to start feeling sorry for him.
He actually made two excellent saves here, one to deny Mane and another from close range to stop Salah, but all that is forgotten when you make a mistake as bad as he did.
With Mane sprinting at full pace towards him, he drastically overestimated the amount of time he had on the ball and Mane blocked his pass before slotting in the empty net.
When he looked around him he knew that it was a disaster, and with Edouard Mendy coming in from Stade Rennais, it could be the last Error Leading to Goal he will be allowed to make.
Thiago Alcantara v Chelsea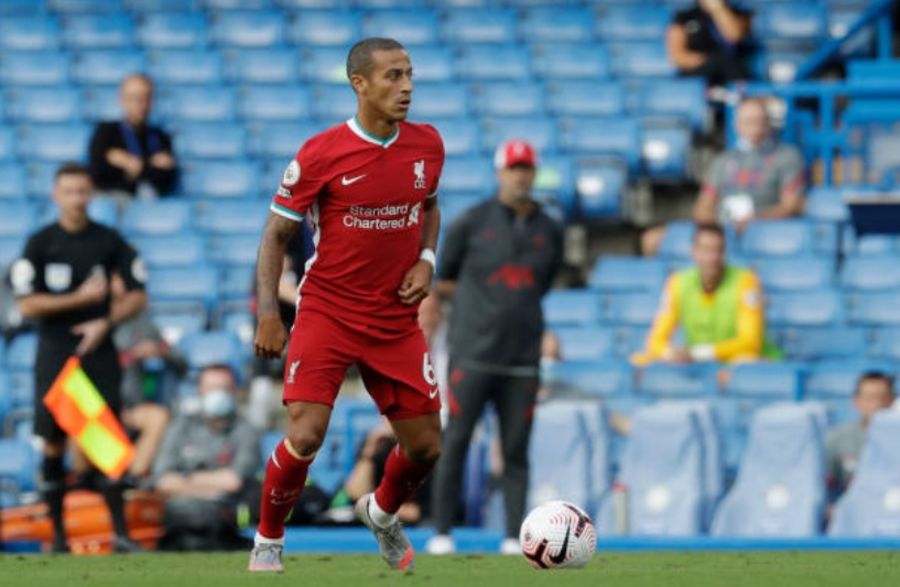 The £20m arrival from Bayern started on the bench and replaced Jordan Henderson at half-time.
But it appears as if he'd always been there, such was the way he dictated play in the final third. Despite only playing 45 minutes he directed a huge 39 passes into the final third, as many as Salah and just two less than Andrew Robertson.
Indeed he made 83 passes in 45 minutes, a frankly staggering number and one that should make other teams in the league wince. Liverpool have picked up one of the best players in the world to join an already formidable team.
Chelsea 0-2 Liverpool: Player Ratings, Match Statistics, Player Statistics