Points per pound of wages spent given an indication of how much a team spends on their total team salary to earn a single Premier League point.
It's a nice way of assessing whether clubs are getting what they really want - points - when the players get what they really want - money.
In association with the Football Finance Times team, let's have a look at how much you had to spend to get points in the Premier League in 2018/19.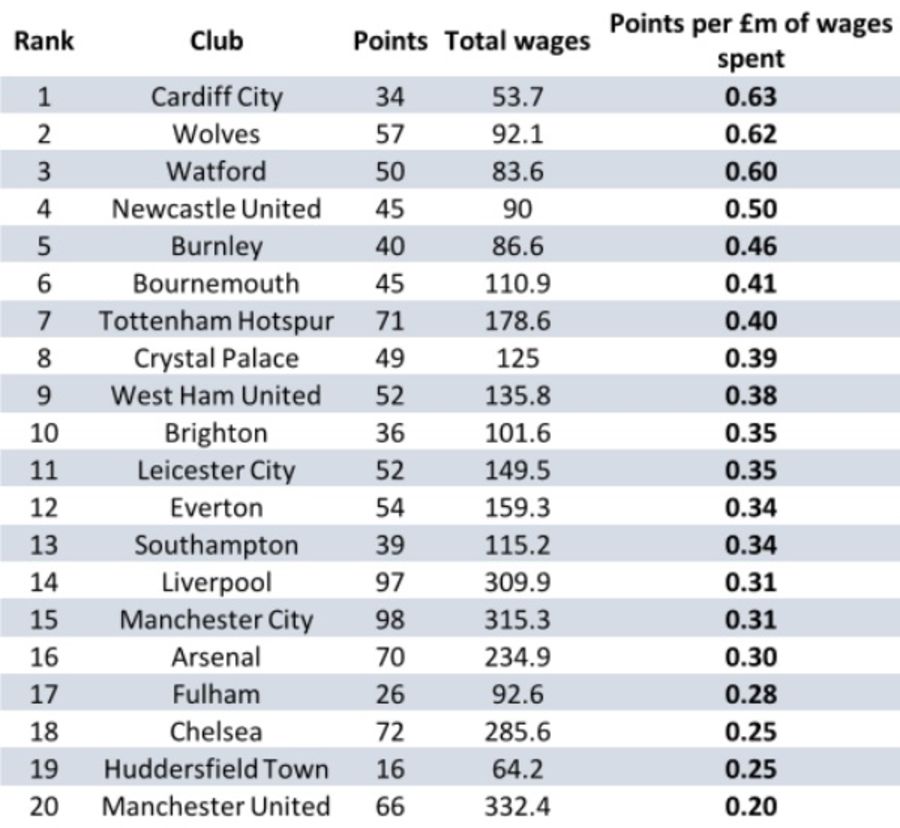 KEY TAKEAWAYS
- Cardiff given their most wage bill performed exceptionally well and though they were ultimately relegated their stayed within their means in terms of cost and, as the table shows, were the most efficient in terms of salary spend versus points gained (0.63 per million spent)
- Wolves have been very shrewd - arguably the most shrewd - in the Premier League with their squad construction and, of course, not only did they manage to avoid relegation, they gave themselves a foundation from which to build on.
- At the other end we see a mixture of clubs. Manchester United's 2018/19 was a risible one, changing from coach Jose Mourinho to Ole Gunnar Solskjaer mid-season, and this is reflected on the money they spent to get not very much. On a wage bill of £332m they were able to earn an extremely low 0.2 points per million pounds.
- Elsewhere, Huddersfield not only didn't massively gamble on spending huge amounts on salary, but the money they did spend wasn't well utilised at all, leading to their inevitable relegation.
- Furthermore, the disparity between the big teams and the small teams means that Liverpool and Manchester City can rack up near-record points totals, but, in relative terms, their huge spends only earn them 0.31 points per million of salary spend.