Rangers and Leverkusen finished their Europa League last-16 tie - finally - and it ended with no surprise in terms of the result and progression of the Bundesliga side.
Peter Bosz's Bayer beat Steven Gerrard's Rangers 1-0 on the night and 4-1 on aggregate. In a dominant Leverkusen performance, Moussa Diaby's second-half strike only added extra gloss to the overall aggregate scoreline.
Rangers had done well to get to this stage, but this tie was a step up in quality and class and they fell short.
We will illustrate how Leverkusen were able to dominate Rangers tactically and use certain tactical ploys to hurt the opposition, as well as showing how timid Rangers were in an attacking sense.
Peter Bosz changed his system for the second leg of this tie. going with the 4-2-3-1 system which he used to finish the Bundesliga. Positionally, It freed up Kai Havertz and Florian Wirtz to rotate between No. 10 and wide left position, which caused Rangers plenty of problems.
Gerrard went with his tried and trusted 4-3-2-1, but he decided to opt with the experience of Filip Helander in defence instead of George Edmundson and Brandon Barker in one of the 10 positions due to his pace in place of Romanian Ianis Hagi.
However, the home side were in so much control that Gerrard's tactical plan regarding Barker's inclusion was ultimately rendered meaningless.
Leverkusen employed a very aggressive press, and this caused the visiting side to surrender possession. This is backed up by the overall possession stats being in Bayer's favour – 65% to 35%.
Furthermore, Rangers back four turned over possession so many times: James Tavernier, for example, 15 times in the 90 minutes, Connor Goldson and Filip Helander lost the ball nine times each and left-back Borna Barisic lost possession 23 times.
Levekusen's press
The above example shows how aggressive Leverkusen's press was. They were able to create a numerical advantage when pressing the ball. Goldson is in possession for Rangers early on, but he is unable to fire the ball into Alfredo Morelos, who is circled, because Wirtz, Volland and Diaby are creating a triangle and that cuts off the ball and shaded area where he could haved played the pass.
Goldson decides to go long to Ryan Kent, but he is unable to beat the Bender brothers at the back and that allows Leverkusen to pick up the second ball and build an attack from deep.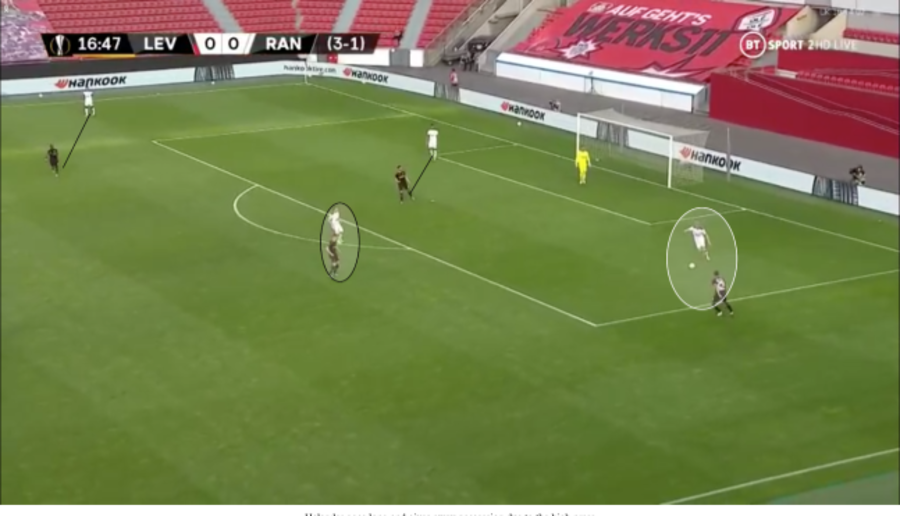 In the above image, Rangers are trying to play out from the back, but Leverkusen's press is so aggressively high that Helander has one option: go long.
He cannot pop the ball into midfield to the no.6 because Wirtz has him marked out of the phase of play. As Helander progresses, he has to fire it forward and gives away cheap possession, which allows Leverkusen to formulate another attacking move. In fact, the aggression of the press is shown by how high Diaby is forcing Tavernier so deep even though they are not involved in the play.
The ball in behind Rangers' defence was an obvious tactical ploy from Bosz and considering Helander hadn't started a game since December and lacks pace, it was a tactic that paid dividends throughout the 90 minutes.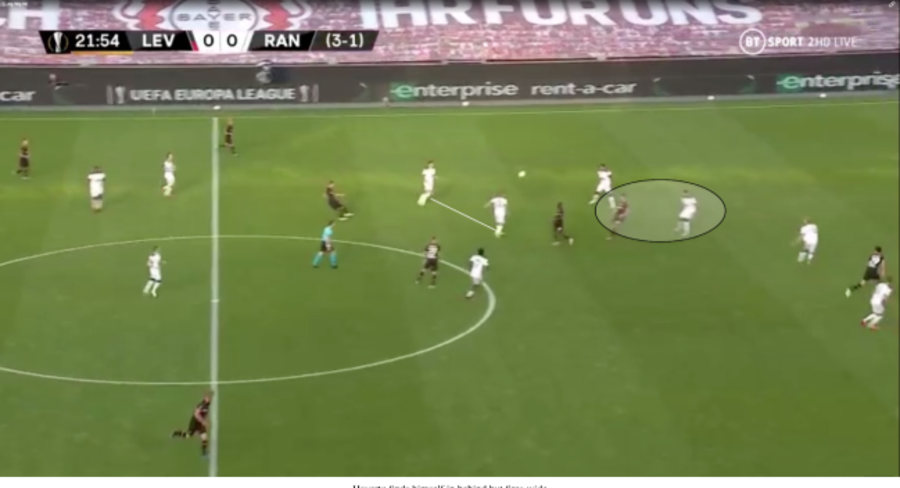 The above image shows Leverkusen finding joy from utilising the ball over the top. This is caused by Steven Davis and Ryan Jack's refusal to press the ball allowing Palacios, in this instance, the time and space to set Havertz in between Helander and Barisic. Goldson is occupied by Volland and Diaby has come inside to create an overload meaning Davis doesn't know whether to press or hold his position.
Rangers attack isolated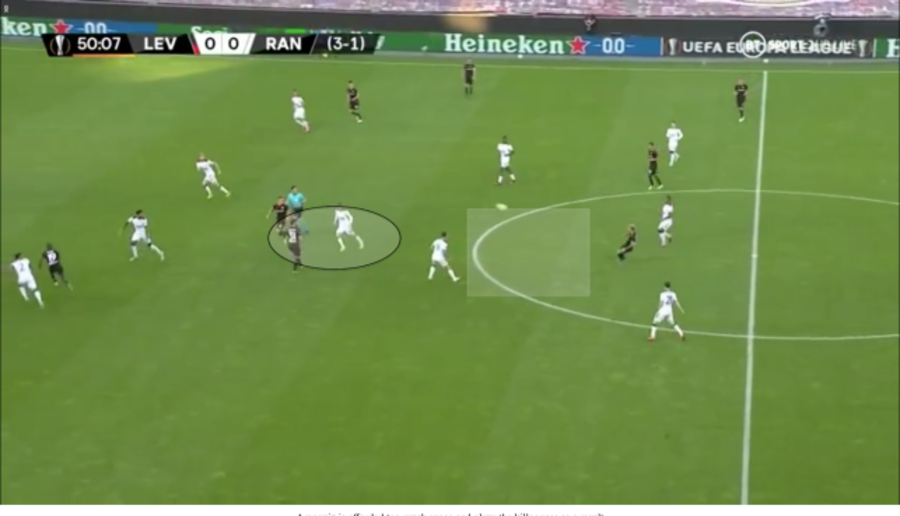 It's okay for a team to find the ball over the top a lot if they are playing percentage football. However, for Rangers to afford a player of Aranguiz's quality that much time and space, as the above image illustrates, is criminal. Ryan Jack refuses to press him, while Steven Davis is occupied with Volland playing in between the lines. Neither Jack nor Morelos get close enough and it's easy for him to pick out Diaby's out-to-in run. It's lazy from the Rangers pair, nothing more, nothing less.
Alfredo Morelos is Rangers' attacking lynchpin. However, this match isn't one he made a mark on. The 24-year-old Colombian failed to register a shot on goal and he gave possession away 11 times during his 77 minutes of play. Therefore, with Morelos off form, Rangers were toothless.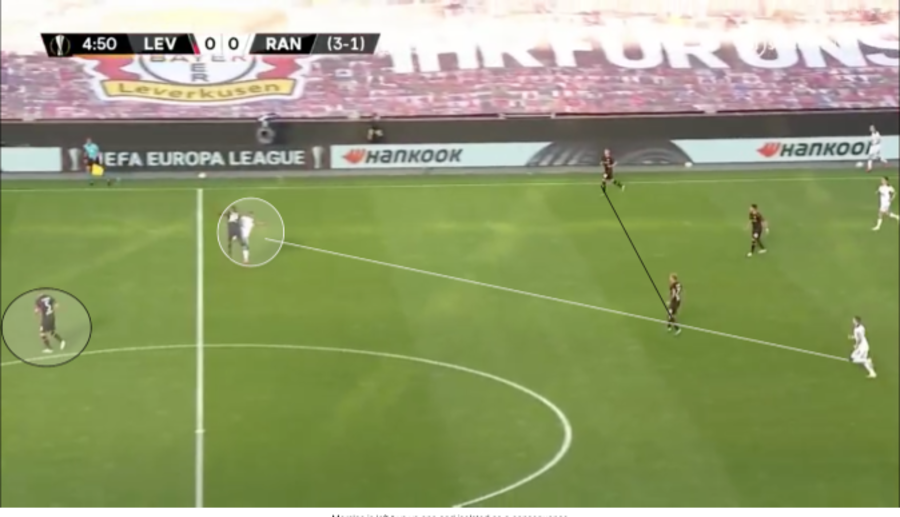 The above image illustrates how deep Rangers were and how tough it was for Alfredo Morelos to have an impact on the game. As he is fed this high ball, he is beaten by Edmond Tapsoba, who has Sven Bender on the cover. Morelos' closest teammate is Ryan Kent who is deeper than Aranguiz, which makes is so easy for Bayer to defend against meaning there is no way Rangers can build any kind of attack.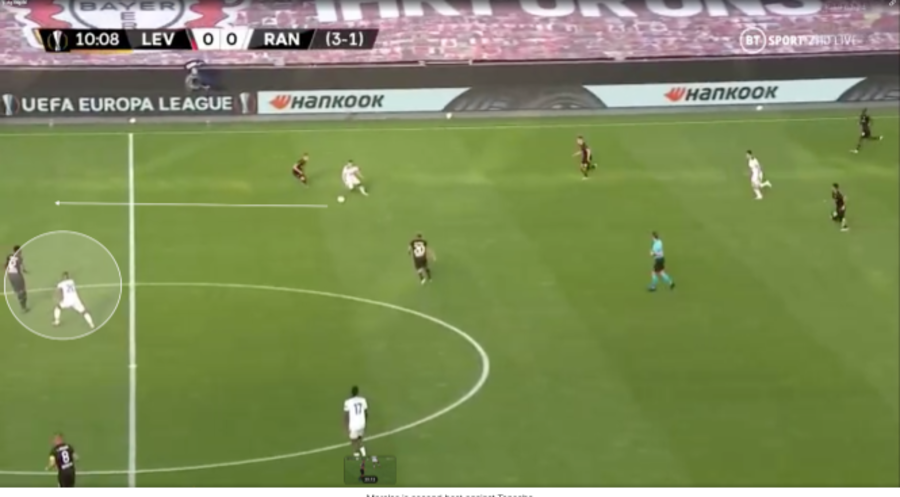 In the above example, Rangers are trying to build an attack. Ryan Kent does well, but Morelos is outrun by Tapsoba and loses possession. However, the most important thing in the image is his starting position. Rangers have still a bit to go before they can get to Bayer's box and it appeared all night that they didn't believe they would score – with just four total shots and two on target. There was little belief that they could threaten in the final third.
Conclusion
To conclude, Leverkusen are a level above, and they were able to punish Rangers for errors that they may not find too costly in domestic football.
Leverkusen's high press was the key to their victory in this match. The above stats detailing how many times Rangers' back four gave away possession was pivotal. Over the two legs, they were worthy winners and deserve their place in the quarter-final.