Once again showing tremendous discipline, determination and character, Mikel Arteta's Arsenal yet again proved they are a tough team to beat as they overcame Liverpool in the Community Shield on Saturday.
Having now defeated Manchester City, Chelsea and Liverpool (twice) in their last six competitive matches, it's been impressive to see such major improvements from the Gunners.
One of the cornerstones of the hard-fought victory was their defensive organisation. Clearly well-versed on the details of their roles and responsibilities, Liverpool, despite dominating possession for large spells, found it very challenging to break them down.
Due to Liverpool having numerical superiority when passing out from the back, how Arsenal's line of Pierre-Emerick Aubameyang, Eddie Nketiah and Bukayo Saka performed dual roles of both pressing their man and curving their runs to block passing lanes to Fabinho, the full-backs or return balls back to a central defender, was instrumental.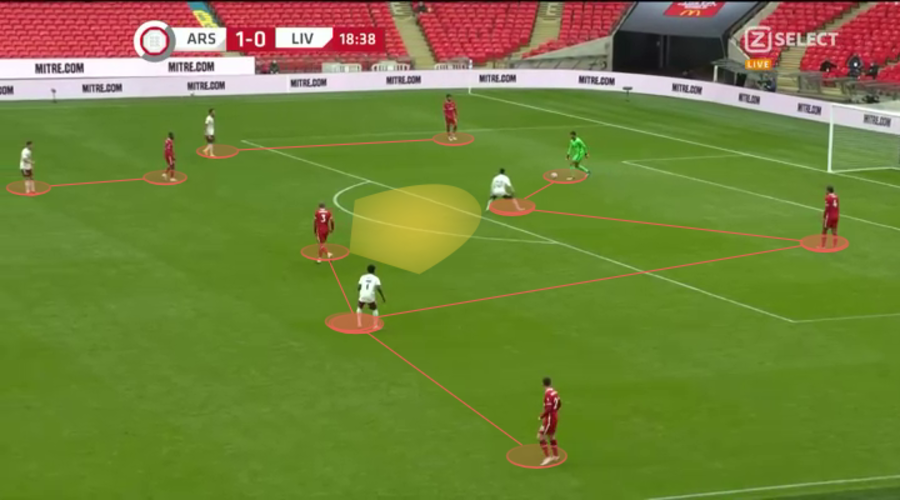 The graphic offers a good example, where Saka blocks the route to Andrew Robertson while pressing Virgil van Dijk, meaning Hector Bellerin can hold his post. Nketiah is then on Fabinho, Aubameyang's monitoring Joe Gomez and Mohamed Elneny's stepping out to James Milner.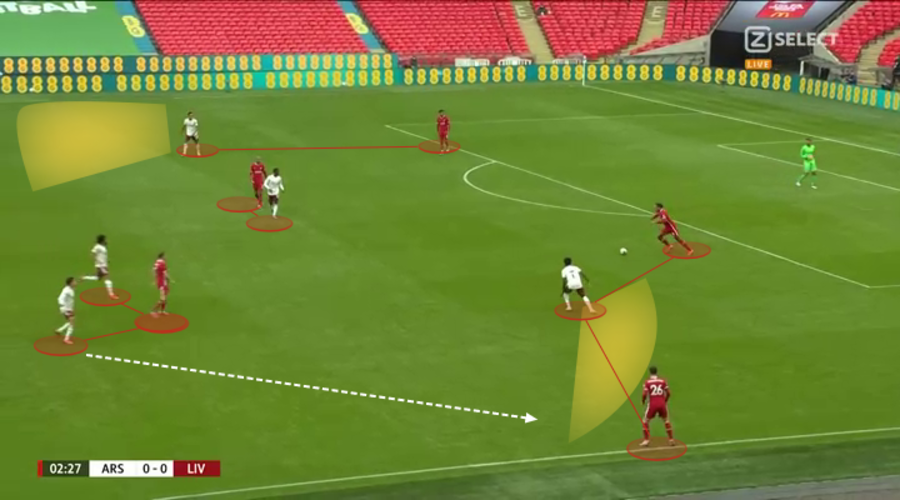 Altering their setup depending if Liverpool dropped Milner or Georginio Wijnaldum deeper or built up with three in their first line, they did so coherently while maintaining Arteta's principles.
Using specific triggers to ramp up their pressure, such as a backpass, a ball to the touchline or if an opponent received back to goal or in an open body posture, this worked nicely in forcing errors or causing Liverpool to go long.
This suited Arsenal perfectly, for their central defenders enjoyed a huge advantage in aerial duels over Liverpool's smaller front three. The fact Arsenal's midfielders were awake to this and got back quickly meant they frequently enjoyed an overload to regain second balls to immediately attack again.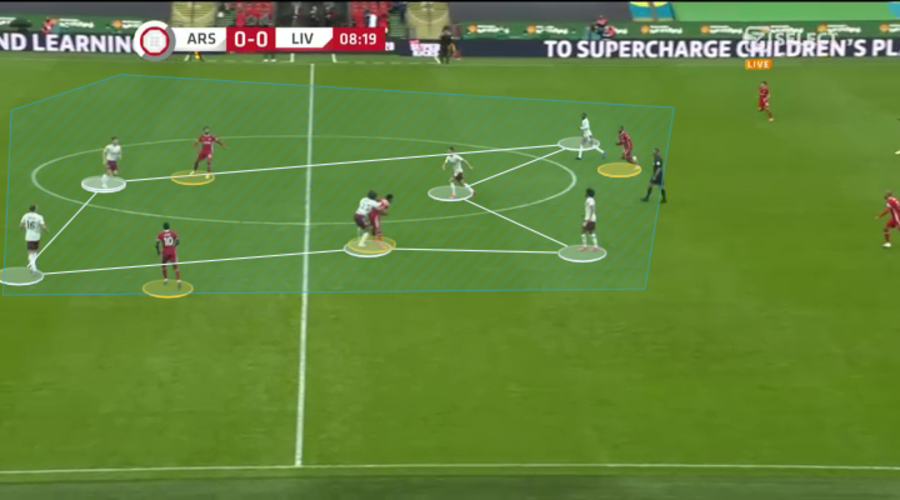 As the Gunners retreated into a mid or low block they settled into a 5-4-1, hoping to remain vertically and horizontally compact, to minimise the space in between the lines and in behind for the Reds to exploit. Having so many numbers blocking forward routes, this meant Liverpool had to go wide, which led to them firing in many crosses into the box. Reading these situations soundly, in combination with how they kept tabs on their marker and got their positioning spot on, saw Arsenal deal with deliveries into the area with minimal fuss.
Nketiah's role in blocking passes into Fabinho was crucial too, as the striker's diligence was a real highlight. Indeed, by cutting the supply line to one of Jurgen Klopp's key men in connecting passages, this really hampered Liverpool's ability to beat the press and get momentum going.
It also warranted mention how well the Gunners dealt with Liverpool's front three. Aside from having their measure in headed battles, the way they got touch-tight whenever they checked towards the ball so they couldn't turn and face, link play or execute their actions smoothly was crucial. Moreover, knowing what a threat Sadio Mane, Mohamed Salah and Roberto Firmino are running in behind, Arsenal would tuck in the far-sided wing-back to give them a 4 v 3 and offer valuable cover.
READ MORE:
Chelsea starlet Conor Gallagher set for Crystal Palace switch
The winners and losers in Liverpool's pre-season matches
Edouard Mendy: Chelsea target's stats v Kepa in 2019/20
Although Liverpool did find some joy when Milner dropped into the deep half spaces, when the Reds' frontline rotated cohesively and when Klopp switched to a 4-2-3-1 during the second half, Arteta was justifiably satisfied with his team's stopping output.
"Defensively we have 11 players that want to do the job. It doesn't matter what your name is, everybody's contributing. I think we are better organised and believe in putting our bodies on the line. I'm really pleased with the performance," Arteta told the BBC afterwards.
Upon shifting the focus to their offensive exertions, of which there was much to admire, especially during the first half. Their build up play obviously deserves praise, as their smartly devised mechanics bore fruit on many occasions.
Altering their shape in possession to more of a 4-2-1-3/4-2-4, this posed issues for Liverpool, with the key features being how Ainsley Maitland-Niles ventured into an attacking midfield station and that Kieran Tierney pushed wide to operate at left-back.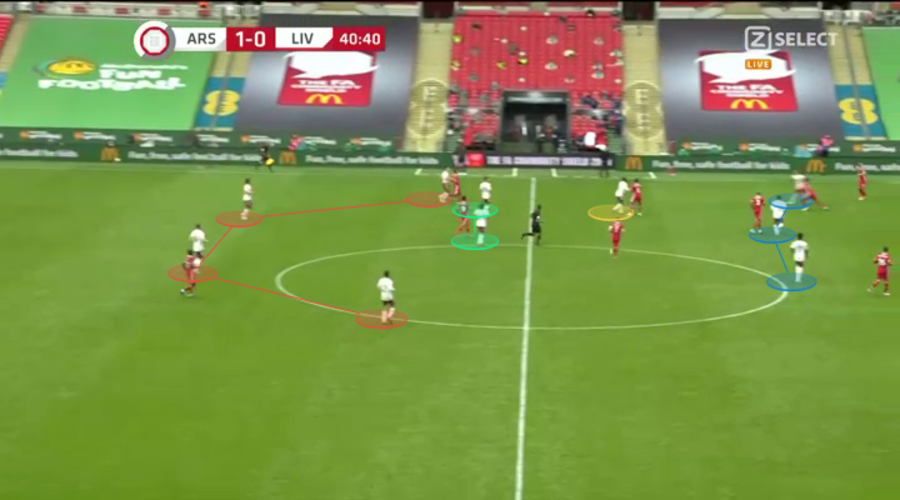 By instructing both the central midfielders to drop deep near the central defenders, this lured out Liverpool's midfielders to press high along with their forwards. Seeing as Arsenal kept their fullbacks wide and Aubameyang and Saka usually pinned the opposing fullbacks deep, space was available to progress out wide.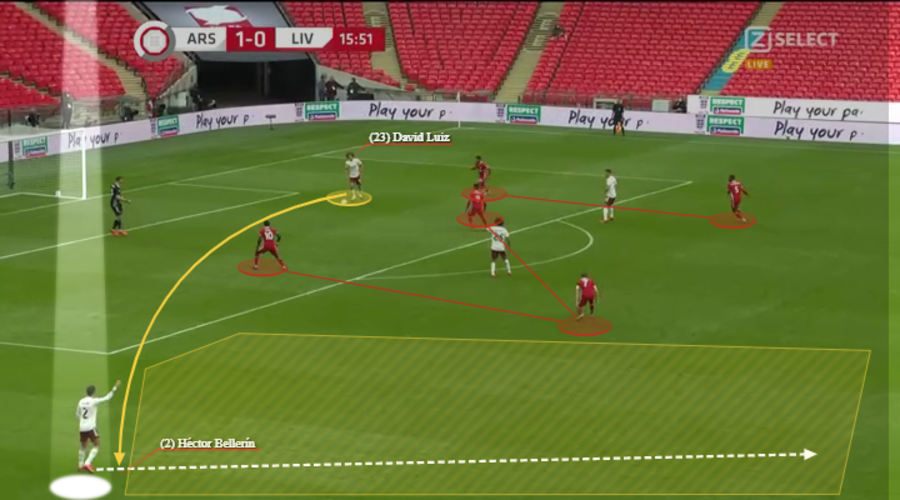 Persistently asking questions of Liverpool and manipulating their defensive shape, Arsenal's beautifully crafted goal served as a testament to their success in this area. Here, after attracting Mane, Firmino and Milner out centrally, Rob Holding found Bellerin free behind Liverpool's pressure.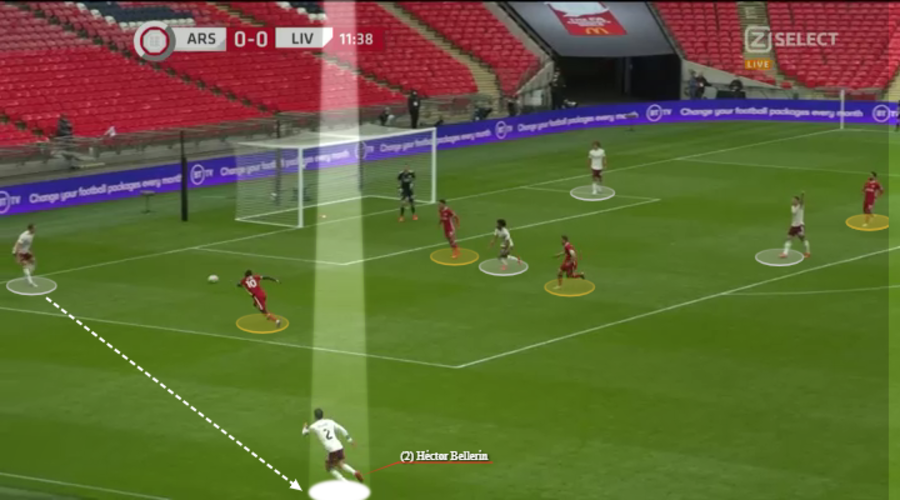 Recognising Robertson in no man's land, in two mind's if he should jump out to Bellerin or stay on Saka, Bellerin lofted a slick ball to the free youngster.
Nketiah's decoy run then bought time for Saka to switch the play expertly to Aubameyang on the opposite flank, where he was 1v1 with his marker.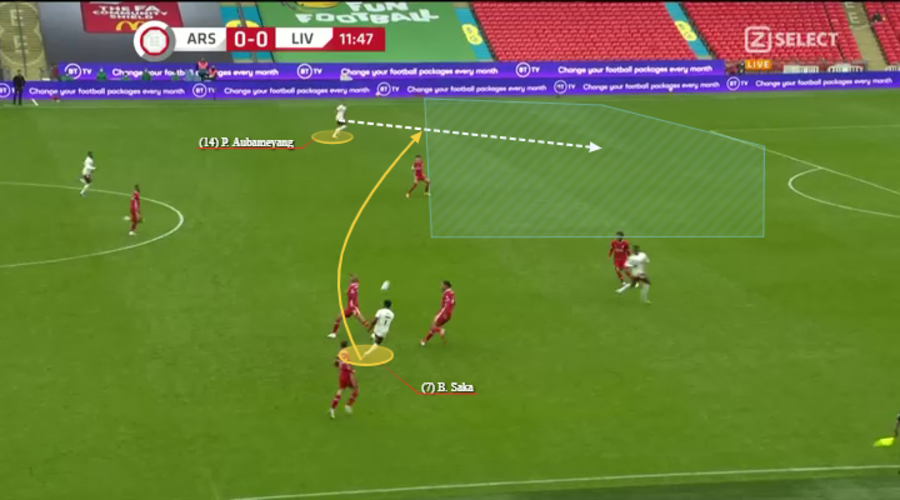 Maitland-Niles then created some extra room for his captain with a distracting burst into the box before Aubameyang cut inside and finished masterfully from the edge of the box.
Containing so many elements Arteta's wanting to implement within his framework, such a move would've delighted him to no end.
Another method Arsenal used to get at Liverpool was via Aubameyang and Maitland-Niles' excellent dovetailing. Switching positions and rotating neatly, this frequently caused dilemmas for Neco Williams on who to mark. Whether using opposite movements, decoy runs, nifty positional swaps and by pinning their marker, Arsenal were able to exploit the channels or generate openings infield. As a result of Maitland-Miles being so comfortable playing in central midfield, his intelligent positioning not only let him receive between the lines but also drew out Williams to free up Aubameyang down the flank.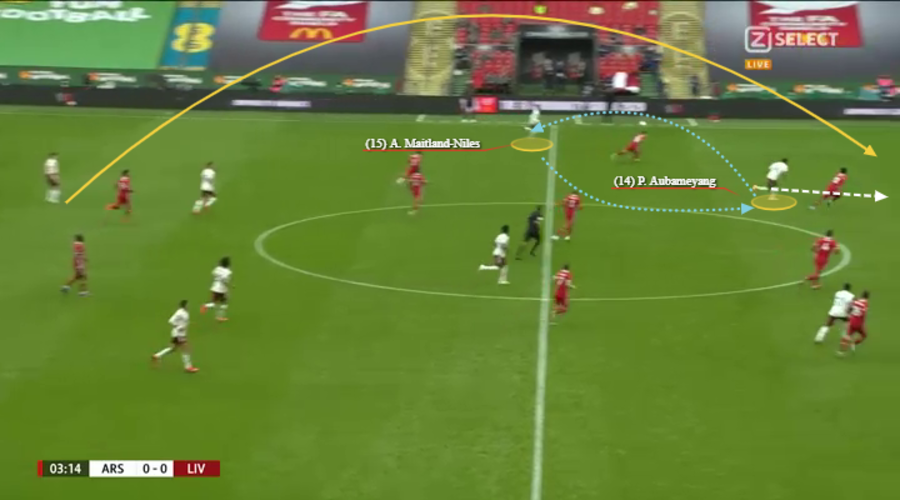 Offering many positives on both sides of the ball, positivity is steadily returning to the Gunners, as Arteta's tactical acumen and powers of motivation yet again manifested themselves in another polished outing.
Building and developing with every passing match, Arteta's vibrant, exciting and energetic team, who are capable of beating anyone on their day, are certainly in fine fettle as the season opener draws closer.
With their Premier League campaign kicking off against Fulham in less than two weeks' time and with many integral squad members set to return to the fray, they'll be hoping this victory over Liverpool will be an ideal precursor for a prosperous season ahead.